Milky Way Dip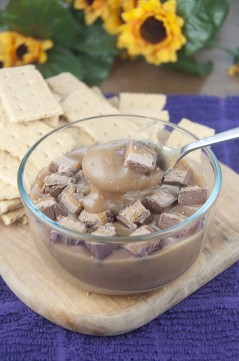 12 "fun" size Milky Ways, chopped – 10 for IN the dip and 2 for garnishing the dip (the "fun" size that is a couple of inches long, not the super small ones)
½ cup of unsalted butter
2 cups of light brown sugar
1 cup light corn syrup
¼ teaspoon salt
1 (14 oz. can) sweetened condensed milk
2 teaspoons vanilla extract
Melt butter in 2-quart saucepan; add brown sugar, corn syrup and salt.
Cook over medium heat, stirring occasionally, until mixture comes to a full boil (10 to 12 minutes).
Stir in sweetened condensed milk and cut up Milky Way bars.
Continue cooking, stirring occasionally, until Milky Way bars are completely melted (minus the peanuts, of course) and dip thickens up.
Remove from heat; stir in vanilla and transfer to a serving bowl.
Serve with sliced apples, graham crackers, pretzels, Ritz crackers or animal crackers.
Take the two leftover Milky Way bars, chop them up, and sprinkle them over the dip before serving.