Baked Meatball Parmesan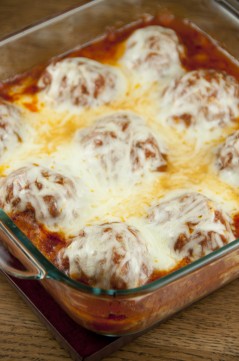 1½ pounds meatloaf meat mix (beef, pork, veal combo) OR use ground beef
4 cloves garlic-roughly chopped, not minced
a handful of chopped parsley
1 cup unseasoned bread crumbs
1 cup shredded Parmesan cheese (not the grated green can cheese)
2 eggs
salt to taste
Sauce of your choice (approx two 24-oz jars)
Mozzarella cheese to top it off with
Mix all of the above meatball ingredients and form your meatballs-not too large. Mine made about 24.
Grease a baking sheet (one that has sides) and bake the meatballs at 400 degrees for 20 minutes.
Lower oven to 375.
Pour some sauce in the bottom of your dish(es).
I used a 2 8x8 glass dishes or you could use one 9×13. Also, you can bake one pan of them and freeze one for later.
Lay meatballs on top of the sauce. Cover with more sauce and dress the top up with lots of mozzarella! It should be generously covered with cheese!
Cover with foil and bake for 20 more minutes.
Remove foil and bake an additional 10 mins or until meatballs are cooked through and cheese is browning.
For the last 4 minutes I raised the oven temp to 400 to help the browning. Just keep an eye on the cheese to make sure it's browning and not burning.