Creamy White Christmas Coconut Margarita Punch recipe for a crowd is so festive and will be a huge hit for any holiday party.  It is truly Christmas in a glass!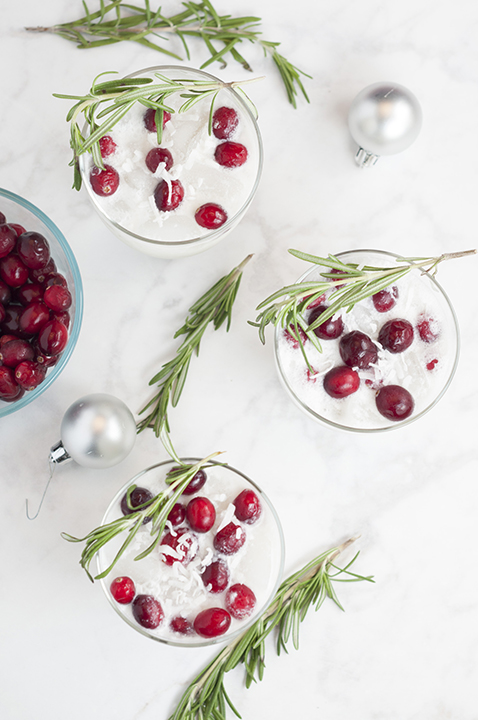 "I'm dreaming of a White Christmas….in a glass".  Is that a song?  Well, I just made one up. Before you decide what drinks you're serving at those holiday parties this month, look no further! This White Christmas Coconut Margarita Punch is the stuff that Christmas dreams are made of.  Not everyone loves eggnog so time to serve something different for the festivities!
I'm so glad you're here! Follow along on Pinterest for more inspiration!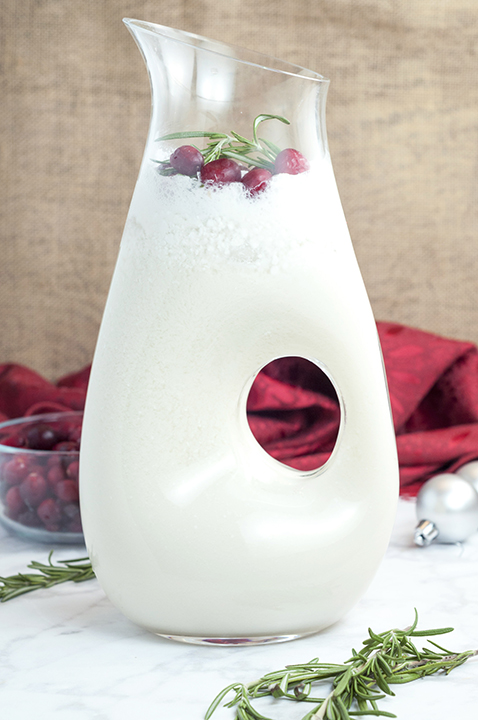 Do you have all of your plans made for your Christmas menu this year? If not, I highly recommend adding one more fun recipe to your list. RUN to the store and get all of the ingredients for this punch now! Your holiday guests will thank you. I do admit that I love all things Christmas and am borderline obsessed with anything festive this time of the year. I just feel there is nothing NOT to love about this drink.  Look how pretty and "clean" it looks! Like fresh fallen snow poured into glasses.  OK, I'm a huge dork – I realize this.
This White Christmas Coconut Margarita Punch also kind of incorporates my favorite summer drink: the Piña Colada. It is loaded with coconut flavor, fresh lime, but has the addition of cranberry to make it seasonal for the holidays. Simply irresistible.  The garnishes are optional but make such a beautiful presentation.  Even the shredded coconut looks like snow on top!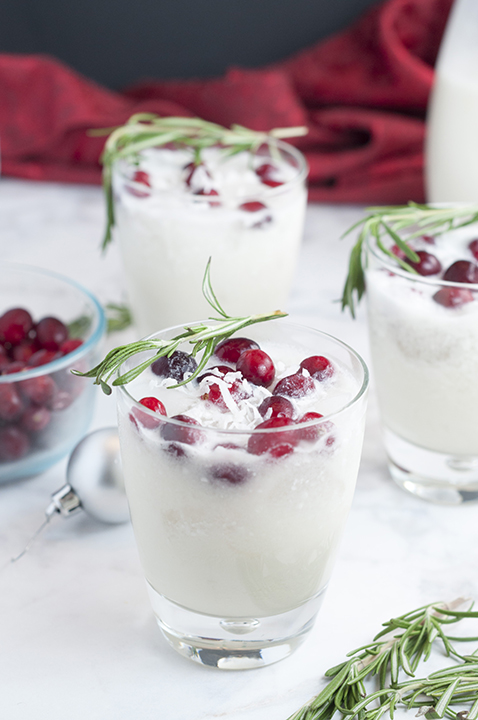 I even included a tip in the recipe directions on how to make your own simple syrup. Below, I included some other holiday party punch ideas if you're not digging this one (which is probably nobody out there in their right mind) or need another variety.
MORE PUNCH RECIPES:
(you need to check out the color of this one!)
I hope you enjoy!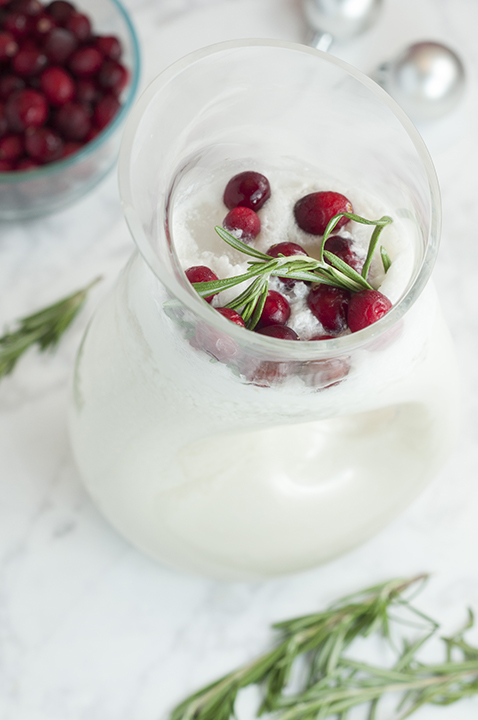 White Christmas Coconut Margarita Punch
Creamy White Christmas Coconut Margarita Punch recipe for a crowd is so festive and will be a huge hit for any holiday party. It is truly Christmas in a glass!
Ingredients
10 ounces silver tequila
8 ounces Grand Marnier or Cointreau
8 ounces freshly squeezed lime juice
8 ounces white cranberry juice
8 ounces canned coconut milk
8 ounces coconut cream (or cream of coconut)
6 ounces coconut rum (I use Malibu)
6 ounces unflavored, clear simple syrup (store bought or homemade*)
sprigs of rosemary, fresh cranberries, & shredded coconut for garnish (optional)
Instructions
Before pouring into the pitcher you will be serving the punch in, mix all ingredients together well in a bowl. Use a whisk to get out any lumps out of the coconut milk or coconut cream.
Pour into serving pitcher and serve cold. Pour in individual glasses filled with ice and garnish with rosemary and/or cranberries and shredded coconut, if desired.
*Tip: to make the simple syrup, combined equal parts sugar and water (like 1 cup sugar, 1 cup water) in a saucepan over medium heat. Whisk constantly until the sugar dissolves and the mixture comes to a boil, then remove from heat and let cool completely.
Recipe source: slightly adapted from howsweeteats.com
- Craving more?
Sign up for the Wishes & Dishes Newsletter
for a fresh serving of content delivered every week to your inbox! And stay in touch on
Facebook
,
Twitter
,
Pinterest
and
Instagram
for all of the latest updates!