I hope everyone is looking forward to Thanksgiving and that you all are in the spirit of being thankful. Today I bring you a great idea for an easy Thanksgiving dessert!
I do know amazing pumpkin bread when it crosses my path- that is for sure. You are going to have to trust me on this one; this is the best pumpkin bread you may ever taste!  If you're wondering what heaven might smell like, whip this bread up, throw it in the oven, and see how wonderful your house smells!   You can use any kind of chips in it, but the white chocolate chips melted into the bread and blended perfectly with the taste of the pumpkin.  Note: the chips, for the most part, do not stay whole, but get "melty", if that's even a word.  "Melty" in a good way, of course.  It's all just so yummy and comforting.
I
strongly
suggest you make this for Thanksgiving next week if being the most popular person amongst your family and friends is something that's important to you…. or even if you just want to "one-up" someone else's dessert (you will win).  Now THAT'S the spirit of Thanksgiving, right!?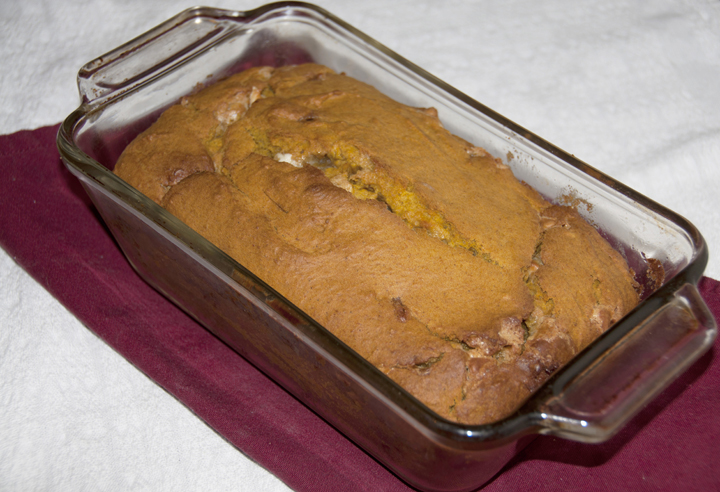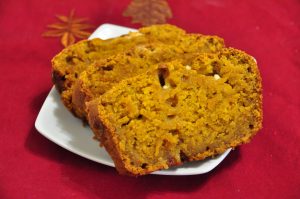 INGREDIENTS:  
 
1/2 Cup Unsalted Butter, Softened
3/4 Cup Sugar
2 Eggs
15 ounce can of Pumpkin Puree
1/2 tsp. Cinnamon
1/2 tsp. Vanilla
1 tsp. Baking soda
2 Cups Flour
1 Cup White Chocolate Chips
PREPARATION: 
Preheat over to 350 degrees.In a medium sized bowl, combine the butter and sugar together until light and fluffy.  I used my stand mixer to make things easier.  Scrape down the sides periodically.Add the eggs one at a time, beating well after each addition.Pour the cinnamon, vanilla, and pumpkin in and mix well until combined.
Stir in the flour and baking soda until just combined.
By hand, mix in the white chocolate chips.
Place batter into a greased loaf pan and bake for 1 hour or until toothpick inserted in the middle comes out clean.  If using mini  pans, bake for 40 minutes.
Cool for 10-15 minutes in the pan before removing to cool completely on a rack.
- Craving more?
Sign up for the Wishes & Dishes Newsletter
for a fresh serving of content delivered every week to your inbox! And stay in touch on
Facebook
,
Twitter
,
Pinterest
and
Instagram
for all of the latest updates!