"Christmas is not a time or a season but a state of mind.
To cherish peace and good will, to be plenteous in mercy,
is to have the real spirit of Christmas." ~Calvin Coolidge
Can you say "addictive"?  Get into the holiday spirit and bake some snowball cookies with me!
This is my great-grandmother's recipe and was my all-time favorite Christmas cookie when I was growing up.  It is an absolute staple in my world at this time of year.  I grew up baking these every year with my mom and now that I'm a big girl I have kept the tradition going :o)   We always made these cookies with walnuts, but pecans are also customary.
Here's to tradition!
 I know everyone is busy around the holidays so I'm going to keep this short and sweet and just let you get your bake on!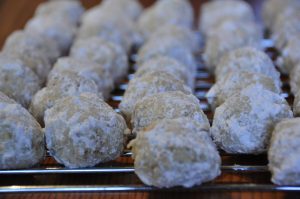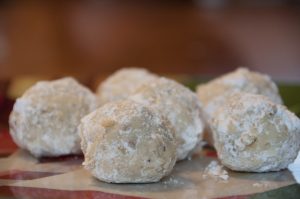 INGREDIENTS:  
(If you have a big crowd, double the recipe)
1 cup shortening
1/2 cup confectioners sugar
2 1/4 cup sifted flour
1/2 teaspoon salt
1 teaspoon vanilla
3/4 cup chopped walnuts (or pecans, hazelnuts, etc.)
PREPARATION: 
Cream shortening and confectioners sugar.
Stir in the remaining ingredients.
Roll into 1 inch balls and bake on lightly greased cookie sheet (or use non-stick baking mat or parchment paper)
Bake at 375 for 12-15 minutes.
Roll immediately in confectioners sugar.  Cool cookies on wire rack.  Roll again in confectioners sugar, if desired.
Enjoy! 
- Craving more?
Sign up for the Wishes & Dishes Newsletter
for a fresh serving of content delivered every week to your inbox! And stay in touch on
Facebook
,
Twitter
,
Pinterest
and
Instagram
for all of the latest updates!