Thanksgiving day came and left …and left you with about a half bird worth of prized turkey meat.  So being me, I got to thinking about what I can do with the left over turkey meat and thought of this idea.  So in the event that you aren't already "turkey'd" out, try this!
In case you were wondering (like I was before I looked it up)… Tetrazzini is an American pasta dish that includes a cream sauce,  mushrooms, and either chicken, turkey, or seafood.   It is thought to  have been invented in San Francisco and named after the famous opera  singer of the early 1900s, Luisa Tetrazzini, who lived there for many years.  Try to contain your excitement.
This recipe is a nice alternative to the turkey and potato default recipes.  It is one of those creamy casseroles that is great to reheat a few  days later – just zap it in the microwave for a couple of minutes and  you're ready to eat – total comfort food!
I hope everyone had a wonderful Thanksgiving!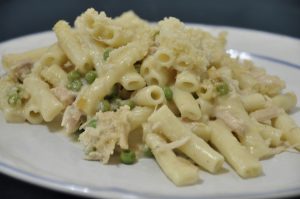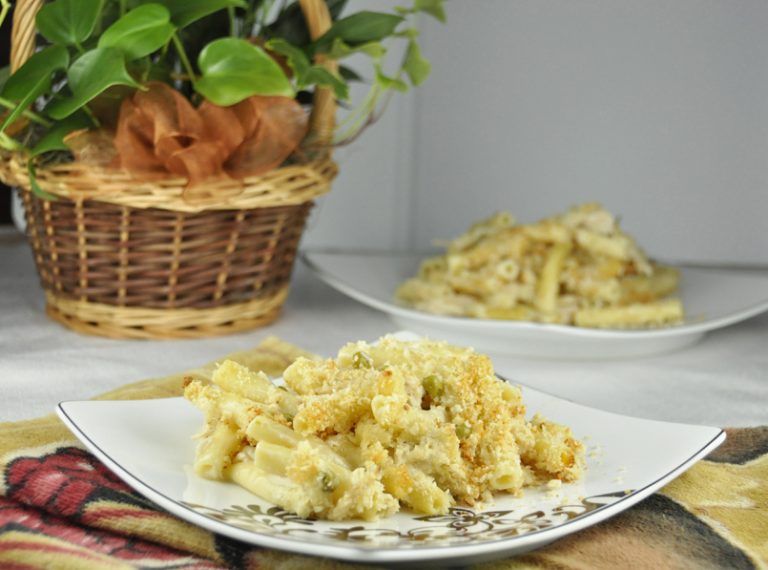 INGREDIENTS:  
16 oz egg noodles or pasta of choice (I used ziti)
12 ounces mushrooms, sliced (about 4-5 cups)
1/2 cup unsalted butter
1/4 cup all-purpose flour
1 1/2 cups of milk
1/4 cup cream
2 cups chicken broth
1/4 cup dry sherry (or vermouth/dry white wine)
3 cups coarsely chopped cooked turkey
1 cup peas
2/3 cup freshly grated Parmesan (divided into 1/3 and 1/3 cups)
1/3 cup shredded Swiss cheese
2 Tbsp lemon juice
Salt and Pepper
Ground nutmeg (optional)
1/3 cup fresh bread crumbs (I use Panko)
Freshly chopped parsley for garnish (optional)
PREPARATION:
Preheat oven to 375°F. Start heating 2 to 3 quarts of water for the pasta. Add 1 teaspoon of salt for each quart of water.Cook the mushrooms in 3 Tbsp of the butter over medium heat, stirring, until all of the liquid the mushrooms give off has evaporated, 5-10 minutes.  Set aside.In a large, heavy saucepan, melt 1/4 cup of butter.  Stir in the flour, and cook the mixture over low heat, stirring, for 3 minutes.About now, put the pasta into the boiling water you've  heated.  Follow the package directions and cook until al dente. While  the pasta is cooking continue on with the recipe.
Into the saucepan with the butter and flour, slowly whisk in  the milk, cream, broth, and the sherry.  Bring to a simmer and cook  over medium-low heat, stirring constantly, for about 5 to 8 minutes.
When the pasta is ready, drain it. In a large bowl combine  the pasta, the sauce, the mushrooms, the turkey, and the peas.  Stir in  1/3 cup of the Parmesan and the 1/3 cup of Swiss cheese (I used cheddar because that was all I had and it was still delicious!).  Stir in the  lemon juice.  Add salt and pepper to taste.  Note that if you have been  using unsalted butter, and/or unsalted or low sodium stock, you will  need to add more salt than you might expect.  Just keep sprinkling it in  until it is seasoned to your taste.  Add a pinch of ground nutmeg if  using, again to taste. Transfer the mixture to a greased 3-quart  casserole.
In a small bowl combine the remaining 1/3 cup Parmesan  and the bread crumbs. Sprinkle the mixture evenly over the tetrazzini,  and dot the top with the remaining 1 tablespoon butter, cut into bits.
Bake the Tetrazzini in the middle rack of the oven for 30 to 40 minutes, or until it is bubbling and the top is golden.
Garnish individual servings with chopped parsley, if desired.
Enjoy!
- Craving more?
Sign up for the Wishes & Dishes Newsletter
for a fresh serving of content delivered every week to your inbox! And stay in touch on
Facebook
,
Twitter
,
Pinterest
and
Instagram
for all of the latest updates!