'Tis the season for holiday parties!  Whether you're hosting or attending, you'll want to have some sweet nibbles on hand ;o)  These babies are delicious and it's impossible to eat just one!  The original recipe for these cookies was in a very old edition of "Taste of Home" magazine.  They have a "shortbread-like" consistency and the toffee bits and crunchy almonds add the perfect touch.  These are great any time of the day!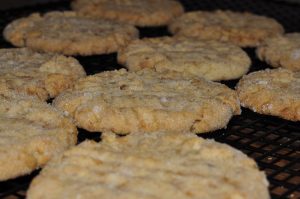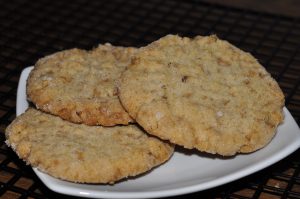 INGREDIENTS:    
*Makes about 9 dozen (you can easily halve the recipe)*
3½ cups all-purpose flour
1 cup whole wheat flour
1 teaspoon baking soda
1 teaspoon cream of tartar
1 teaspoon salt
1 cup (2 sticks) unsalted butter, softened
1 cup sugar
1 cup Confectioners' sugar
1 cup vegetable oil
2 large eggs
1 teaspoon almond extract
2 cups chopped almonds (walnuts also work!)
6 oz (about 1 heaping cup) English toffee bits (I used Heath brand)
Additional sugar
PREPARATION:
Set racks in middle of oven and preheat to 350 degrees. Line two baking sheets with parchment paper.
Combine all-purpose flour, whole wheat flour, baking soda, cream of tartar and salt in a medium bowl; mix well.
In the bowl of a mixer fitted with paddle attachment, cream butter,  sugar and Confectioners' sugar until well combined, about 1-2 minutes.
Scrape down sides of bowl with spatula, then add oil, eggs and almond  extract; mix well.
Add dry ingredients and mix slowly to combine.
Stir  in almonds and toffee bits.
Shape dough into 1-inch balls,  roll in sugar, then place about 2″ apart on prepared baking sheets and flatten with a fork.
Bake, rotating sheets halfway through cooking, for 14-17 minutes or until lightly browned.
Let cookies cool on baking sheets for a few minutes, then transfer to wire rack to cool completely.  Store in airtight container.