It's day THREE of Mexican week!  Are you sick of it yet?  Good, me neither!
  Here's the deliciousness I posted on day ONE and day TWO this week in case you missed them.  Mr. Wishes and I absolutely love Mexican food and it rates right up there with Italian food.  That says a lot right there!  Because of this, I am always on the look out for new Mexican recipes and this was one that really stood out to me because it combines Italian and Mexican together into one glorious dish.
My husband and I both devoured these until we felt sick from eating way too much.  The cream cheese combined with the taco meat is really the best part about this meal….and of course dousing them in cheese didn't hurt things much.  They were just something so different and fairly easy to make.  I will definitely be making these again soon.
So make these taco stuffed shells and enjoy them…I know that you will!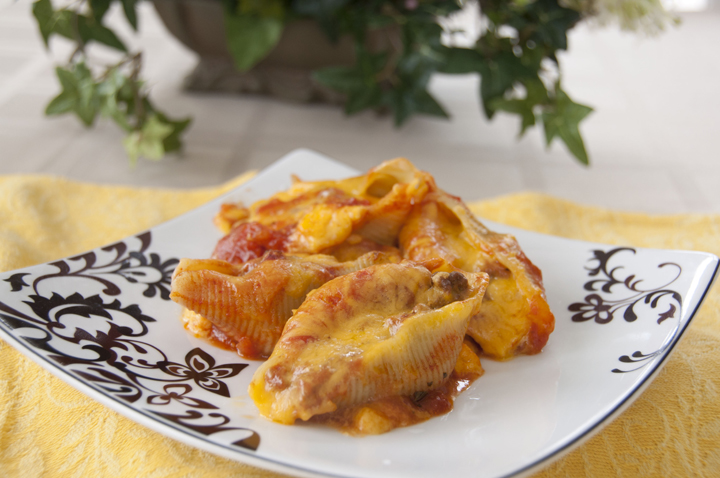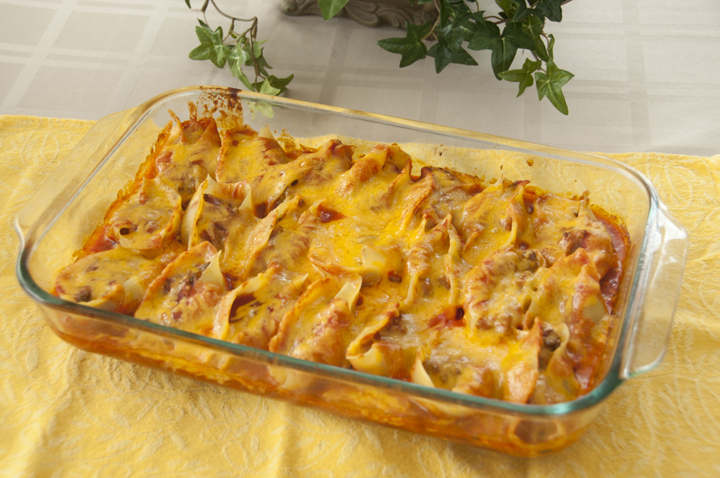 INGREDIENTS:
1 lb. ground beef (or ground turkey)
1 package low-sodium taco seasoning
4 oz. cream cheese
14-16 jumbo pasta shells
1.5 cup salsa
1 cup taco sauce (smooth, tomato-based sauce found in the Mexican section)
1 cup cheddar cheese
1 cup monterey jack cheese
3 green onions, chopped
Sour cream, for topping
DIRECTIONS:
Preheat oven to 350°.
In a frying pan cook ground beef; add taco seasoning and prepare according to package directions. Add cream cheese, cover and simmer until cheese is melted. Blend well. Set aside and cool completely. While ground beef is cooking, cook the pasta shells according to directions; drain and rinse with cold water to stop the cooking process (since they will be baked later on). Set shells out individually on cutting board/baking sheet so that they don't stick together.
Pour salsa on bottom of 9×13 baking dish. Stuff each shell with the meat mixture. Place shells in 9×13 pan open side up. Cover shells with taco sauce. Cover with foil and bake for 30 minutes.
After 30 minutes, add shredded cheese and bake for 10-15 more minutes, with the foil removed. Top with any condiments you'd like (green onions, black olives, etc…whatever you like on tacos!) I left mine plain because I didn't have much of anything on hand.  Serve with sour cream and/or more salsa.
Recipe source: adapted from blogchef.net
- Craving more?
Sign up for the Wishes & Dishes Newsletter
for a fresh serving of content delivered every week to your inbox! And stay in touch on
Facebook
,
Twitter
,
Pinterest
and
Instagram
for all of the latest updates!