Use up those leftover fun-sized Halloween candy Bars and turn them into Snickers Caramel Apple Dip! A fun and easy fall treat!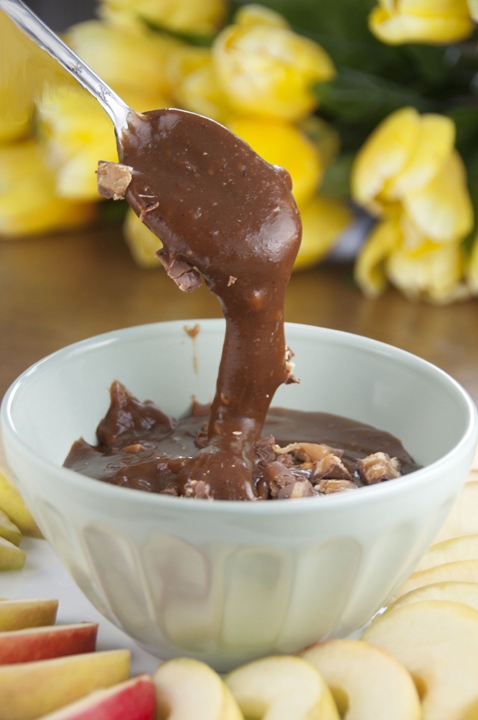 I know it's still September, but I've got candy on the brain and this dip recipe would be a great way to use up Halloween candy next month.  But you can make it any time of the year – I made it for a dip party!  What better time to talk about candy than the fall?  I have to admit that I'm not huge on chocolate candy.  I know, I have issues.  I prefer things like sour patch kids, chewy sprees, and skittles.  But one of the few chocolate candies that is a weakness of mine is Snickers.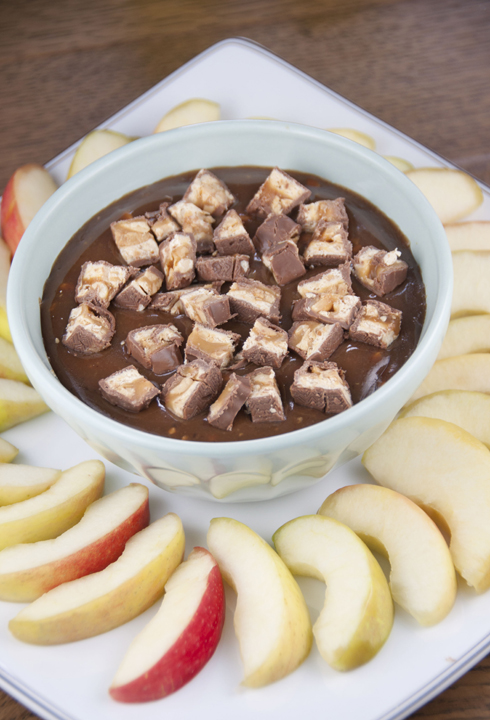 Snickers are one of my absolute favorite candy bars and I knew I had to make a dip with them.  I'm pretty positive that you could use any other chocolate-based candy bar in place of the Snickers that you like – Heath bars, Kit-Kats, Milky Way bars (especially if you are allergic to peanuts, these would be a great substitute).  Get creative!
This was delicious, but just to warn you, it made a HUGE amount of dip.  I took it to the dip party, as I said before, and as we put a good dent in it, I had half of it leftover.  If it's for a SMALL get-together (10 or so people), I'd recommend halving the recipe.
This would be perfect for a birthday or holiday party, baby shower, you name it! If you're wondering what else you can serve this with besides the sliced apples like I did, pretzels, Ritz crackers or animal crackers would also be great.  I tried to go the "healthy" route with the apples (ha ha).  This isn't a dip you want to eat frequently, but I'm a firm believer in "everything in moderation" and eating the bad stuff once in a while.  Enjoy!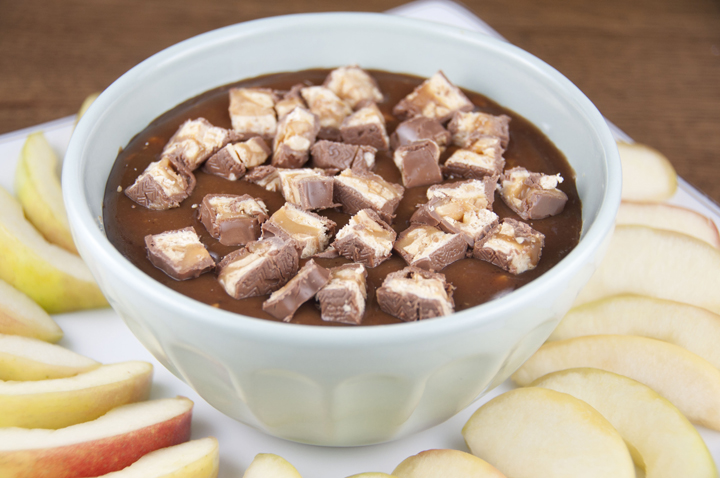 Snickers Caramel Apple Dip
Prep time:
Cook time:
Total time:
Use up those leftover fun-sized Halloween candy Bars and turn them into Snickers Caramel Apple Dip! A fun and easy fall treat!
Ingredients
12 "fun" size Snickers Bars, chopped – 10 for IN the dip and 2 for garnishing the dip (the "fun" size that is a couple of inches long, not the super small ones)
½ cup of unsalted butter
2 cups of light brown sugar
1 cup light corn syrup
¼ teaspoon salt
1 (14 oz. can) sweetened condensed milk
2 teaspoons vanilla extract
Instructions
Melt butter in 2-quart saucepan; add brown sugar, corn syrup and salt.
Cook over medium heat, stirring occasionally, until mixture comes to a full boil (10 to 12 minutes).
Stir in sweetened condensed milk and cut up Snickers Bars.
Continue cooking, stirring occasionally, until Snickers bars are completely melted (minus the peanuts, of course) and dip thickens up.
Remove from heat; stir in vanilla and transfer to a serving bowl.
Serve with sliced apples, pretzels, Ritz crackers or animal crackers.
Take the two leftover Snickers bars, chop them up, and sprinkle them over the dip before serving.
- Craving more?
Sign up for the Wishes & Dishes Newsletter
for a fresh serving of content delivered every week to your inbox! And stay in touch on
Facebook
,
Twitter
,
Pinterest
and
Instagram
for all of the latest updates!