So there was this one time when I erased my entire memory card from my camera before copying the photos onto my computer's hard drive.  Yup, this happened to me last week.  I was so mad at myself!  I went to copy and paste them and then erased the memory card while it was in the process of transferring them over.  It was a total brain fart on my end!  It could have been worse though, as I "only" lost about 3 weeks worth of food photos.  STILL maddening, though.  Oh well – now I just get to remake and rephotograph everything I made for the entire month of October! Fun times!  OK, my rant is over

I made this lasagna a while back and was pleasantly surprised, to say the least.  I had a vegetarian pesto lasagna while down in Miami last year and I had been wanting to make this sort of unconventional lasagna at home…and that I did.  I never had anything like it – this dish was beautiful, delectable and perfect! The pesto and bechamel sauce together tasted so appetizing and looked irresistible fresh out of the oven.  I only wished I had made 2 baking pans worth so that I could eat it for lunch all week long.  It was so easy and stress free to put together and is without a doubt going in my recipe file as a keeper.
P.S. You can make this ahead of time and refrigerate it.  Just make sure your bechamel sauce is cooled down and then layer everything, wrap tightly in foil and stick it in the fridge until you are ready for it.  The next day (or later on the same day), make sure to let it sit out an hour or so at room temperature before you cook it.  Enjoy!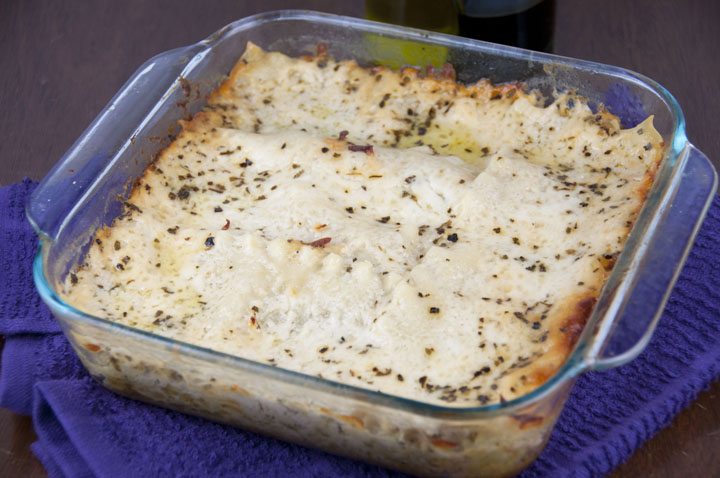 INGREDIENTS:
*makes an 8×8 pan (4-8 servings)*
* note:  for this recipe in an 8×8 pan, you can make a smaller size lasagna using only 10 noodles (5 layers with only 2 sheets per layer).  You can also make a larger lasagna in this pan, using all the space by having 4 noodles per layer.
for the pasta:
10 – 20 no-cook lasagna noodles or fresh pasta sheets, cooked OR regular lasagna noodles, cooked *
for the pesto:
3 ounces Parmigiano Reggiano, cut into chunks
1-1/2 cups packed fresh basil leaves
1 garlic clove
1/4 cup pine nuts
1/2 cup olive oil
for the bechamel:
1/4 cup butter
1/4 cup flour
2 cups milk
1 chicken bouillon cube
1/8 teaspoon grated nutmeg
1/4 teaspoon ground white pepper
for the assembly and topping:
1 cup grated Parmesan cheese
3/4 cup shredded mozzarella cheese
1 teaspoon dried oregano
DIRECTIONS:
Make the pesto:
Place the chunks of Parmigiano cheese into the food processor and process until finely ground.  Add the basil, garlic and pine nuts to food processor.  Process, using pulses, till finely chopped.  With machine running, add the olive oil until pesto is smooth.
Make the bechamel:
In a heavy medium saucepan, melt the butter.  Whisk in the flour and stir for a couple of minutes, until the flour is cooked.  Add the bouillon cube and allow to dissolve.  Whisk. Add about a third of the milk, slowly, and whisk over medium heat.  Add the nutmeg and pepper.  When the sauce is smooth, add another third of the milk and whisk.  When the sauce is smooth again, add the rest of the milk and whisk until smooth. Transfer to a heat proof bowl or Pyrex cup and let cool slightly.
Assemble lasagna:
Preheat oven to 350 degrees F.
In an 8×8 pan, place about 1/3 cup of the bechamel to coat the bottom of the pan. Lay first layer of lasagna noodles.  Add enough bechamel to coat the noodles.  Add some pesto and spread into the bechamel.  Add a handful of the grated Parmesan. Continue to layer the noodles, bechamel, pesto and Parmesan until the last layer of noodles.  On top of this, just spread the bechamel only, add the rest of the Parmesan and top with the mozzarella.  Sprinkle the oregano on top.  Wrap tightly with foil (preferably Reynolds Non-Stick foil or spray the foil with non-stick cooking spray on the side facing the lasagna).
Bake for one hour (if using regular, cooked noodles) or one hour and 15 minutes (if using no-boil noodles). Remove foil and bake for 10 minutes more, until top is golden.  Remove from oven and allow to sit for 15 minutes before slicing so that it doesn't fall apart.
Recipe source: slightly adapted from theItaliandishblog.com