Consider yourselves special that I am sharing this "secret" family recipe with you…I just really want you to have the
best
of the best to serve at your holiday parties

)  This always goes over well at parties – there's never any left over.
It's no surprise that I'm a big fans of pizza but there are some nights where homemade pizza just takes a little too long to make.  However, when you've got that hankering for cheese and bread, you might consider making a pizza bread…or stromboli…or pizza pop…or pizza roll…or however you wish to call it.
The first time I made this pepperoni bread a few  weeks ago, I used the famous pizza dough from the pizzeria that my in-laws own (shout out to Russo's Clubhouse Pizza!) and made it using the recipe that my mother-in-law, Mary, has used for years upon years.  I got to opportunity to make this in the mansion of all kitchens at Russo's…well, I guess anything feels like a mansion compared to my miniature kitchen at home. The dough is seriously fantastic when it is used for the pizza so I knew it would be perfect for this pepperoni bread, as well.  It not only works perfectly with pizza but also beautifully with this bread.
There really is no set recipe for what to put in pizza bread but this way is how I prefer it.  I used  pepperoni and mozzarella cheese and kept it simple.   You can really use any variety of cheese and even sneak in some veggies: spinach, broccoli, artichokes,  asparagus, zucchini, etc.  Whatever you like on your pizza, throw it in there!  The cheeses used in this bread are usually pretty standard: mozzarella  is a given, but I've also seen people use provolone in this type of bread.
The only thing I recommend about this bread is that you don't skip the beaten egg yolk step at the end.  The egg gives the crust a wonderful  flavor that complements the salty insides wonderfully.
                        Oh and P.S. – you might want to have your cholesterol medicine on hand!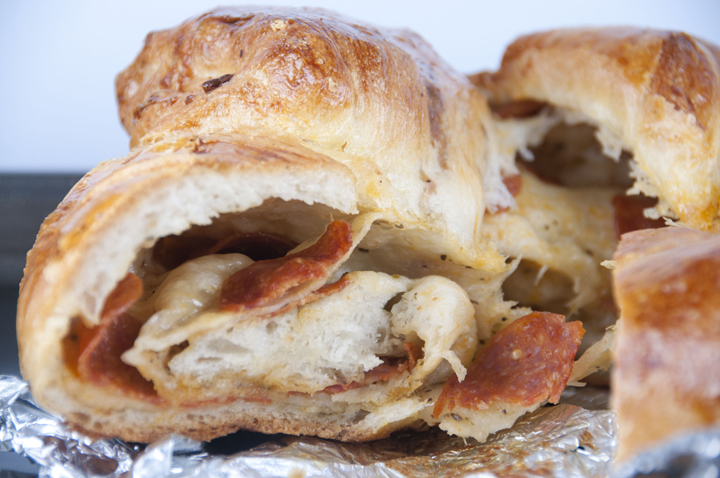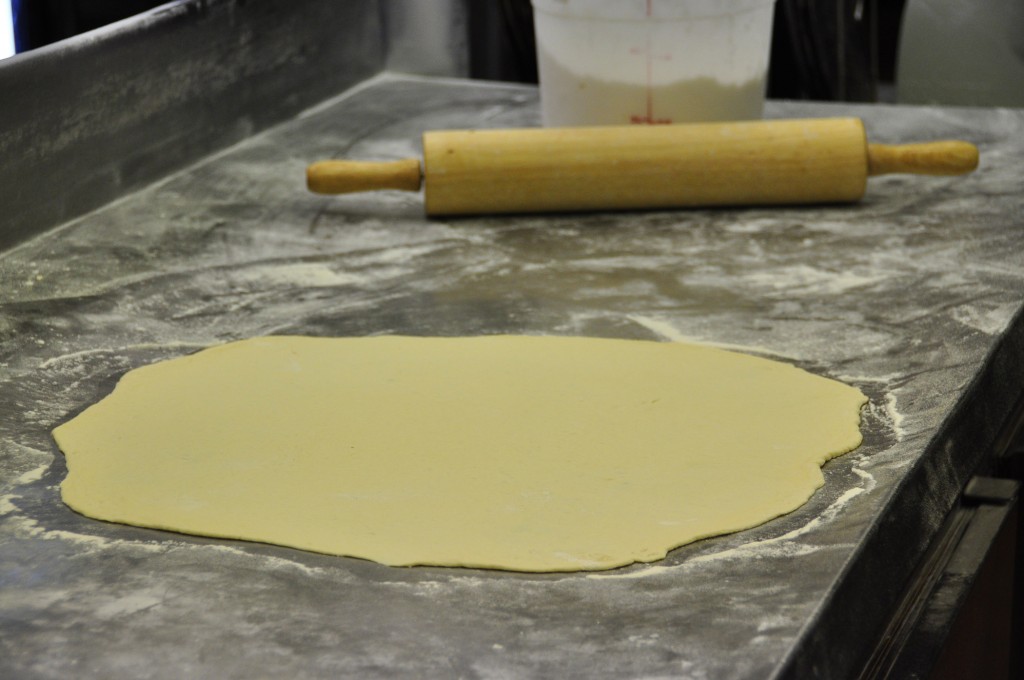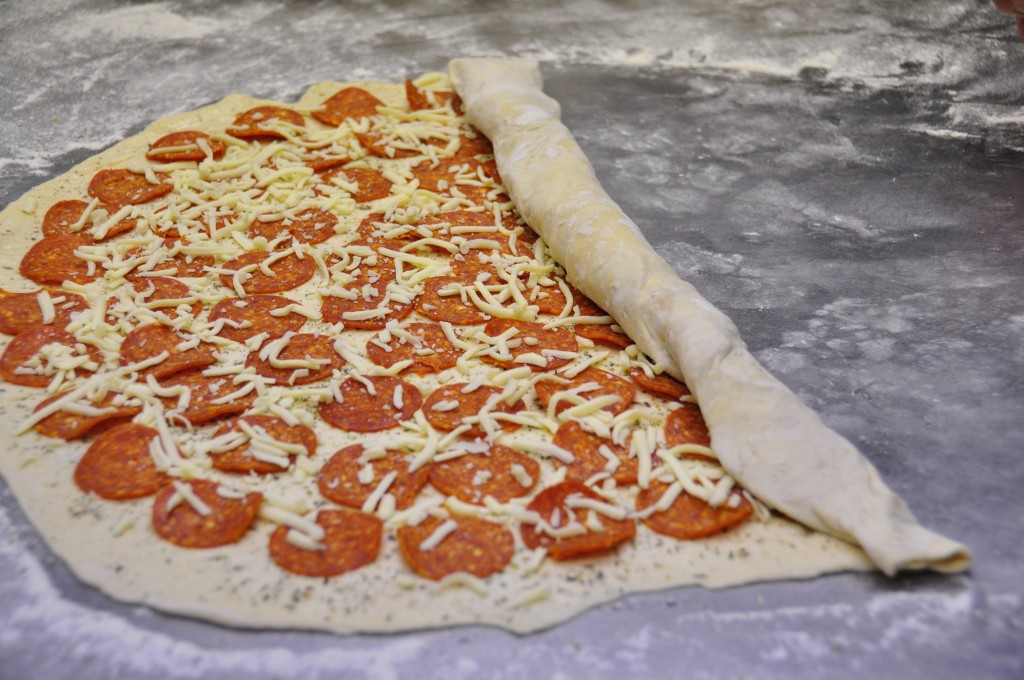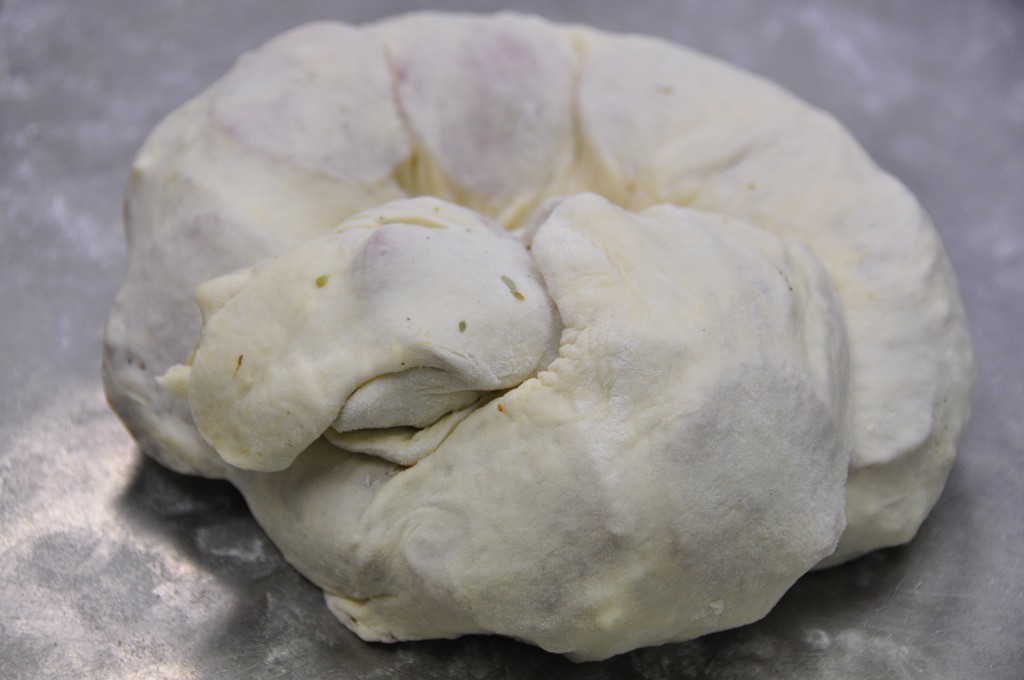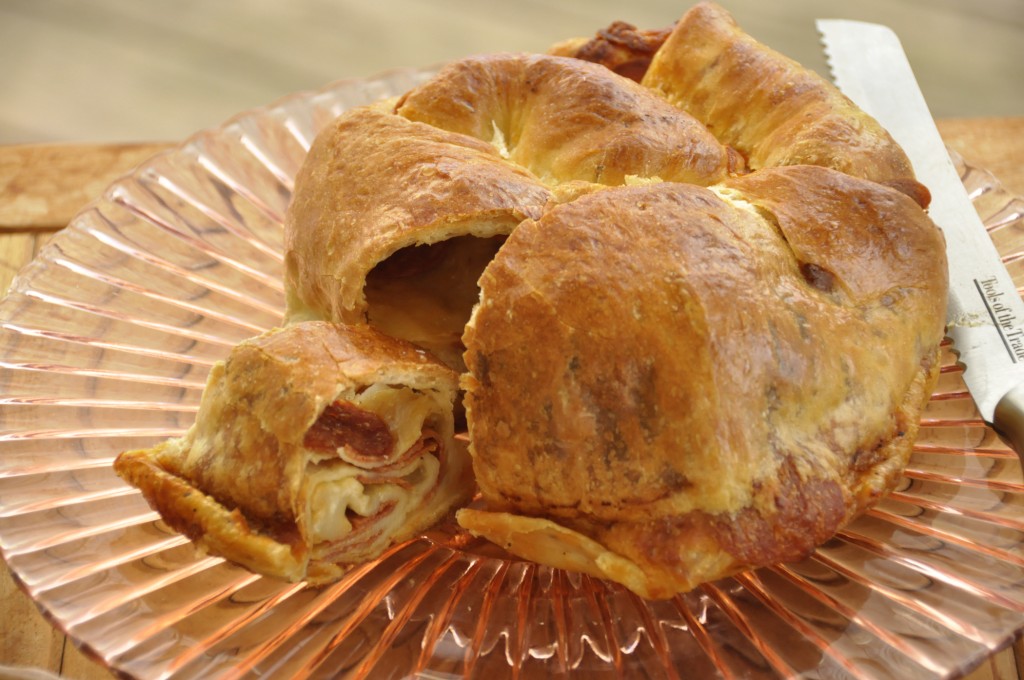 INGREDIENTS:  
1 – 1 & 1/4 pound pizza dough, rolled out thin*
pepperoni (about 1/2 lb)
mozzarella cheese (or cheese of choice, about 1/4 lb)
1 egg yolk, beaten
vegetable oil
oregano, salt & pepper
optional: any veggies you wish to add
 
*For this bread, prepare your favorite pizza dough recipe (here is a good one if you don't have a favorite: http://allrecipes.com/recipe/quick-and-easy-pizza-crust/detail.aspx), or use fresh pizza dough from your grocery store.
PREPARATION:
Prepare the recipe of your favorite pizza dough, if making from scratch.
Dust a clean work surface with flour.  Roll out dough into a long circular shape, about 12-14 inches long and about 8 inches wide.  Roll the dough thin.Rub dough with vegetable oil and blot any excess oil.  Salt and pepper the dough generously and sprinkle oregano over all.Spread pepperoni over the whole thing (and any other goodies you are adding).  Sprinkle cheese on.  Roll and form into a ball after rolling (pictured above).Using a pastry brush, brush beaten egg over the top of the bread and down the sides.  Sprinkle with pizza seasoning, if desired.Preheat oven to 375 degrees (preheat a pizza stone, if using) and bake on a lightly greased or foil-lined baking sheet or pie pan for about 45 minutes.  Keep an eye on it and it's done when the crust is golden brown.
Cut into pieces using a sharp knife.
Serve with marinara sauce to dip, if you wish!
Enjoy!