Welcome to my new favorite homemade brownie recipe!  This one is for all you Nutella fans out there (shout out to my friend of 16+ years, Megan!).
For those who don't know, Nutella is a spread made with a combination of roasted hazelnuts, skim milk and cocoa.  I know it isn't actually healthy, despite what the commercials say, but  it is so delicious.  Chocolate and hazelnut are just a match made in  heaven!
If  you are a ooey, gooey, chocolate brownie lover and have never tried a  Nutella brownie before you need to try this one. They're dense, yet light…. soft and chewy, yet cakey too.
These are fabulous and I think you should head straight to your kitchen right now and bake these up.  You may find a new love in brownies like I have in this recipe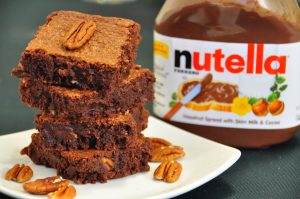 INGREDIENTS:  
1 stick unsalted butter
1/2 cup cocoa powder
3/4 cup sugar
1/2 cup Nutella
3 oz dark chocolate, melted
2 eggs
1/2 cup all-purpose flour
1/2 teaspoon salt
Optional: chocolate chips/chunks/chopped nuts, to your liking (I used about 1/2 cup chopped pecans)
PREPARATION: 
Zap 1 stick of butter + 1/2 cup of cocoa powder in the microwave for 1 minute. Whisk very well.
When it's nice & smooth, add 3/4 cup sugar + 1/2 cup Nutella + 3 oz melted dark chocolate.
Whisk in 2 eggs. Sift together 1/2 cup flour + 1/2 teaspoon salt.
Dump the flour mixture over the chocolate mix & fold gently with a rubber spatula.
Fold in chocolate chips/chunks/chopped nuts of your choice. Pour into 8×8 inch greased pan.
Bake at 350F for 20-25 min.
Cool & slice into bars.
Enjoy!