Do you remember the Slow Cooker Chicken Tacos that I made a while back?  Well, consider this a sort of Thai version of those.. and it's no secret that Thai flavors are a favorite mine lately!  Tacos are a regular thing at my house so I was excited to switch up the flavors with these babies and I think you will love them as much as we did.  OH, and get ready for ALL Mexican food ALL the time next week on Wishes and Dishes
  That's right, a whole week of nothing but Mexican dishes, so consider this a little sneak peak.  I'm so excited!
This is fantastic idea for tacos that perfectly brings together a Mexican concept and Asian flavors…two of my absolute favorites!  I loved the sweet-flavored peanut chicken, crunchy peanuts, cilantro and lime juice paired with the lightness of the fresh tortillas.  To be honest, the peanut sauce is the component that really stole the show as far as flavor.  Peanut sauce is seriously the king of all sauces in my world!  I'm convinced that it can make just about anything taste better.
These peanut chicken tacos are filled with flavor, and a breeze to make!  I also loved the bright, vibrant colors in these.  You have just got to love a quick meal that only LOOKS complicated.  Enjoy!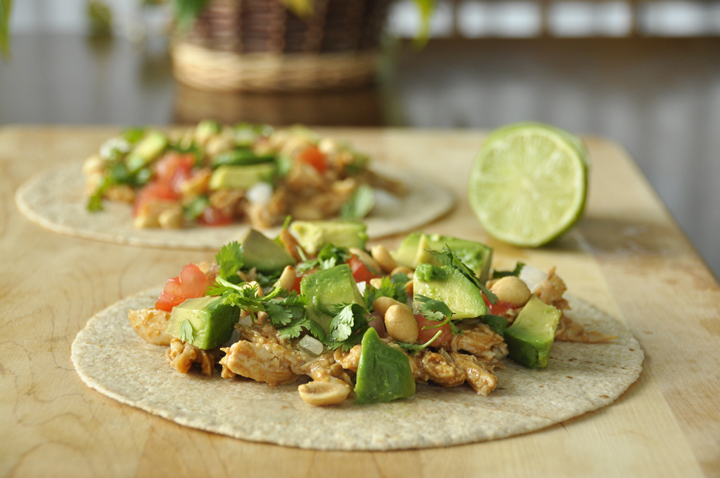 INGREDIENTS:
*serves 4*
For the peanut chicken:
2 chicken breasts or thighs, boneless and skinless
1 cup Thai peanut sauce
1/2 cup coconut milk or chicken broth
For the tacos:
12 small tortillas
2 avocados, sliced
1/2 cup sweet onion, diced
extra peanut sauce, to taste (optional)
1/4 cup peanuts, coarsely copped
1 medium tomato, chopped
cilantro to taste, torn
1 lime, sliced into wedges
DIRECTIONS:
Mix the peanut sauce and coconut milk and place it in the slow cooker along with the chicken and cook on low for 5-6 hours or until cooked through.
Remove the chicken from liquid and shred.
Spoon the warm peanut chicken onto the tortillas, assemble the tacos by adding the other ingredients in any order and squeeze some fresh lime juice on the top.  Roll up like a burrito and enjoy!
- Craving more?
Sign up for the Wishes & Dishes Newsletter
for a fresh serving of content delivered every week to your inbox! And stay in touch on
Facebook
,
Twitter
,
Pinterest
and
Instagram
for all of the latest updates!