Oven-Fried Parmesan Chicken Cutlets & Mashed Potatoes recipe will be your new favorite weeknight meal: chicken with crispy crust, juicy interior, and the creamiest mashed potatoes on the side.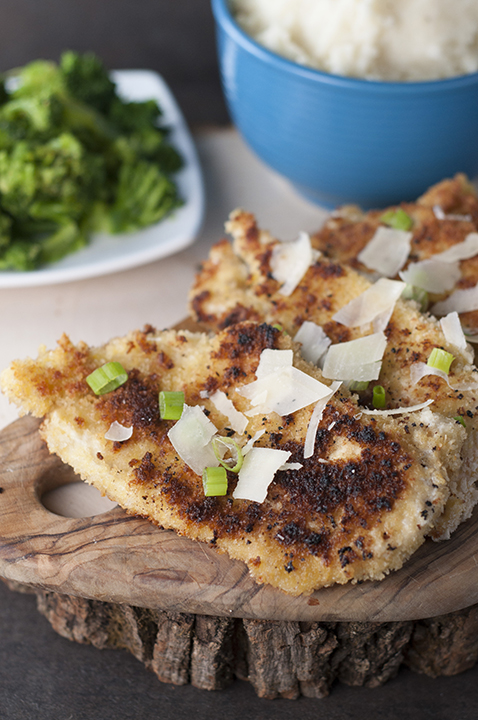 I'm admittedly a terrible meal planner at times.  I am at the grocery store pretty much every other day, if not multiple days in a row.  I really don't like that habit of mine, but I tend to fly by the seat of my pants and see what I'm in the mood to eat that day.  I mean, how do I know when I'm grocery shopping on Sunday what I'm going to be craving for dinner on Wednesday?  I wish I could be better at meal planning and I know a lot of you are in the same boat from some comments I've received from readers.  Discovering the new Idahoan Signature Russets Potatoes has not only made my life easier when it comes to getting a home cooked meal on the table, but also makes me look like a superstar meal planner during the busy weeknights.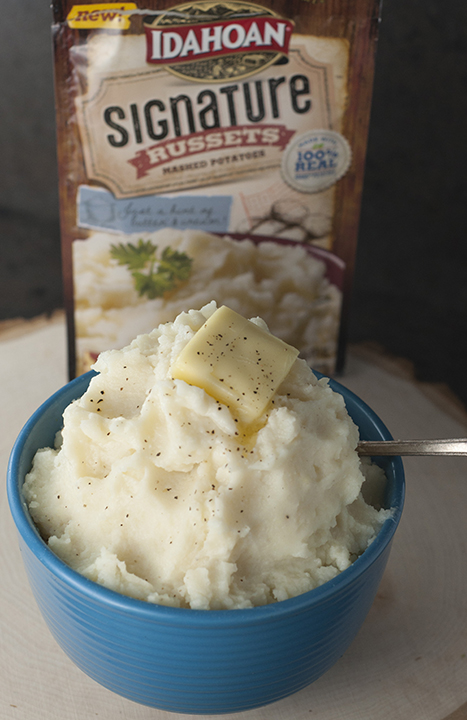 I can honestly say these are ridiculously good, so creamy, and such a simple way to get creamy potatoes on the table in no time at all.  You can tell from the photos that these are absolutely scrumptious. I can keep a few pouches of them in my pantry and pull them out when I need a quick and easy side dish to complete my meals.  I'm very picky about my mashed potatoes and even my husband admitted that they tasted like I peeled, boiled and mashed them myself!  They have the perfect hint of butter and cream.  I have made mashed potatoes several times and I know how hard it is to get the consistency just right.  Idahoan has done the work for you, people.  Milk, butter, and five minutes of your time is all it takes.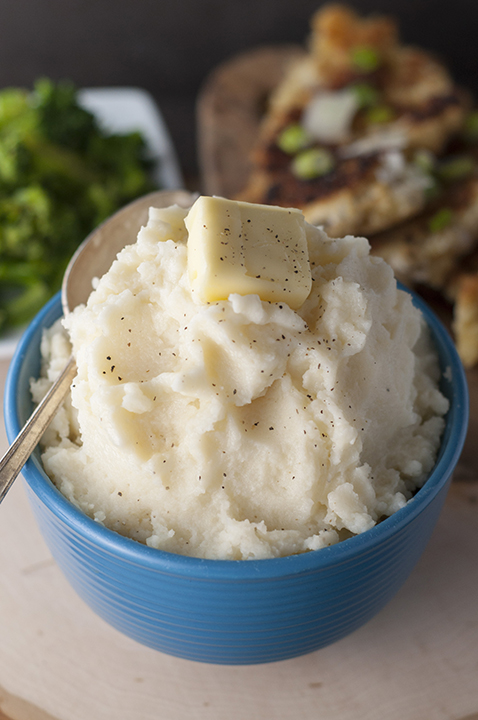 These Oven-Fried Parmesan Chicken Cutlets are the perfect main course to go with the Idahoan potatoes.  They came out so juicy inside and I loved that they were baked in the oven.  No oil splatters exploding all over my kitchen that I have to spend all night cleaning up makes for one happy Ashley.  The Panko bread crumbs give a great fried chicken texture without the frying and it's made with very basic ingredients.  If you're using thicker chicken pieces you want to make sure you beat them into submission with a meat tenderizer (ha ha) so that they are thin.  The chicken is sure to come out tender that way.  If you would rather pan-fry your cutlets, you may enjoy this recipe, as well.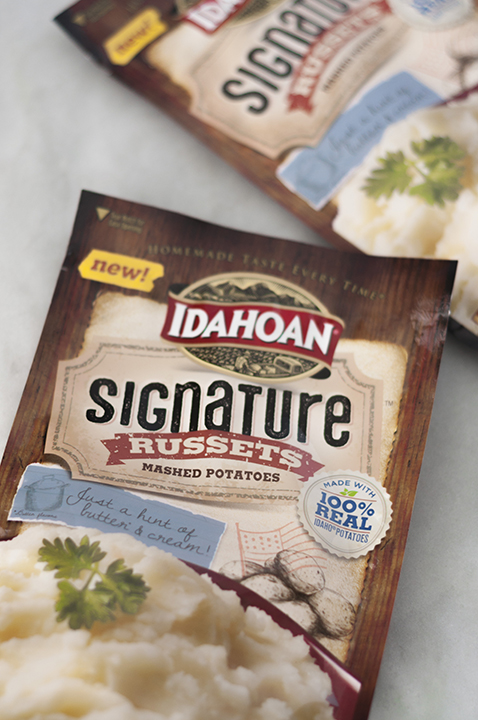 In case you're not already sold on these potatoes, here are some more fun facts:  Idahoan starts with the highest quality russet potatoes grown in Idaho during it's warm summer days and cool summer nights. Their innovative processing method maintains that potato's natural great taste and texture.  More than six pounds of premium Idahoan russet potatoes go into every 16 oz. pouch!  An added bonus for the busy moms out there is the re-sealable pouch you can buy Idahoan Signature Russets in.  These pouches keep them fresh and ready to go any night of the week.  I have no more excuses with my meal plan slacking ways.  Shout-out to my hubby who is probably shaking his head "yes" as he reads this.

You can now find Idahoan Signature Russets Mashed Potatoes available at stores nationwide (including Walmart and Kroger).  Give them a try once and I promise you'll never buy another brand again!

Oven-Fried Parmesan Chicken Cutlets & Mashed Potatoes
Prep time:
Cook time:
Total time:
Oven-Fried Parmesan Chicken Cutlets & Mashed Potatoes recipe will be your new favorite weeknight meal: chicken with crispy crust, juicy interior, and the creamiest mashed potatoes on the side.
Ingredients
2 cups unseasoned Panko bread crumbs
1 cup grated Parmesan
4 tablespoons olive oil, divided
2 tablespoons fresh thyme leaves, minced
Salt and ground black pepper, to taste
¼ cup Dijon mustard
2 tablespoons water
2 pounds chicken cutlets (or boneless skinless chicken breasts, pounded thin- ¼ inch thickness)
Instructions
Preheat oven to 400 degrees.
Line a baking sheet with heavy-duty aluminum foil. Place a cooling rack over pan and spray the rack with nonstick cooking spray.
In a shallow dish, combine bread crumbs, Parmesan, half of the olive oil, thyme, salt and pepper.
In another shallow dish, combine mustard, water, salt and pepper, and remaining olive oil.
Coat each chicken breast/cutlet with mustard mixture then dredge each in bread crumb mixture.
Place on prepared rack in pan.
Bake for 25 to 30 minutes (this will depend on thickness of chicken), or until chicken is golden brown. Serve hot with mashed potatoes.
Disclaimer:  Thank you Idahoan for sponsoring this conversation.  All opinions remain 100% my own, as always.
- Craving more?
Sign up for the Wishes & Dishes Newsletter
for a fresh serving of content delivered every week to your inbox! And stay in touch on
Facebook
,
Twitter
,
Pinterest
and
Instagram
for all of the latest updates!