This recipe made the themed week of "childhood favorites" by a long shot.  Welcome to day 3!  This is just the perfect recipe because it truly combines 3 of my all-time favorite ingredients to create the world's perfect fudge.  1. I love Oreos and could never get enough of them growing up (still can't – I just ate three today)…2.  Hello? Peanut Butter?!  How many recipes do I have on this blog that are odes to peanut butter – too many, I'm sure of it…3.  White Chocolate – call me insane, but I sooo prefer white chocolate to any other form of chocolate on this planet.  I was the only child on Easter that insisted that the Easter Bunny put ALL white chocolate in my basket each year.  He complied and stuffed my basket full of jelly beans, white chocolate bunnies, and more jelly beans.  I was a weird kid!  I only started eating some forms of chocolate desserts in my early 20′s -  and even then, I prefer white chocolate or fruity candy (Skittles and sour gummy worms, anyone?)
So all of that being said, even if you are normal and LIKE regular chocolate, you are still going to love this fudge beyond imagination.  Thumbs up all-around from everyone who has tried it.  I even got yelled at by my husband for eating the last square of fudge from the pan.  Thanks, honey, I'll take that as a compliment to my baking

Please note:  the hardest part is waiting the 8 hours for the fudge to set!  Plan ahead when making this!
Did you catch day #1 and day #2 of my childhood favorites this week?  If not, you missed these Frosted Animal Sugar Cookies and Homemade SpaghettiOs!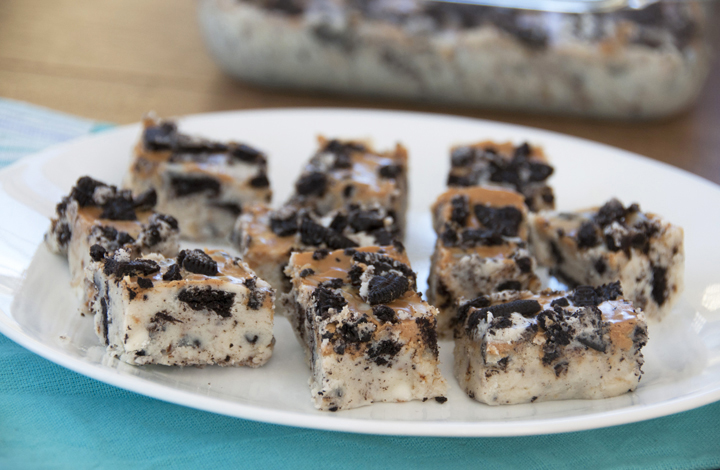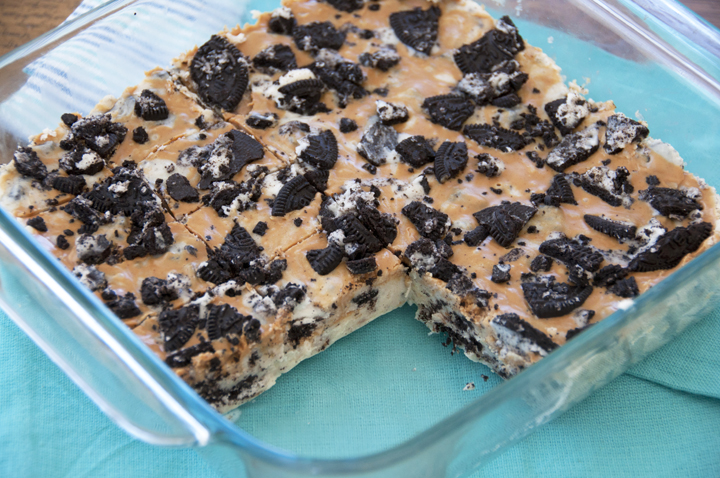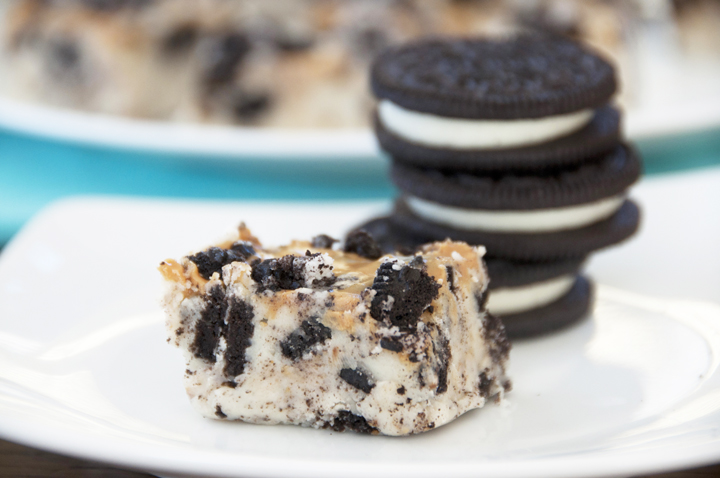 INGREDIENTS:
*Makes 16 Servings*
8 ounce can sweetened condensed milk
12 ounce bag white chocolate chips (10 oz. bag will also work)
1 cup mini marshmallows
12 Oreos, crushed*
1/4 cup creamy peanut butter, melted
6 Oreos, crushed for the top of fudge
*don't make them into crumbs, you want them roughly crushed
DIRECTIONS:
Place sweetened condensed milk in a small saucepan over medium heat. Once thinned and smooth, add white chocolate chips, stirring to melt. This takes a few minutes, keep stirring. Stir in marshmallows, stirring until melted. Add crushed Oreos, stirring until combined.
Line a 8×8 inch baking pan with parchment paper. Transfer fudge mixture into baking pan.   Drizzle melted peanut butter over the whole top and run a knife through to swirl (just swirl it into the top of the fudge, not all the way to the bottom of the pan).  Lastly, top with additional crushed Oreos.
Let fudge sit at room temperature, loosely covered, for a good 8 hours before cutting into squares.
Recipe source:  adapted from picky-palate.com
- Craving more?
Sign up for the Wishes & Dishes Newsletter
for a fresh serving of content delivered every week to your inbox! And stay in touch on
Facebook
,
Twitter
,
Pinterest
and
Instagram
for all of the latest updates!