Day FOUR of Mexican food week on Wishes and Dishes has arrived and today is a DESSERT recipe invented completely by yours truly (but don't let that scare you).  This week is flying by!  If you missed the first 3 Mexican-themed posts, here are the links to make it easy for you to find them:  Chicken, Bacon and Ranch Stacked Enchiladas, Chipotle Chicken Burrito Bowls, and Taco Stuffed Shells.
Have you been to Serendipity Restaurant in NYC, Miami, or Washington DC? This recipe was inspired by their Frozen Hot Chocolate that Mr. Wishes and I had there last year while we were living in Miami.  Serendipity is famous for their frozen hot chocolate flavors and we ended up ordering the Oreo version which was nothing short of awesome.  We wanted to try some of their other amazing desserts they had on the menu but that huge frozen hot chocolate did us in.
So, this is my own take on the creamy, dreamy famous treat from Serendipity and I made a "Mexican" version by adding the cinnamon to it.  This drink is seriously dangerous:  hot chocolate flavor served up icy cold for the summer (or any time of the year you are craving chocolate and it just won't go away).  But during the summertime, the last thing on my mind is sitting down and having a steaming cup of hot chocolate.  So now you can enjoy this winter day treat without getting heat stroke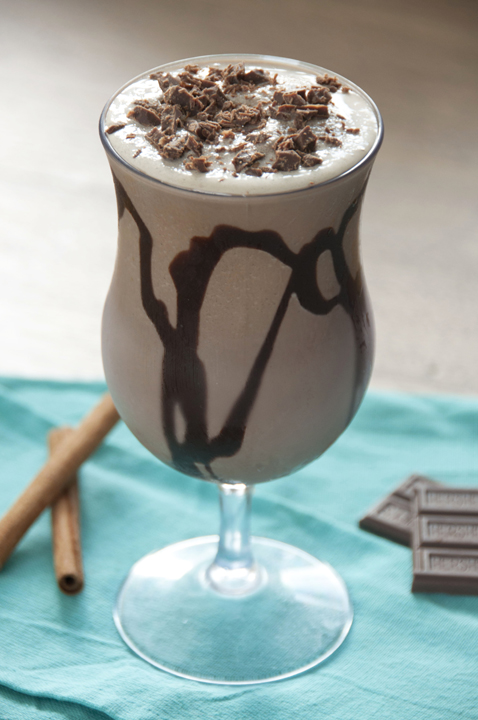 INGREDIENTS:
1/2 cup chocolate syrup (I used Hershey's)
1 cup sweetened condensed milk
1/2 teaspoon vanilla extract
1/4 teaspoon ground cinnamon
3 cups ice cubes
DIRECTIONS:
Blend all ingredients in a blender or food processor until smooth.  Serve immediately – pour into a glass and top with chocolate shavings (optional).  Swirl the inside of the glass with chocolate syrup beforehand like I did if you want to!  You can also add cool whip or whipped cream on top, if desired.  Enjoy!
- Craving more?
Sign up for the Wishes & Dishes Newsletter
for a fresh serving of content delivered every week to your inbox! And stay in touch on
Facebook
,
Twitter
,
Pinterest
and
Instagram
for all of the latest updates!