These lamb meatballs are spiced up with cumin, cilantro and mint and served with a traditional Greek yogurt sauce. Makes for a fancy appetizer for a cocktail party.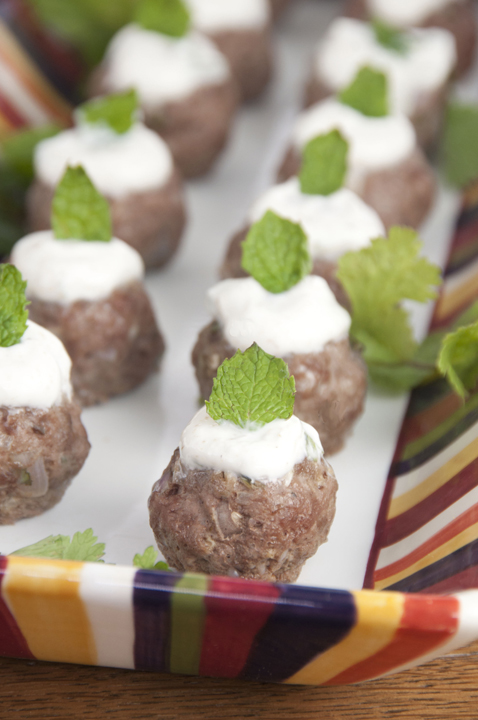 I was at an event for my husband's job last year and the restaurant that catered this event served these absolutely incredible lamb meatballs for an appetizer that I could not get out of my head ever since.  Since on a normal basis I have 8 zillion things and/or ideas of what to make for my blog running through my head, the lamb meatballs were soon forgotten about and pushed aside.  I finally got around to making them thanks to inspiration from partnering with American Lamb Board to create an original lamb recipe as a part of their global flavors project and was so happy with the result.  Their lamb is known for it's quality, flavor, and tenderness and was so tasty and VERY easy to cook with – if you can cook with any other meat, you can cook with lamb.  There are more than 82,000 family-owned sheep farms in almost every state and American Lamb is local, with grass-fed lamb available year round. It's not just for Easter anymore!  Lamb naturally lends itself so well to global flavors, including Latin, Middle Eastern, Asian and Mediterranean… and even Greek, like these meatballs!  It works great in all sorts of recipes.  I had never cooked with lamb before, believe it or not, so this was a great opportunity for me to try something new.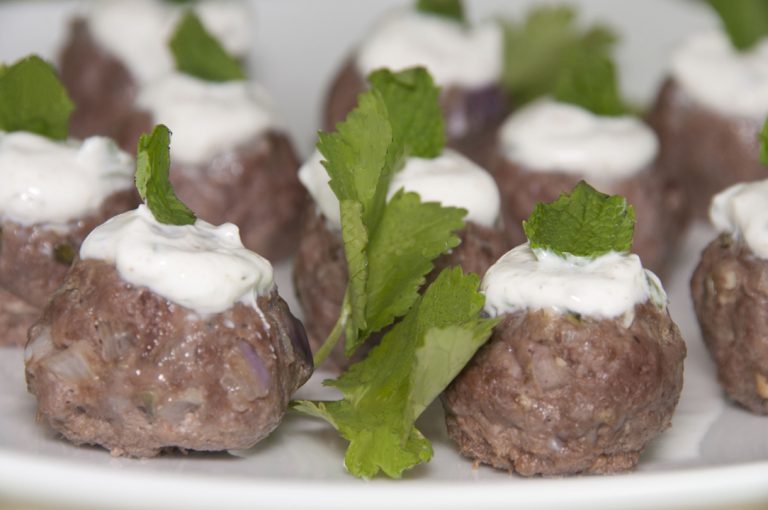 This is a great alternative to regular meatballs and there are no breadcrumbs or flour in them making them gluten free.  I honestly thought if I left these ingredients out that the meatballs would be dry or tough, but they weren't at all.  These would be a huge hit at a cocktail party!  They can even serve as your main course with a side salad and some rice or potatoes.  I served them with an arugula salad with almonds and brown rice.  It was a nice, light meal!  If you make these for a party, make lots, because people love them. The creamy, cool yogurt dipping sauce really gives a fabulous flavor and puts these over the top and shouldn't be bypassed.  Topping the meatballs with the sauce and a mint leave gives a nice touch and gives them that impressive "wow" factor.  Your dinner guests will love "ewe" for it.  Enjoy!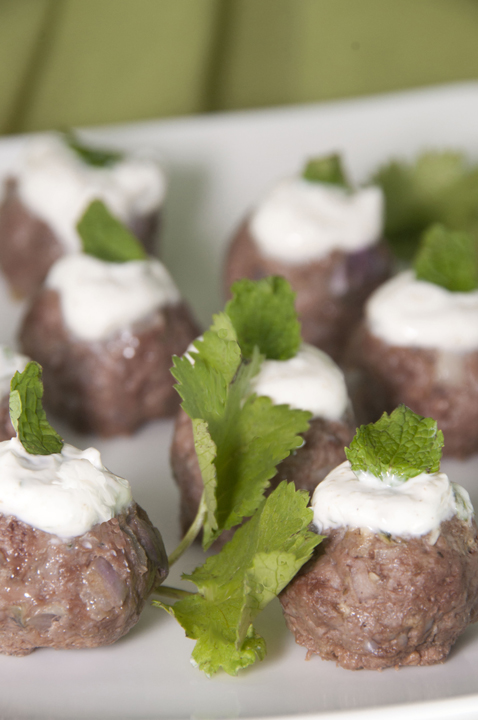 Lamb Meatballs with Lemon Mint Yogurt Sauce
Prep time:
Cook time:
Total time:
These lamb meatballs are spiced up with cumin, cilantro and mint and served with a traditional Greek yogurt sauce. Makes for a fancy appetizer for a cocktail party.
Ingredients
Meatballs:
1 pound ground lamb
¼ cup finely diced shallots (or white onion)
1 tablespoon finely chopped fresh mint
1 tablespoon finely chopped fresh cilantro
2 garlic cloves, minced
1 teaspoon ground coriander
1 teaspoon kosher salt
½ teaspoon ground cumin
¼ teaspoon cinnamon
¼ teaspoon freshly ground black pepper
Yogurt Sauce:
6 ounces Greek yogurt
3 teaspoons finely chopped fresh cilantro
3 teaspoons finely chopped fresh mint
1 teaspoon ground cumin
Zest of 1 lemon, minced
pinch of sea salt and freshly ground black pepper
Instructions
Preheat the oven to 375°F.
Combine all meatball ingredients in a large bowl and mix thoroughly with your hands.
Form into about 30 meatballs (about 2 teaspoons each) and place on a lightly greased baking sheet.
Bake until meatballs are no longer pink in the middle, about 14-15 minutes.
Meanwhile, combine all yogurt ingredients in a small bowl and season with salt and black pepper. Mix well. Serve on top of meatballs and/or with a side to dip the meatballs into.
Recipe source:  inspired by Owl House restaurant and chow.com
I was selected for this opportunity as a member of Clever Girls and the content and opinions expressed here are all my own.
- Craving more?
Sign up for the Wishes & Dishes Newsletter
for a fresh serving of content delivered every week to your inbox! And stay in touch on
Facebook
,
Twitter
,
Pinterest
and
Instagram
for all of the latest updates!