This side dish recipe for Greek Pasta Salad has all of the refreshing flavors of a classic Greek salad with cucumber, olives, and feta cheese. Everyone at your summer or 4th of July picnic will love this!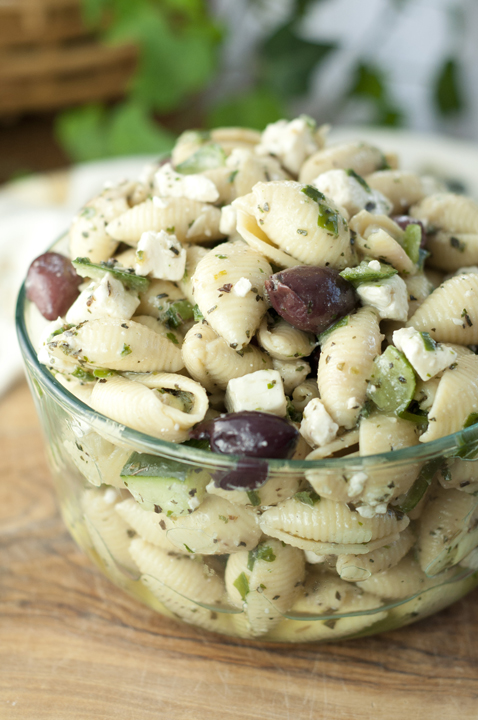 Greek food, especially Greek salad is one of my favorites, but I've never applied the "Greek salad" concept to pasta salad before!  I love this recipe because it's not only a killer side dish for the 4th of July, Memorial Day, or summer picnics, but it really goes with anything.  The spices and the red wine vinaigrette give this Greek pasta salad a wonderfully unique taste.
What side dishes are you making for this weekend? I could actually make a meal out of side dishes (and do sometimes).  In fact, I went to a party last weekend and skipped right over the chicken and made a meal out of the dips and sides.  I'm weird like that!
Mr. Wishes and I really liked this Greek pasta salad and he's not usually one to like olives OR feta cheese, but it undeniably all tasted great together.  I just love the freshness all of the ingredients give it.  I also have a slight obsession with Kalamata olives.  I think I might even be more odd and add toasted pine nuts next time!
If you're loving summer pasta salads, be sure to check out my Classic Italian Pasta Salad made with pepperoni and my Avocado BLT Pasta Salad that's creamy and loaded with crispy bacon – they are both family favorites! You can also check out my full collection of Pasta Salad Recipes. If macaroni salad is more you're thing, you'll love this Homestyle Macaroni Salad loaded with veggies from my friend Melissa.
Tip: the 3 hours includes the time for refrigeration, so don't see the time listed under the recipe and let it deter you from making this.  Απολαύστε!  (That makes "enjoy" in Greek) 🙂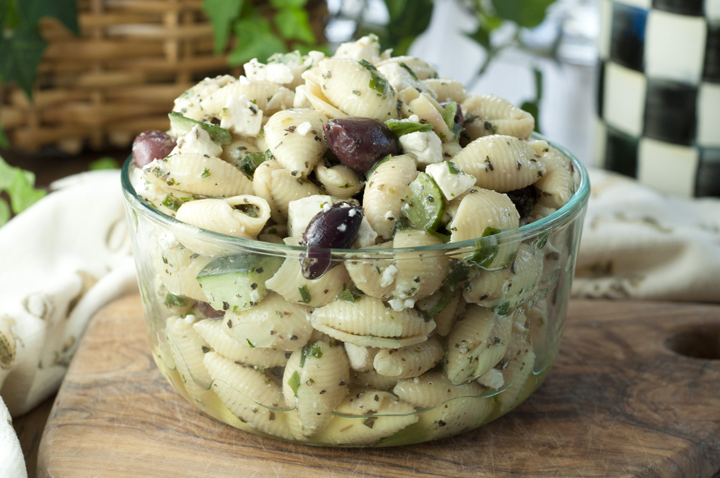 Greek Pasta Salad
Prep time:
Cook time:
Total time:
This side dish recipe for Greek Pasta Salad has all of the refreshing flavors of a classic Greek salad with cucumber, olives, and feta cheese. Everyone at your summer picnic will love this!
Ingredients
Pasta salad:
12 oz. of bite-size uncooked pasta (I used shells. You can also use gluten-free)
2 cups medium diced seedless cucumber, lightly sprinkled with salt
½ cup pitted kalamata olives, chopped coarse or kept whole
1 cup crumbled feta cheese
Dressing:
2 teaspoons dried oregano
½ cup extra-virgin olive oil
3 tablespoons red wine vinegar
2 teaspoons freshly squeezed lemon juice
1½ teaspoons minced garlic
1 teaspoon sugar
Salt and ground black pepper
Instructions
Bring a large pot of salted water to a boil. Add the pasta and cook it until al dente (use the time on the pasta box as a guide). Strain the pasta and transfer it to a large bowl to cool while you make the dressing.
In a small bowl, whisk together all of the dressing ingredients, except for the olive oil. While whisking, stream in the olive oil. Season the dressing with salt and pepper, to taste.
Add the cucumbers, olives, and feta cheese to the bowl with the pasta.
Mix the dressing ingredients, except for the salt and pepper, in a separate bowl.
Pour the dressing over the pasta, tossing to combine, add salt and pepper to taste, then cover the salad with plastic wrap and refrigerate it for at least 3 hours or overnight for the flavors to fully come together. When ready to serve, toss the pasta salad again. Adjust seasonings as needed. Serve cold or at room temperature.
- Craving more?
Sign up for the Wishes & Dishes Newsletter
for a fresh serving of content delivered every week to your inbox! And stay in touch on
Facebook
,
Twitter
,
Pinterest
and
Instagram
for all of the latest updates!