These potatoes have been my "go to" side dish for the past several weeks. As much as I love rice, there are just some dishes that are better paired with potatoes. In the past, I have always been intimidated by mashed potatoes for some unknown reason. I was always afraid of adding too much or too little butter or milk, etc etc. The first time I made these I realized how easy they really are! You wouldn't believe me even if I told you how delicious they tasted.
If you need a different potato recipe to try, these rich and slightly creamy smashed potatoes are definitely a winner!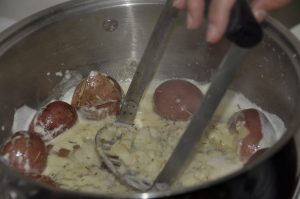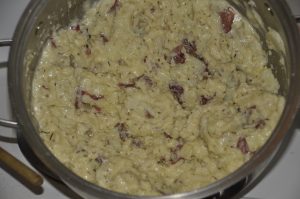 INGREDIENTS:  
 
2 pounds red bliss potatoes, cut in half
6-8 cloves garlic
3 sprigs fresh thyme, leaves picked
3 sprigs fresh rosemary, leaves finely chopped
1/4 cup olive oil
1 cup heavy cream
1 stick unsalted butter
To taste:  salt and freshly ground black pepper
PREPARATION:
In large stockpot, drop in potatoes and garlic cloves, cover with water.
Bring the water to a boil and let boil for about 20-30 minutes or until the potatoes are fork tender.

Strain the potatoes into a colander and set aside.

Meanwhile, put the cream, butter and oil into the stockpot.

Bring that mixture to a boil, and put the potatoes back into the pot with the fresh herbs, then smash with a potato masher and season to taste.

(Adjust consistency with additional heavy cream or milk if needed).