This recipe for a Frosted Sugar Cookie Protein Smoothie with a special secret ingredient is a protein-packed healthy snack, breakfast, workout boost, or afternoon pick-me-up!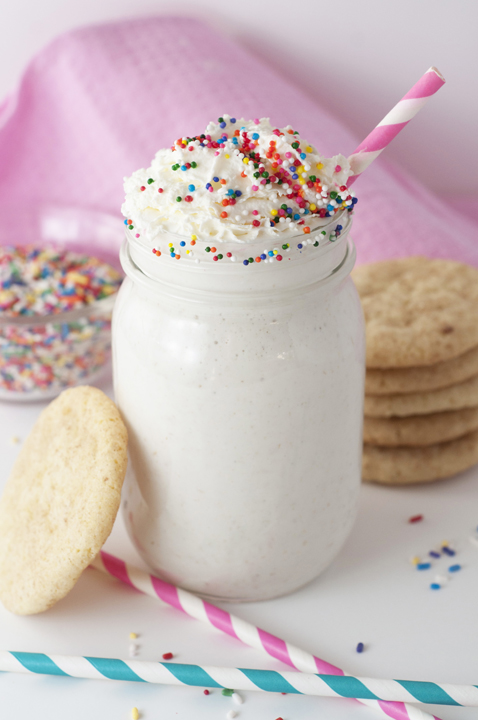 I know many of you have vowed to eat better in 2016 and maybe even made official New Year's resolutions to do so.  I am one of those striving to eat healthier and get more protein in my diet for the New Year.  Hopefully  I stick to it longer than I did last year!  Going along with healthier eating, I was excited to partner with Friendship Dairies to create a delicious smoothie recipe containing, you guessed it, cottage cheese!  This may sound like a strange ingredient to add to a smoothie but just trust me on this one.  The creamy texture from the cottage cheese is perfect and you won't even know it's in there.  A healthy snack that tastes like a frosted sugar cookie? Sold!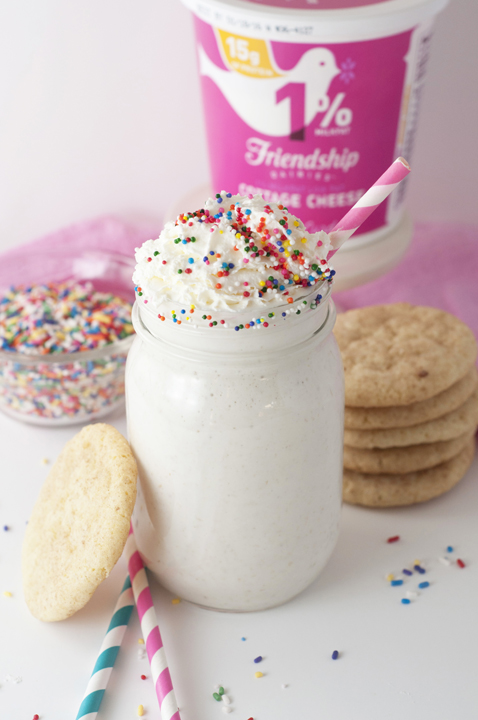 Friendship Dairies cottage cheese is also known as the #originalsuperfood going all the way back to 1917.  Why is it called the original super food?  The reason is because it is extremely high in protein (1% cottage cheese contains 15g per serving)!  I love eating their cottage cheese plain as I think it tastes better than other brands (it's also a local company for me so that's an added bonus), but it's so versatile that you can mix it up with your other favorite foods and drinks anytime of the day.  I love how much long-lasting energy it gives me – especially in this amazing Frosted Sugar Cookie Protein Smoothie.  My hubby and I prefer our protein shakes before working out, but you can drink them whenever you want to (have you tried this Peach Pie Protein Shake or Coffee Protein Shake yet?).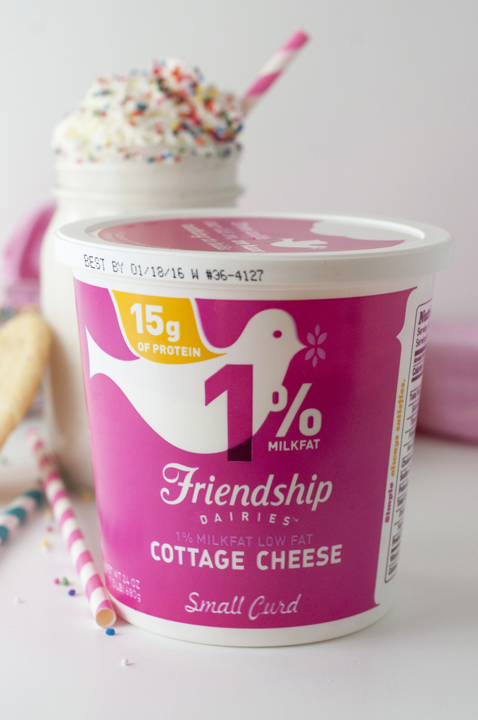 Friendship Dairies' website has so many great smoothie recipes to help inspire you.  You can also get creative and concoct your own recipe on their site with their Superfood Generator that you click on right from their home page!  There are endless possibilities for mix-ins with your cottage cheese and they even tell you the nutritional benefit of each.
One last thing:  I believe a little competition now and then is fun, how about you?! I encourage you to send me your pictures in a comment below of your proudest Friendship Dairies cottage cheese smoothie creations using that Superfood Generator that I mentioned!  There are so many ways to get creative so make sure you get right on that and make me proud.  Have a great week and enjoy the tasty energy boost in this Frosted Sugar Cookie Protein Smoothie next time you are in need of one!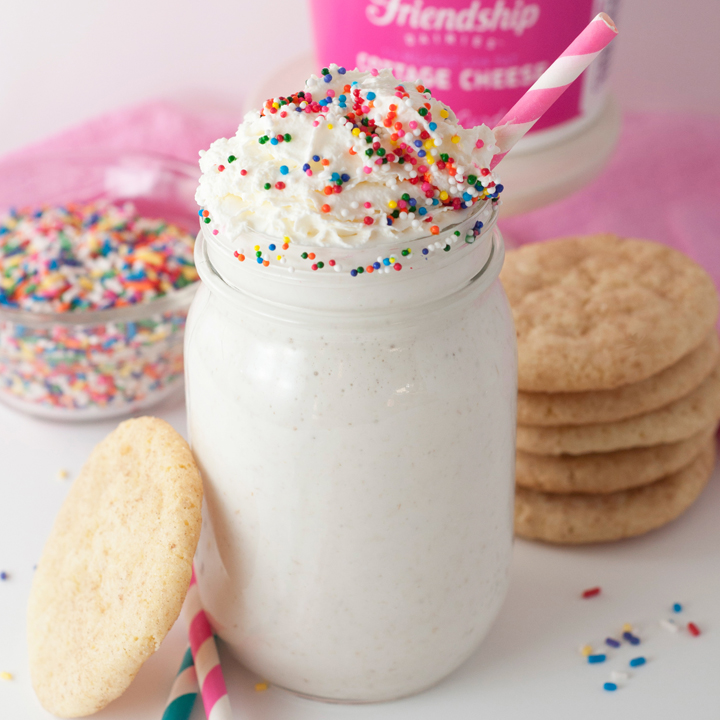 Frosted Sugar Cookie Protein Smoothie
Serves:
1 large or 2 small smoothies
This recipe for a Frosted Sugar Cookie Protein Smoothie with a special secret ingredient is a protein-packed healthy snack, breakfast, workout boost, or afternoon pick-me-up!
Ingredients
1 cup unsweetened vanilla almond or cashew milk
½ cup Friendship Dairies cottage cheese
¼ cup uncooked raw oats
½ teaspoon butter extract
½ teaspoon vanilla extract
1 scoop vanilla protein powder (optional)
2 cups ice
Pinch of salt
Optional: whipped topping and sprinkles, for garnish
Instructions
Put all ingredients in a blender and blend until it has reached a smooth and creamy consistency. Garnish with whipped cream and sprinkles, if desired. Pour into glass(es) and serve.
Disclaimer:  Thank you Friendship Dairies for sponsoring this conversation.  All opinions remain 100% my own, as always. #sponsored
Recipe source:  inspired by theseasonedmom.com
- Craving more?
Sign up for the Wishes & Dishes Newsletter
for a fresh serving of content delivered every week to your inbox! And stay in touch on
Facebook
,
Twitter
,
Pinterest
and
Instagram
for all of the latest updates!