Alright my little bakers, one last Christmas recipe for you because this one is totally worth the last-minute blogging. Christmas is coming up faster than a speeding freight train and I know you really want to make just ONE more thing…. well, this recipe is for you because it is quick and easy.


This is a recipe for "Cherry Pound Cake" that lends itself to being colorful and delicious for the holidays.  It's so darn festive and pretty, as you can see!  This cake looked so good that I literally had to get it out of the house and hide it from Mr. Wishes until Christmas.  It is wonderfully rich and buttery with a lovely golden brown crust…and did I mention it's super pretty?


I will leave you with this: the holiday season comes once a year…so enjoy the music, food (especially the food) and fun times with family & friends! ;o)


 P.S. I fully plan on not fitting into my jeans come January.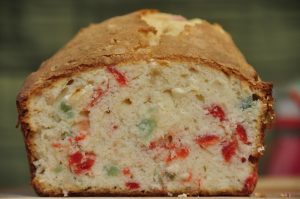 INGREDIENTS:
1 (6-ounce) jar red maraschino cherries
1 (6-ounce) jar green maraschino cherries
1/2 cup butter, softened
1 1/3 cups sugar
3 large eggs
1 1/2 cups all-purpose flour
1/2 teaspoon salt
1/8 teaspoon baking soda
1/2 cup sour cream
1/2 teaspoon vanilla extract
PREPARATION: 
Drain cherries well, and finely chop. Press gently between paper towels to absorb excess moisture; set aside.
Beat butter at medium speed with an electric mixer until creamy.  Gradually add sugar, beating until light and fluffy. Add eggs, 1 at a  time, beating just until the yellow yolk disappears.
Sift together flour, salt, and baking soda; stir in chopped  cherries. Add flour mixture to butter mixture alternately with sour  cream, beginning and ending with flour mixture. Beat batter at low speed  just until blended after each addition. Stir in vanilla. Pour batter  into a greased and floured 9 x 5 inch loaf pan.
Bake at 325° for 1 hour or until a long wooden pick inserted in  center of cake comes out clean. Cool in pan on a wire rack 10 minutes.  Remove from pan; cool completely on wire rack.
      Enjoy!
- Craving more?
Sign up for the Wishes & Dishes Newsletter
for a fresh serving of content delivered every week to your inbox! And stay in touch on
Facebook
,
Twitter
,
Pinterest
and
Instagram
for all of the latest updates!