Curried coconut chicken in a creamy coconut milk sauce is a tasty Asian dish recipe with extremely tender chicken.  Serve it over rice for a fast and easy weeknight dinner!  This is one of my go-to meals.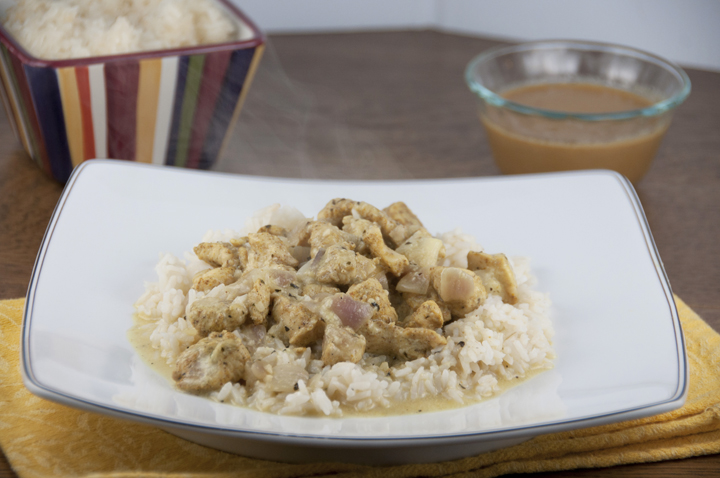 I adore this dish!!  We had this for Curried Coconut Chicken for dinner a while back and I was in heaven after tasting it.  My husband and I LOVE Asian food, especially Thai food and Indian food, and this was one of our new favorite meals.  The chicken turned out super tender (which doesn't always happen when I cook) and the flavors were amazing, yet subtle, and blended together so perfectly.  The basil gives it a nice color, too!  As a bonus, it was actually really simple to make and the coconut milk sauce was perfectly creamy.
If you're worried about the curry and the spice level, it really is not overpowering in this dish.  Mr. Wishes doesn't like spicy food at all and he loved this.  I have a high tolerance for spice, but I didn't think this dish was very spicy in the least.  We had some friends stop over our house the night that I was making this and they agreed that this one was a winner after they taste-tested for me.
This one really stood out to us as a really great dinner that I will make over and over again.  I served this with Thai Sticky Rice and Peanut Sauce (recipe coming soon)!  Next time I think I will have a side of naan bread to go with it, as well.  Enjoy!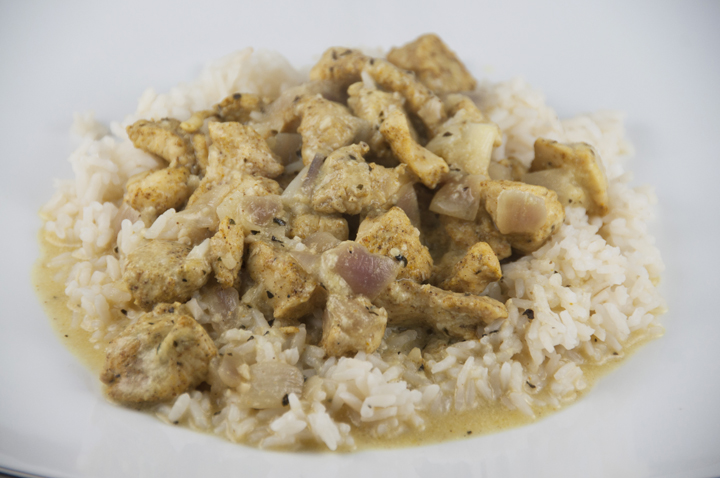 Curried Coconut Chicken
Curried coconut chicken in a coconut milk sauce is a tasty Asian dish recipe. Serve it over rice for a fast and easy weeknight dinner!
Ingredients
3 skinless, boneless chicken breast halves (about 1.5 lbs)
2 teaspoons curry powder
1 teaspoon salt
½ teaspoon black pepper
½ teaspoon chili powder
1 medium red onion, diced
5 cloves garlic, minced
1 tablespoon olive oil
1 14-ounce can coconut milk
1.5 tablespoons dried basil
1 teaspoon grated fresh ginger (can use ground ginger)
4 cups hot cooked rice
Instructions
Cut chicken into 1-inch pieces. Place in medium bowl.
Stir together curry, ½ teaspoon of the salt, pepper and chili powder. Sprinkle over chicken, tossing to coat evenly.
Cover and chill for 1 to 2 hours so the chicken soaks up the flavor (if you are in a hurry, you can skip this step and it will still come out good - I have tried it).
In a large nonstick frying pan, stir onion, basil, garlic and peppers in hot oil over medium-high heat for 3-4 minutes, until onion is translucent.
Add chicken and remaining ½ teaspoon salt and cook for 5-6 minutes or until no longer pink.
Carefully add coconut milk to skillet, stirring vigorously.
Cook and continue stirring until slightly thickened and bubbly.
Stir in ginger. Cook and stir for another minute.
Serve over hot cooked rice
Recipe source:  originally from Better Homes & Gardens, but changed it around to make it my own!
- Craving more?
Sign up for the Wishes & Dishes Newsletter
for a fresh serving of content delivered every week to your inbox! And stay in touch on
Facebook
,
Twitter
,
Pinterest
and
Instagram
for all of the latest updates!