Cupid's Crunch Chex Mix recipe is a no-bake, sweet and salty Valentine's day treat loaded with festive M&M's that is easy to make and great for gifts!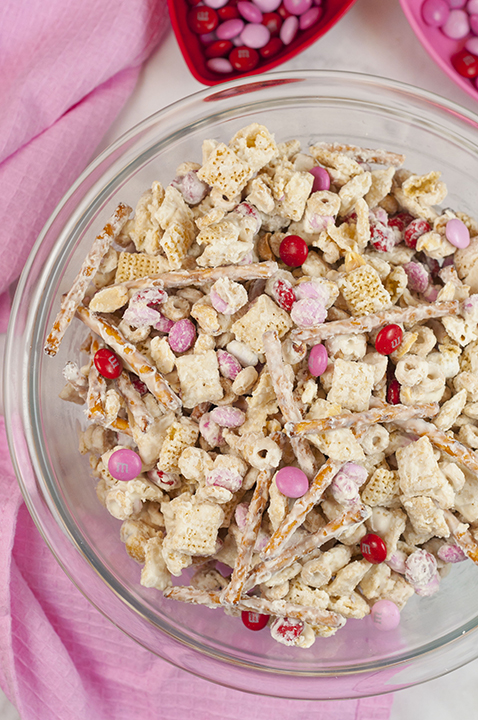 Let's talk about that one time when I ate Cupid's Crunch Chex Mix for dinner…
Valentine's day is almost upon us! I have had my heart set on creating a fun snack for the holiday that would be easy enough that kids could even make it themselves. I almost kicked myself for making this, because at the time, I was on my pre-vacation diet and this stuff just sat there in a bowl on the kitchen counter taunting me and calling out my name every time I walked by. It was torture, I tell ya!
I'm so glad you're here! Follow along on Pinterest for more inspiration!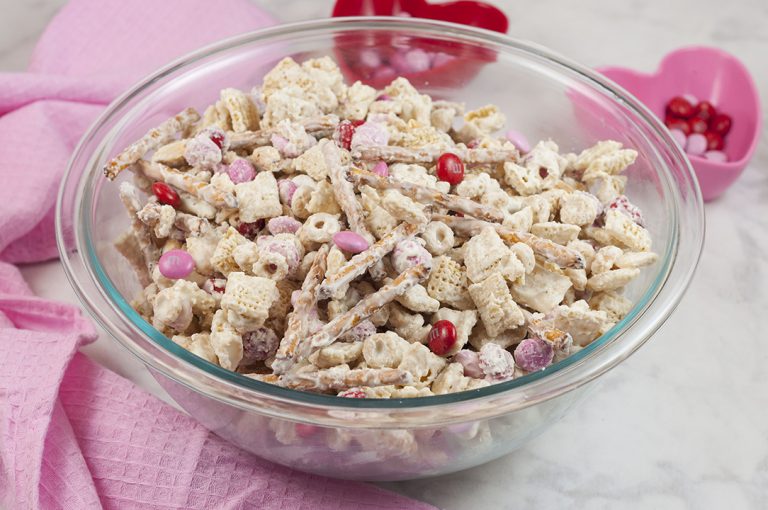 This snack mix combines two different cereals, M&M's, pretzels, and peanuts with gooey, melted white chocolate. How can you wrong? If you're more of a regular chocolate person as opposed to white chocolate, do not go one more day without making this Peanut Butter Buckeye Bark for your valentine! You can also check out my entire collection of Valentine's Day recipes here.
Cupid's Crunch Chex Mix would be a killer snack to bring to your kids' class parties (just remember there are nuts in here or simply leave them out altogether), a weekend treat, or even to serve at adult parties. Consider yourself warned: this stuff is majorly, ridiculously addicting! The next time a sweet and salty craving hits, you know what to do…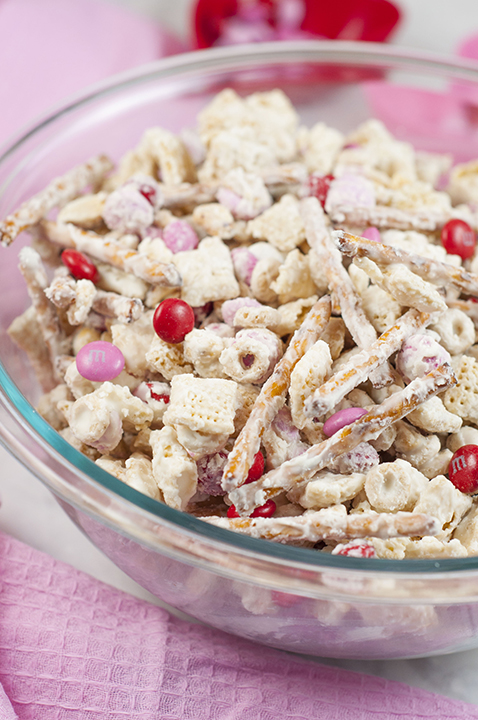 Step-By-Step Video on How To Make This Snack Mix!
Cupid's Crunch Chex Mix
Cupid's Crunch Chex Mix is a no-bake, sweet and salty Valentine's day treat loaded with festive M&M's that is easy to make and great for gifts!
Ingredients
2 cups Rice Chex cereal
1 cup Cheerios
1 cup pretzel sticks
1 and ¼ cup M&M's
1 cup honey roasted peanuts
2 cups white chocolate melting discs/candy melts
1 teaspoon vegetable or canola oil
Instructions
In a large bowl, mix together the Chex cereal, Cheerios, pretzels, peanuts, and M&M's
In a small bowl, mix oil and white chocolate discs together and melt in the microwave on 50% power in 20 second increments, stirring the chocolate between each burst of power.
Pour the melted chocolate over dry ingredients and carefully fold everything together.
Immediately spread mixture out onto a wax paper-lined baking sheet to dry. Break apart into chunks. Enjoy!
  - Craving more?
Sign up for the Wishes & Dishes Newsletter
for a fresh serving of content delivered every week to your inbox! And stay in touch on
Facebook
,
Twitter
,
Pinterest
and
Instagram
for all of the latest updates!