Using root beer to tenderize slow cooked pork tenderloin makes a delicious preparation method of Crock Pot pulled pork.  Root beer gives these slow cooked pork sandwiches rich color and slight sweetness.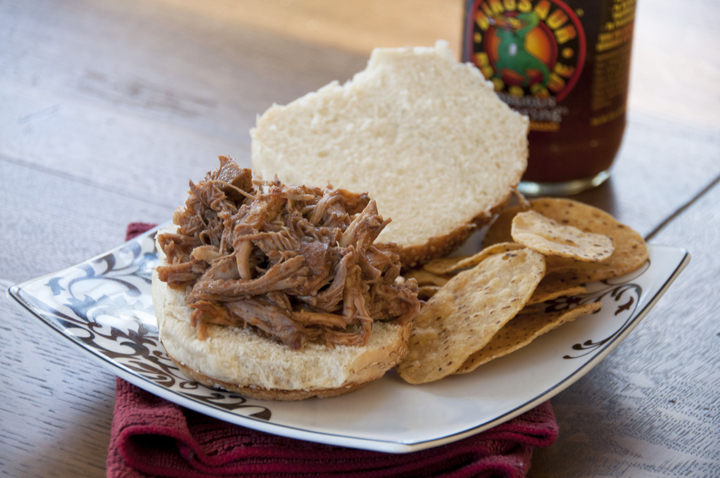 The pools have closed and crisp temperatures and crunchy leaves are on their way.  Yesterday (9/22) marked the end of summer and the beginning of fall, also called the autumn equinox, in the Northern Hemisphere.  That means the night hours and daytime hours were nearly equal in length (12 hours) all over the world.  Cool, right?
So this is a new pulled pork recipe I threw together a few weeks ago when we had some guys over our house to help us with our patio…and I've made it twice since then because it came out SO good.  The result of my expirimentation was a tender and flavorful restaurant quality pulled pork sandwich that everyone really enjoyed!
The roast is cooked in root beer but does NOT end up tasting like root beer, as long as you make sure to drain all of the liquid when it's done cooking (not that I would have minded the root beer taste).  The root beer is used only to tenderize the meat and it does a great job doing so.  The flavor comes solely from the meat and the barbecue sauce.  I used Dinosaur BBQ sauce (for those in Rochester, NY) but make sure you use a sauce that you love the flavor of so that you'll be sure to love results of your pulled pork.  I know that Sweet Baby Rays is a favorite of many readers 🙂
Tip:  make sure you don't use a pork tenderloin for this recipe as that is way too lean a cut of meat for slow cooking.  The point of slow cooking in a liquid such as a soda is to break down the tougher connective tissue of tougher cuts of meat.  Not much effort is required while shredding the pork since it should be pretty much falling apart once it's cooked through.  Hope that helps and enjoy!
P.s. The leftovers are even better the day after!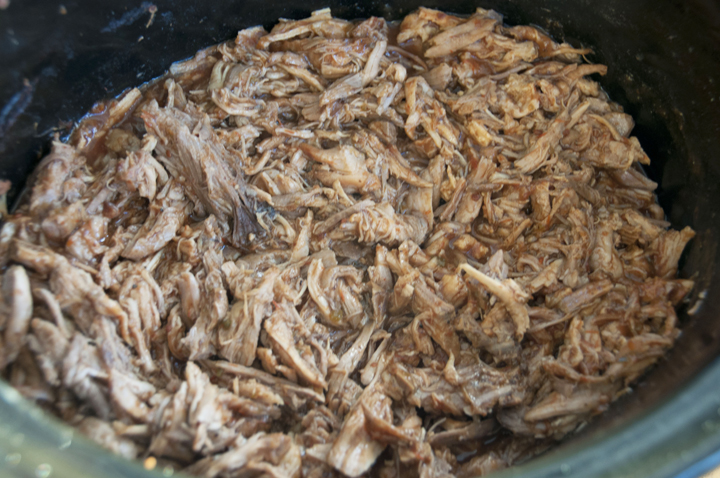 Crock Pot Root Beer Pulled Pork
Using root beer to tenderize slow cooked pork tenderloin makes it delicious. Root beer gives these slow cooked pork sandwiches rich color and slight sweetness.
Ingredients
1 (3-4 pound) bone-in pork shoulder or butt
1 large bottle of root beer (about 1 liter - NOT diet)
1 (18 ounce) bottle of your favorite barbecue sauce, more if you like a lot
8 hamburger buns, split and lightly toasted
Instructions
Trim the fat off the pork as best you can. I rub some salt, pepper, and garlic salt on it (this is optional, but gives extra flavor).
Place the pork shoulder/butt in a slow cooker; pour the root beer over the meat - pour enough of it to cover the meat or almost cover it. Cover and cook on low until well cooked and the pork shreds easily, 6 to 7 hours. Note: the actual length of time may vary according to individual slow cooker/crock pot. Drain the liquid very carefully. Shred the meat with 2 forks and discard bone. Place the pork back into slow cooker and stir in barbecue sauce, as much as you like so that it's not dry at all and keep the slow cooker on the LOW setting until ready to serve (one half hour to an hour is great, it gives the meat time to soak up the sauce). Turn to warm setting until ready to serve. Spoon onto hamburger buns. Serve with a side of baked beans, cole slaw or sweet potato fries!
  - Craving more?
Sign up for the Wishes & Dishes Newsletter
for a fresh serving of content delivered every week to your inbox! And stay in touch on
Facebook
,
Twitter
,
Pinterest
and
Instagram
for all of the latest updates!