Crock Pot Creamy Salsa Verde Chicken Taquitos
I'm so excited to share this quick and easy Crock Pot Creamy Salsa Verde Chicken Taquitos recipe that is perfect for a main course or appetizer and drizzled with my favorite avocado spread.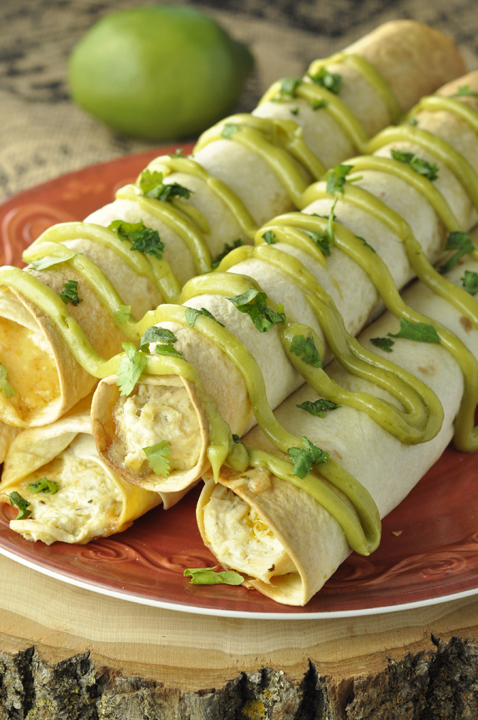 If you're looking for an awesome Cinco de Mayo recipe, you've come to the right place today.  You all know how I love any excuse to devour Mexican food every single day of the week and I am doing just that in honor of the holiday.  Hello, fabulous food.
You know what is making my Mexican food dishes even more spectacular these days?  Well you know that either way I'm going to tell you.  This avocado spread called GoAvo that I posted about on my Instagram page a few months back.  Just telling you guys about it once was not enough to show my love and devotion 🙂  I absolutely LOVE this stuff and honestly think it's a brilliant idea.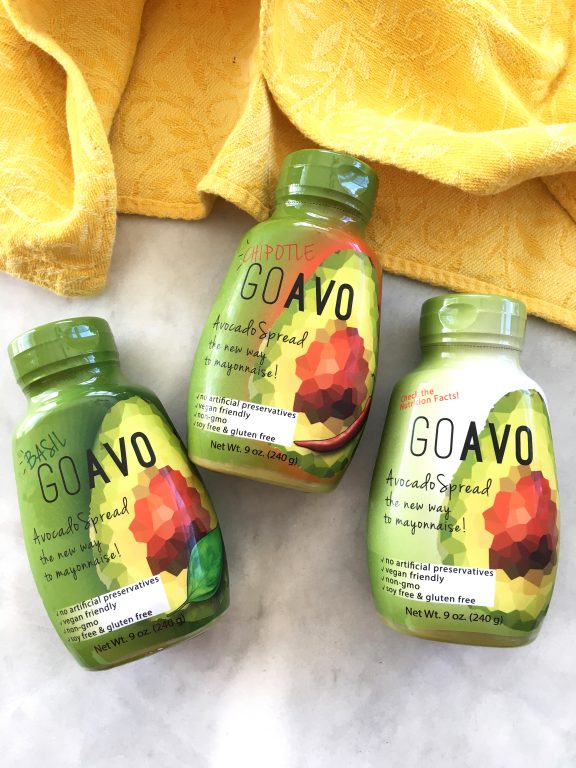 For those of you who have not had the pleasure of tasting GoAvo yet, I have two things to say to you: 1. You should change that really soon, and 2. It has the flavor profile and consistency that is similar to mayonnaise and aioli.  Therefore, GoAvo can be a simple replacement for either of those two things in a recipe (think egg salad, tuna salad, or chicken salad) or just simply as a spread for your sandwiches/subs.  It comes in three flavors – Original, Basil, Chipotle – and is an all-natural avocado-based condiment and eggless mayonnaise alternative.  Each bottle contains ~85% avocado (other ingredients are grapeseed oil, white wine vinegar and lemon juice).  I just love the perfectly creamy texture!  Also, one tablespoon of GoAvo is 25 calories versus 90 calories in one tablespoon of mayonnaise – yes, please!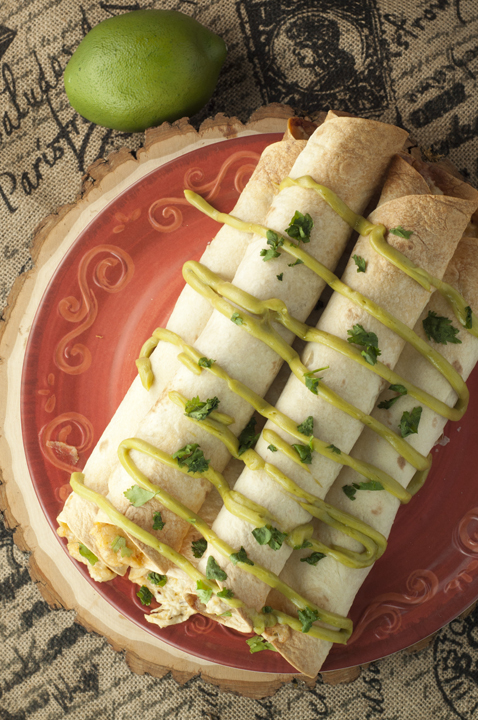 I know that some of you reading my blog are very health conscious.  If you care a lot about what's in your food then you will love GoAvo.  Their spread has no artificial preservatives, is vegan, non-GMO certified, soy-free, gluten-free and made with organic ingredients.  I think my husband may love it even more than I do.  You see, he is a hater of mayonnaise and won't use it on anything.  I always found it baffling how he could eat a cold cut sandwich DRY with no mayonnaise or spread of any kind, but now he finally found something he really enjoys.
So, I love that these Crock Pot Creamy Salsa Verde Chicken Taquitos double as a dinner or a party appetizer.  The chicken is slow-simmered in the crock pot in a creamy salsa verde sauce and comes out so incredibly juicy.  The flavor of the chicken, the cheese, and the GoAvo spread blend together for the perfect flavor and perfect Mexican dish for your Cinco de Mayo fiesta.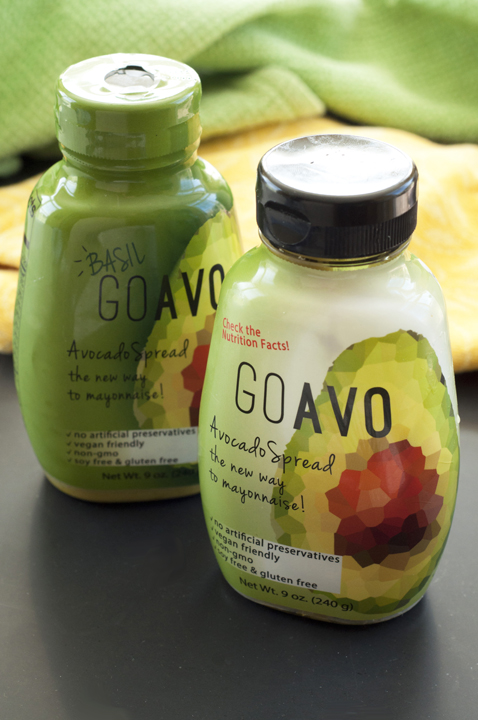 This Crock Pot Creamy Salsa Verde Chicken Taquitos recipe will make enough to leave you with leftovers if you are feeding just yourself and your spouse or a small family! It also reheats well.  It's just my husband and I at home so that means two days in a row of this deliciousness (and only having to cook once – yay!)  Whether you make it for Cinco de Mayo or another random day, just make sure you make it.  You can also find out where to buy GoAvo by using their store locator.  Enjoy, everyone!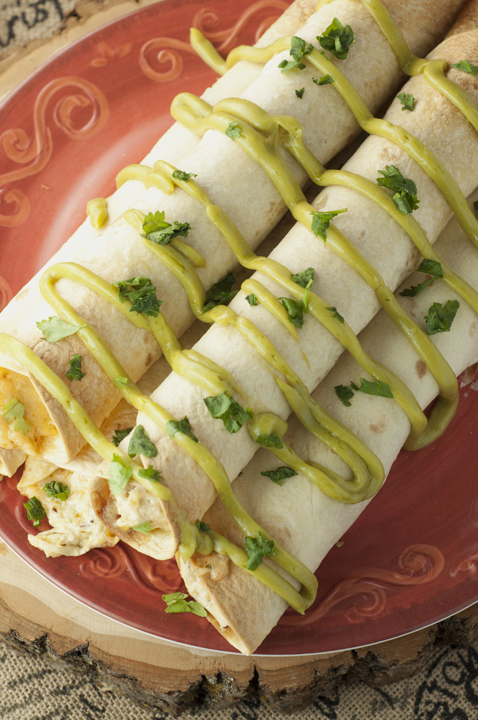 Crock Pot Creamy Salsa Verde Chicken Taquitos
Prep time:
Cook time:
Total time:
Quick and easy Crock Pot Creamy Salsa Verde Chicken Taquitos recipe that is perfect for a main course or appetizer and drizzled with my favorite avocado spread!
Ingredients
3 boneless skinless chicken breasts
8 ounces cream cheese
3 teaspoons minced garlic
⅓ cup tablespoons salsa verde
⅓ cup water
16 taco or fajita sized flour tortillas
2 cups shredded cheese Colby jack cheese
GoAvo spread, for drizzling over Taquitos
cilantro, jalapeños, sour cream, for additional toppings (optional)
Instructions
To your 2 or 3 quart slow cooker, add chicken, cream cheese, garlic, salsa verde, and water. Cover and cook on high for 2-3 hours or on low for 4-5 hours.
A little bit before serving, take two forks and shred chicken. Mix all ingredients in the slow cooker so they are well combined and chicken is fully coated.
Preheat oven to 400 and grease a large baking sheet.
Lay tortillas out on your working surface. Divide shredded cheese between all of the tortillas. Add shredded chicken mixture evenly to each tortilla.
Roll up each tortilla tightly and place on prepared baking sheet. Bake 10-15 minutes until tortillas are lightly browned around the ends and cheese is fully melted.
Drizzle GoAvo (flavor or choice) over the Taquitos - do each one individually or pile them on a plate and drizzle GoAvo over all for an impressive presentation.
Enjoy!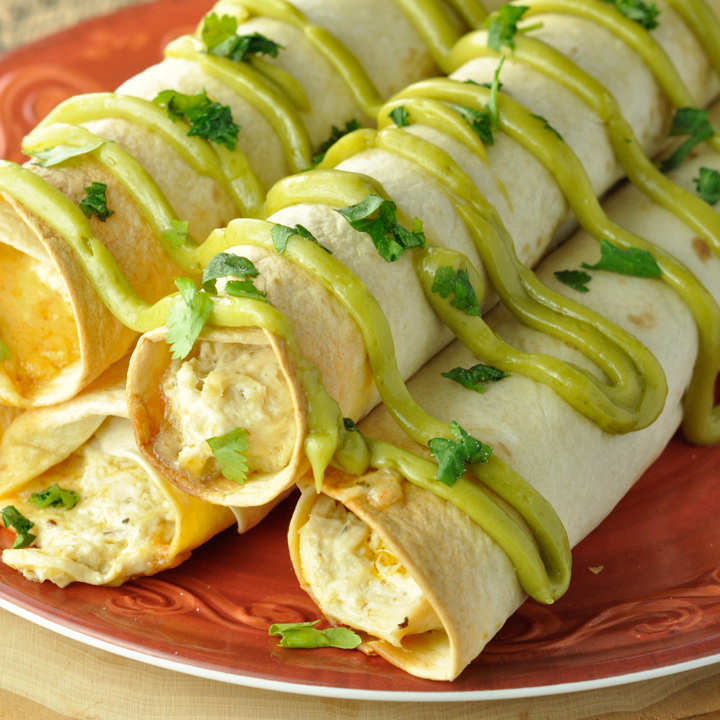 Disclaimer:  Thank you GoAvo for sponsoring this conversation.  All opinions remain 100% my own, as always.

Recipe source:  strongly adapted from lecremedelacrumb.com