Creamy, comforting chicken and dumplings recipe made in the crock pot that couldn't be easier to make.  Just throw everything in your slow cooker and dinner is ready!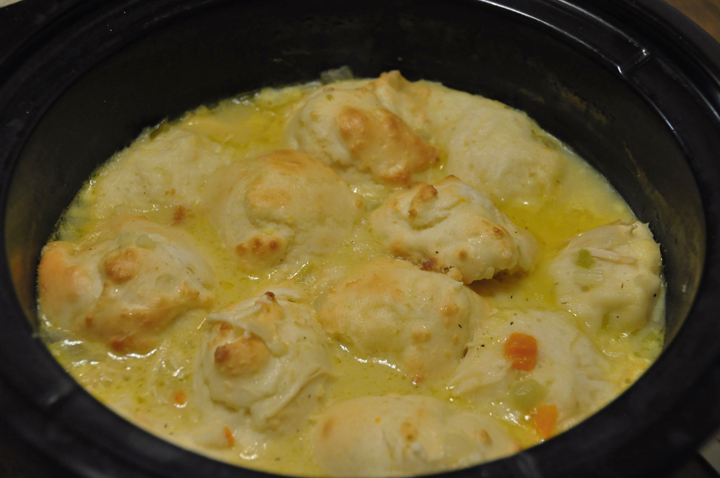 Is there any meal more comforting than Chicken and Dumplings?  I love Chicken and Dumplings.  Love it.  This is a really, ridiculously easy recipe for those comfort food craving days where you can just throw everything in the crock pot and let the crock pot (or slow cooker, whatever you may call it) do all of the work for you!  The hardest part is shredding the chicken with two forks once it's cooked – not too bad!  The chicken will pretty much be falling apart once it's cooked, anyways, so it makes for an easy task.  I'm making this a short-but-sweet post because it's 1:30 in the morning where I live, so bottom line is – TRY this recipe! It's perfect on these cold winter days (which show no sign of relenting any time soon here in upstate NY.)  Enjoy!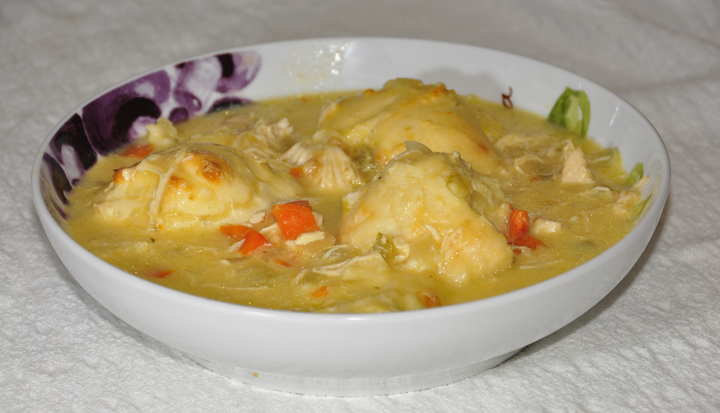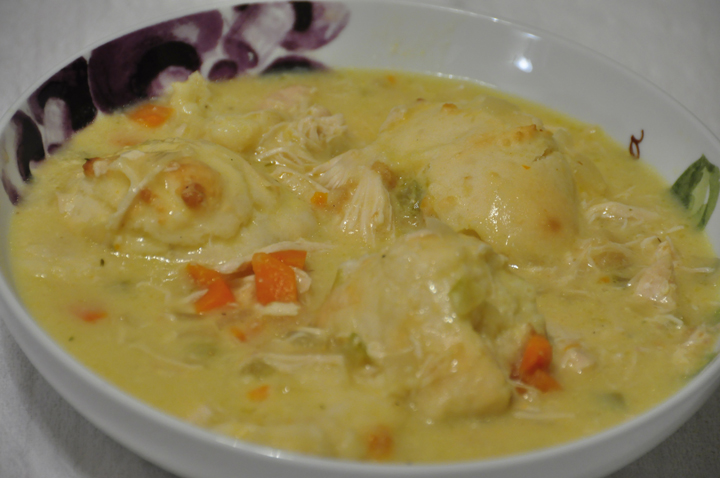 Crock Pot Chicken and Dumplings
Creamy, comforting chicken and dumplings recipe made in the crock pot that couldn't be easier to make. Just throw everything in your slow cooker!
Ingredients
4 Chicken Breasts (boneless, skinless)
2 Tablespoons Butter
1 Can Cream of Chicken Soup
1 Can Cream of Celery Soup
3½ Cups Chicken Broth
1 cup white or yellow Onion, diced
1 Cup Celery, diced
1 Cup Carrots, diced
2 Chicken bouillon cubes
2 cloves of garlic, minced
1 Tsp ground black pepper
1 tsp dried thyme
1 10 oz. can of refrigerated biscuits*
*(OR make your own biscuits. I've also made dumplings out of the Bisquick dough for this recipe before – pictured above – so it works well either way.)
Instructions
I used a 5.5 quart crock pot/slow cooker. Six quarts would also work
Add everything into the crock pot/slow cooker with the exception of the biscuits.
Cook on low for about 6 hours. (If your crock pot cooks hot, check it at 5 hours or have it automatically turn to warm if you know your crock pot cooks food more quickly than normal). About an hour (give or take) before serving, remove chicken and pull into pieces with two forks (large chunks are fine) and return to the soup mixture.
Tear raw biscuits in half or quarters (depending on size) and add on top of the soup mixture for 45 minutes before serving and put the lid back ON so the biscuits will cook through and steam.
After 45 minutes they should have fluffed and expanded from the heat. Make sure they are not doughy in the center when ready to serve and serve hot!
- Craving more?
Sign up for the Wishes & Dishes Newsletter
for a fresh serving of content delivered every week to your inbox! And stay in touch on
Facebook
,
Twitter
,
Pinterest
and
Instagram
for all of the latest updates!