I have a great Thanksgiving side dish for you today!  I'm back from vacation and finally getting into the swing of things again.  I had a great time and awesome weather, but glad to be home.  Being gone for TWO weeks really can throw a person off!  I want to send out a special thanks to my guest posters for holding down the fort while I was gone :)  I came back to a frigid winter wonderland, but can't say I wasn't a little excited to see the snow on the ground.
You probably think someone hijacked my blog right now after seeing the title of this post.  Nope – it's really me, believe it or not!  And sadly, this might actually be the first green vegetable to ever make an appearance on Wishes and Dishes.  I'm telling you, my taste buds are that of a 5-year-old kid.  Even 5-year-olds probably eat more vegetables – without complaining – than I do

These babies pack tons of flavor and not tons of calories and they have officially converted me to brussels sprouts…and it just might do the same for you. I could never stand the taste or smell of brussels growing up, but this recipe is so good, who would have guessed?!  Roasting veggies is definitely the way to go.  This is the ONLY way I will eat my green vegetables from now on – nice and brown and crispy!  Once they are done, you can add more lemon juice if you think they need it after tasting.  Season them with a few pinches of salt and pepper to your taste and serve right away because they are best warm!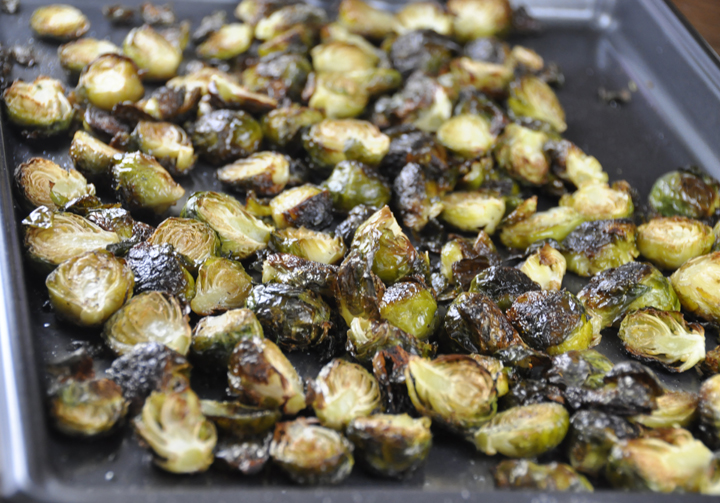 INGREDIENTS:
2 lb Brussels Sprouts
4 tbsp olive oil
1 tsp salt
3/4 tsp ground black pepper
1-2 lemons
more salt and pepper as needed
DIRECTIONS:
Preheat oven to 450 degrees F.
Cut off the bottom ends of the Brussels Sprouts and discard. Cut the remaining part in half and place into a large bowl. Drizzle with olive oil, salt and pepper and give it a good mix. Spread this mixture onto a baking sheet.
Place the baking sheet into the oven and roast for 40 minutes. Remove the baking sheet every 15 minutes while roasting and give the Brussels Sprouts a good toss to make sure they are evenly roasting and browning. Ten minutes before they are done, squeeze an entire lemon on top of the vegetables and then cut the lemon up and throw it onto the baking sheet and place back into the oven to finish roasting.
Once the edges are crisp and brown, remove the baking sheet from the oven. Taste and adjust seasonings if needed. Serve immediately because they are best when hot!
Recipe source:  adapted from whatsgabycooking.com
- Craving more?
Sign up for the Wishes & Dishes Newsletter
for a fresh serving of content delivered every week to your inbox! And stay in touch on
Facebook
,
Twitter
,
Pinterest
and
Instagram
for all of the latest updates!