Crispy Baked Pork Spring Rolls
Crispy Baked Pork Spring Rolls recipe with a Thai twist that are perfect to serve for dinner or a party appetizer!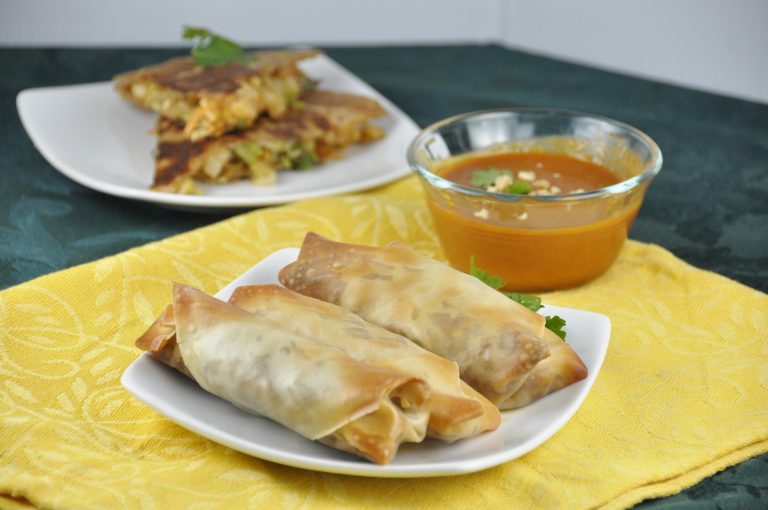 So I'm back from my 30th birthday cruise and I have to say – it was the best vacation I have ever had!  The highlight of the trip was all of the new friends we made from all over the world.  Especially our new friends from San Diego, Micah and Nick, who were on their honeymoon and it was Micah's very first cruise.  They were our table mates at dinner each night and we couldn't have picked a better couple to be paired up with.  I really grew to love all of the people we met throughout that one week I spent with them and will truly miss them all!  The week seemed to last so long and that is a very good thing in this case.  All I have for you is this advice:  if you ever go on a cruise, go on Royal Caribbean Allure of the Seas ship.  It is the largest cruise ship in the world and there is nothing….NOTH-ING like it.  (I hope they see this and give me my next cruise for free, ha ha).  I came home to snow and weather in the single digits, but even that can't get me down because of how much fun I had on this cruise.  Also, the bad case of sea legs I've had for a couple days now is a little souvenir I brought back from the trip and make me feel like I'm still on the ship 🙂  Hey, I'll take it.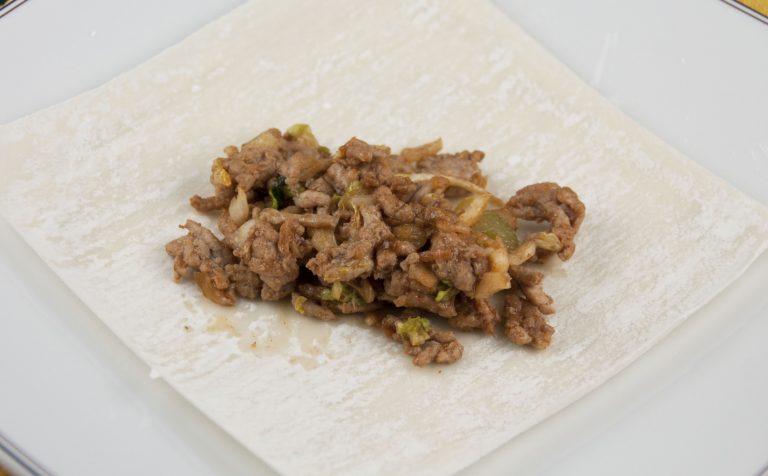 Today I present to you a great, non-greasy appetizer for your up and coming Super Bowl party!  I don't watch football and have to admit that I have gone all season without watching even one single game.  Not even part of a game was watched by me.  Don't hate on me, all of you football fans (which is like everybody else in the world besides me)!  I am a baseball girl and always will be.  I do, however, watch the Super Bowl every year and look forward to all the absolutely ridiculous amounts of yummy junk food I will consume during those 3 hours.   I would have to say that my favorite types of foods are appetizers: finger foods and chips dipped in hot dips, mostly.  I could make entire meals out of them!
These Crispy Baked Pork Spring Rolls turned out delicious. I especially liked this recipe because it was quick and easy, and you don't have the huge hassle and cleanup of deep frying.  It's a great way to save some calories, too!  I think they're really just as good when they're baked as they are when they are fried.  They were super moist and flavorful even without the frying.  You can make these ahead and bake them when you are ready for them!  I included a recipe for a dipping sauce I tried from Jessica's page and, while a moderately spicy, I thought it went perfectly with the Crispy Baked Pork Spring Rolls.  If you don't like spice, stick with a sweet and sour or soy sauce.  I paired these with some Thai chicken quesadillas which you can look for soon in a blog post near you.
Crispy Baked Pork Spring Rolls
Recipe type:
Dinner, Appetizer
Prep time:
Cook time:
Total time:
Crispy Baked Pork Spring Rolls recipe with a Thai twist that are perfect to serve for dinner or a party appetizer!
Ingredients
1 Tablespoon minced garlic
2 teaspoons minced fresh ginger or 1 teaspoon dry ground ginger
1 teaspoon sesame oil
1 Tablespoon olive oil, plus more for brushing on rolls
1 pound ground pork
1 cup finely shredded green cabbage
¼ cup finely shredded carrot
2 green onions, thinly sliced
2 Tablespoons store-bought Hoisin sauce
12 square (7-inch) spring roll wrappers
Sweet and sour sauce, for dipping (or make sauce recipe below)
Chili Dipping Sauce:
½ cup sweet chili sauce
¼ cup rice vinegar
¼ cup canned coconut milk
3 tablespoons brown sugar
3 garlic cloves, pressed or finely minced
1 tablespoon creamy peanut butter
1 teaspoon-sized knob of ginger, grated
1 lime, juiced
½ tablespoon soy sauce
Instructions
Preheat the oven to 425ºF.
Sauté the garlic and ginger in the sesame and olive oils in large sauté pan set over medium-low heat.
Add the ground pork to the pan, breaking it apart into small pieces, and sauté until fully cooked.
Remove the pan from the heat and drain out any liquid. Stir in the green cabbage, green onions, carrots and hoisin sauce until thoroughly combined. Transfer the mixture to a large bowl and let it cool for 10 minutes.
Arrange the spring roll wrappers on a dry work surface then place 3 to 4 tablespoons of the pork mixture in the center of each of the spring roll wrappers. Roll the wrappers around the mixture, folding the edges inward. Before your final fold, dip your fingers in water and then moisten the outer edge of the wrapper to seal the spring roll shut. Roll them tightly to prevent bursting in the oven.
Arrange the spring rolls in a single layer on a baking sheet lined with parchment paper or a Silpat nonstick baking mat. Brush the tops of the rolls with olive oil then bake in the preheated oven 20 minutes, until golden brown and crispy. For crispier spring rolls, turn after 10 minutes (keep an eye on them as different ovens tend to cook things faster/slower). If they aren't crispy enough, leave them in a little longer. Remove the spring rolls from the oven and serve them immediately with your dipping sauce of choice (sweet and sour sauce, soy sauce, or dipping sauce I mentioned above).
For dipping sauce:
Combine chili sauce, vinegar, coconut milk, sugar, garlic, ginger, peanut butter, soy sauce and lime juice in a saucepan, whisking with a fork until combined. Heat over medium heat until mixture comes to a bubble, let boil for 1 minute then reduce to low and let simmer for another 2-3 minutes. Set aside and let cool.