Creamy Garlic Shells is a one pot recipe that is easy to make, and easy to clean up! Make it a meal or use it as a side dish!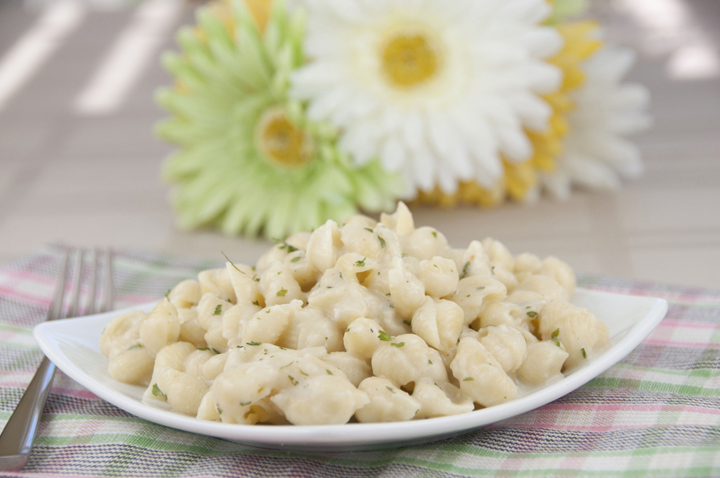 Did everyone have a nice weekend?  Mine was really good!  I absolutely love summer weekends 🙂  We had our first cookout with friends on our new grill Saturday.  We made pollo asada, cheeseburgers, and an abundance of yummy side dishes.
Speaking of side dishes, I brought these creamy garlic shells to a different BBQ with friends last week and everyone really loved them.  It was easy to make and a great summer side dish.  Honestly, I can really see this going well with almost any main course!
I used to love those Knorr Lipton pasta sides packets with dinner back when I was in school.  Do you remember those?  What was it about those little shell shapes that made those creamy pasta dishes extra delicious?  I even, admittedly, have made them for myself well into my adult years on occasion.  Sometimes I wish I could go back to the days when I had no idea how unhealthy all of that stuff was!  Ignorance really was bliss 😉  Well, this is a homemade version of those packaged pastas, and as always, homemade is SO much better.
The combination of the sauteed fresh garlic, which has almost roasted taste to it, and the garlic powder, gives it the perfect garlic flavor. This is awesome!  Cheesy deliciousness!
Creamy Garlic Shells
Creamy Garlic Shells is a one pot recipe that is easy to make, and easy to clean up! Make it a meal or use it as a side dish!
Ingredients
**Double this for a crowd!
8oz mini shells pasta
1 Tablespoon extra virgin olive oil
1 Tablespoon butter
2 garlic cloves, minced
2 Tablespoons flour
¾ cup chicken broth
¾ cup milk (I used skim)
salt & pepper
¼ cup grated Parmesan cheese
½ teaspoon garlic powder
2 teaspoons parsley flakes
Instructions
Cook pasta in a pot of salted, boiling water until al dente. Drain then set aside. Let pot cool off the heat for several minutes.
Return pot to stove over medium heat then melt butter in olive oil. Add garlic then saute until golden brown, about 30 seconds, being very careful not to burn. Sprinkle in flour then whisk and cook for 1 minute. Slowly pour in chicken broth and milk while whisking until mixture is smooth. Season with salt & pepper then switch to a wooden spoon and stir constantly until mixture is thick and bubbly, about 4-5 minutes.
Take pot off the heat then stir in Parmesan cheese, garlic powder, and parsley flakes until smooth then add cooked pasta and stir to combine. Taste then adjust salt & pepper if necessary
Recipe source:  iowagirleats.com
- Craving more?
Sign up for the Wishes & Dishes Newsletter
for a fresh serving of content delivered every week to your inbox! And stay in touch on
Facebook
,
Twitter
,
Pinterest
and
Instagram
for all of the latest updates!