Have you ever had Panera Bread's Broccoli Cheddar Soup before?  Everyone I know who has tried it LOVES it.  I went to visit my brother and sister-in-law in Syracuse a couple days before Christmas and my sister-in-law made this soup for lunch.  Immediately after taking my first bite, I asked her for the recipe because it was THAT good.  She made it with vegetable broth since my aunts that were eating lunch with us that day are both vegetarian.  I just loved it so much and knew I had to make it at home right away so my hubby could try it.  Now I can make Panera-style broccoli cheese soup right in my own kitchen – so exciting!  Of course, I had to serve it in bread bowls to make it extra fun to eat.
This was an awesome soup that thickened up nicely and it is very, very filling.  Whether or not you will think this tastes EXACTLY like Panera Bread's soup – who really cares?!  Either way, it is fantastic and has outstanding flavor to it.  The nutmeg may seem strange, but it really gave it a special flavor without being too strong.  You may not even be able to detect it at all.  Personally, I thought it was pretty darn close to the restaurant version of this soup, possibly even better.
Just a tip about using anything other than half and half for this recipe:  the lower the fat content in the milk product (half & half, milk, heavy cream, etc.) that you use, the higher your risk of curdling. The higher fat content protects it from curdling as easily. That being said, you can still use low or no-fat products, but you have to take great care not to let them boil and your soup will not be as thick or creamy.  It's all a matter of preference!  Have a great weekend!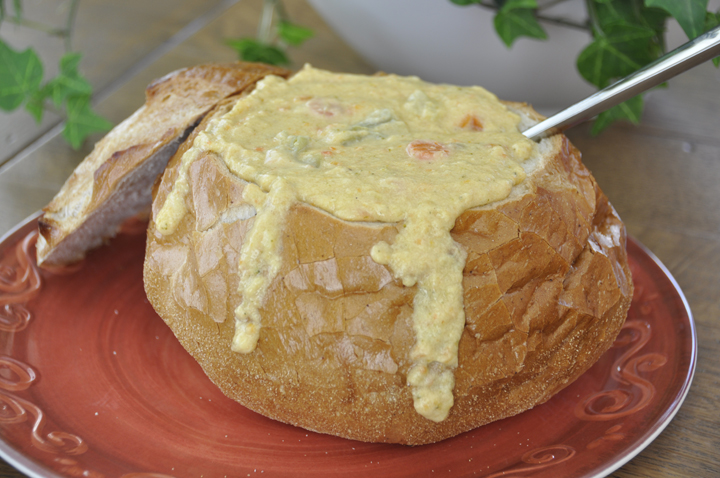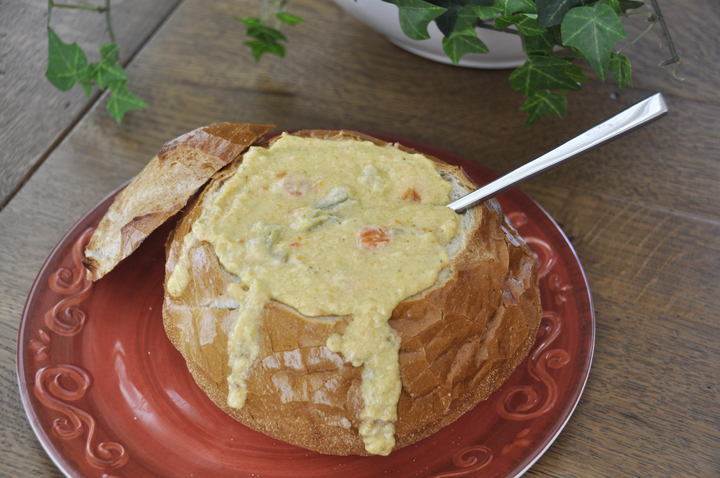 INGREDIENTS:
*serves 4 – double for a crowd or for yummy leftovers!*
1 tablespoon melted butter
1/2 medium chopped white onion
1/4 cup melted butter
1/4 cup flour
2 cups half-and-half cream
2 cups chicken stock (can use vegetable broth to make vegetarian!)
1/2 lb fresh or frozen broccoli
1 cup carrot, sliced
1/4 teaspoon nutmeg
8 ounces grated sharp cheddar cheese
salt and pepper, to taste
DIRECTIONS:
Melt the 1 tablespoon of butter in a pot over medium heat and sauté the onion in it. Set the onions aside.
Melt the 1/4 cup butter in the same pot and then add flour and stir together using a whisk over medium heat for 3-5 minutes.  Stir constantly to prevent burning and then add the half & half.
Add the chicken stock.  Simmer for 20 minutes.
Add the broccoli, carrots and cooked onions. Cook over low heat for 20-25 minutes.
Add salt and pepper, to taste. At this point, the soup can be puréed in a blender, but you don't have to.  I did puree half of it to make it so that half was smooth and some chunks of broccoli and carrots remain. (Note: be cautious putting hot liquids in the blender – it expands from the steam!  Only do a SMALL amount at a time and hold a dish towel over the top while blending just in case OR wait until it cools before blending then reheat afterward!  Use an immersion blender if you have one – that would be easier.)
Return soup to heat and stir in the cheddar cheese. Stir in nutmeg.  Once all is hot and blended, serve in regular bowls or bread bowls.  Enjoy!
Recipe source:  adapted from food.com
- Craving more?
Sign up for the Wishes & Dishes Newsletter
for a fresh serving of content delivered every week to your inbox! And stay in touch on
Facebook
,
Twitter
,
Pinterest
and
Instagram
for all of the latest updates!