Chocolate Chip Almond Biscotti dessert recipe is hard to resist and goes perfectly with a cup of hot coffee!  Add this to your holiday cookie trays and watch them disappear.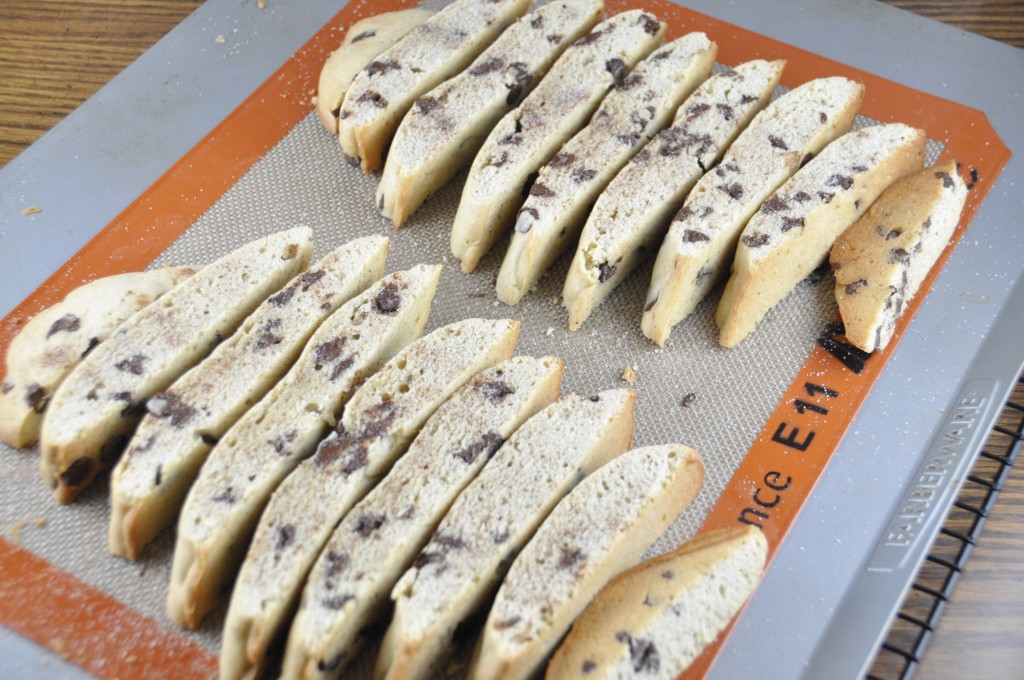 Behold one of the very best desserts to come out of my kitchen in 2012.
Mandel bread (translated to "almond bread") is a twice-baked hard bread, cut into cookies, that is very similar to Italian biscotti (which we all know and love).  It is a Jewish dessert that was very popular in Europe with the Jews and merchants and dates back to the early nineteenth century.  They were a staple dessert because of their long shelf life.  They do last a long time because most of the moisture is baked out of them!  I know you love getting history lessons on my blog.  Admit it, you love it.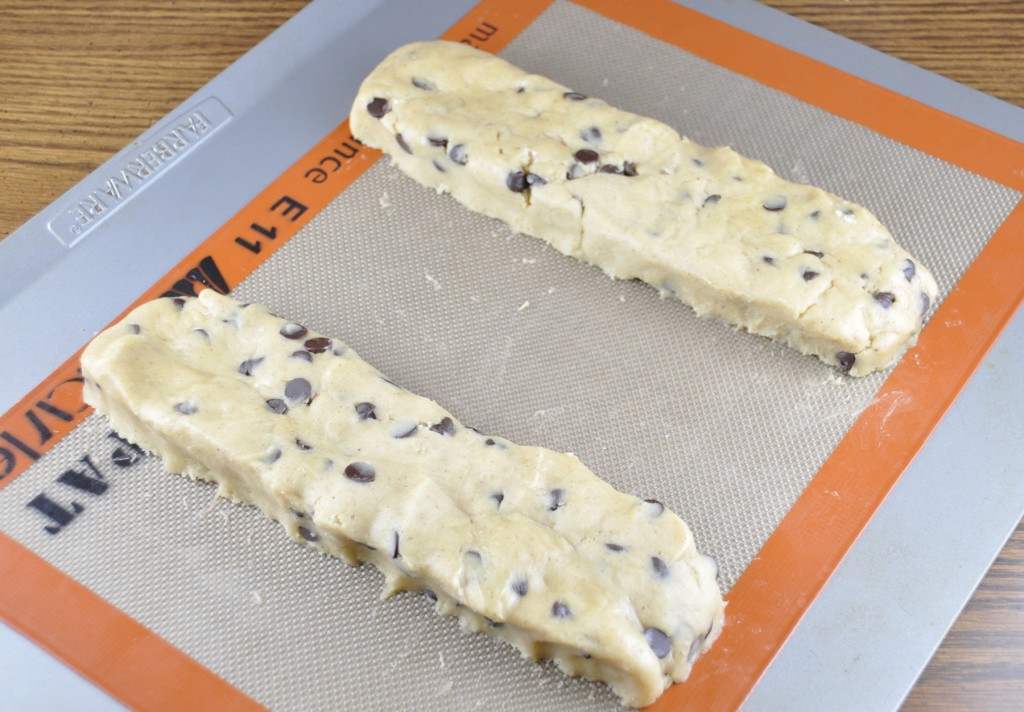 Typically mandel bread are twice-baked, which makes them crispy and crunchy.  They're perfect for dipping in your tea or coffee but are definitely sweeter and less dry than biscotti so they don't even need to be dunked.  In fact, I dare say that you will probably like these even more than biscotti.  Yup, I said it!
The recipe is also quite versatile which is totally awesome.  The chocolate chips can be replaced or used in combination with other sweet or salty "add-ins" to furthur enhance the flavor of the cookie.  Since these already have an almond flavor to them, the most traditional add-in would be chopped or slivered almonds.  Other options for you: chopped walnuts, pecans, dried fruits (maybe raisins), white chocolate chips, or a combination of any of those ingredients.  You can serve these for breakfast along with your morning coffee or for dessert – whatever your little heart desires.  They are an "eat at any time you want" kind of dessert.  All desserts fall under this category for me, though 🙂
OK, now back to my Christmas baking frenzy…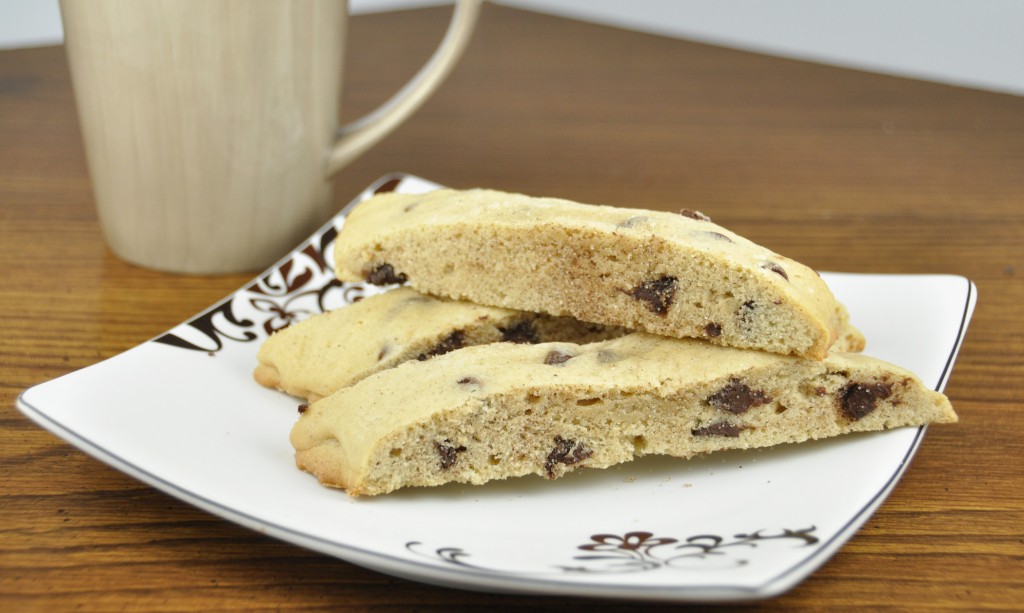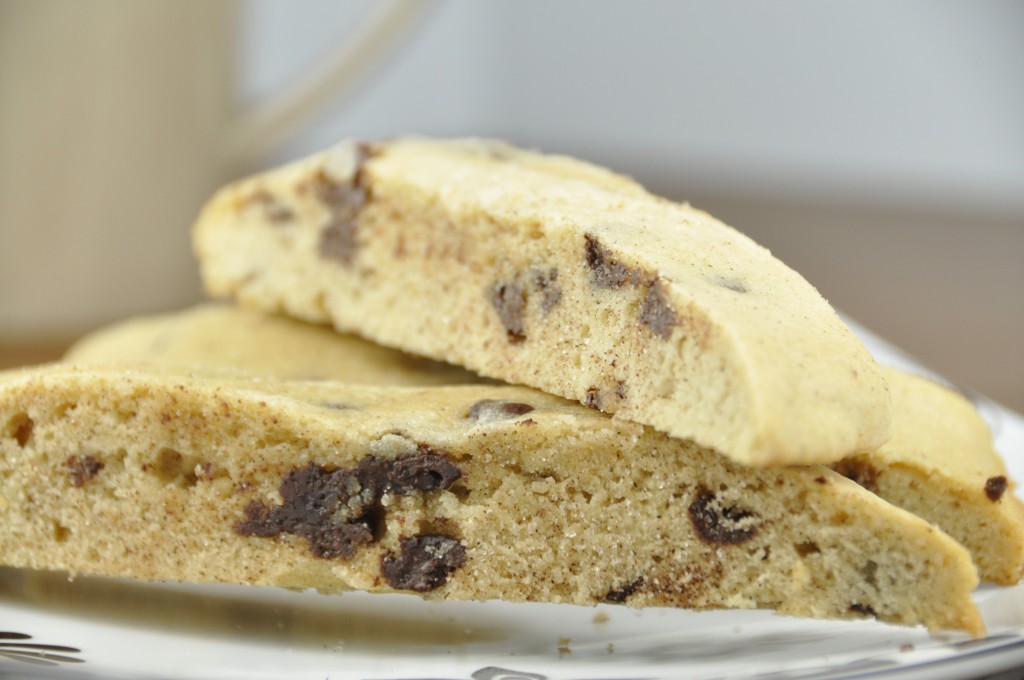 Chocolate Chip Almond Biscotti
Prep time:
Cook time:
Total time:
Chocolate Chip Almond Biscotti dessert recipe is hard to resist and goes perfectly with a cup of hot coffee! Add this to your holiday cookie trays and watch them disappear.
Ingredients
3 cups all-purpose flour, spooned into measuring cup and leveled-off with back edge of knife
2 teaspoons baking powder
1 teaspoon salt
1 teaspoon cinnamon
¼ teaspoon ground nutmeg
14 tablespoons unsalted butter, melted
1 cup plus 2 tablespoons sugar
3 large eggs
2 teaspoons vanilla extract
½ teaspoon almond extract
⅔ cup semi-sweet chocolate chips (use up to 1 cup if desired)
¾ cup walnuts or pecans (optional, I left these out)
2 tablespoons cinnamon-sugar (combine 2 tablespoons sugar with ¾ teaspoon cinnamon)
Instructions
In a medium bowl, whisk together the flour, baking powder, salt, cinnamon and nutmeg.
In the bowl of an electric mixer, combine the melted butter, sugar, eggs, vanilla extract and almond extract. Beat on medium speed until creamy and pale yellow, a few minutes. Add the dry ingredients and mix on low speed until just incorporated, then mix in the chocolate chips and nuts (if using). Cover the bowl with plastic wrap and place in the refrigerator to chill until firm, 1-2 hours (you can speed this up in the freezer if you'd like).
Preheat the oven to 350 degrees and line a baking sheet with parchment paper or silpat mat.
Shape the dough into 2 logs about 2 inches wide, making sure they aren't too close together or too close to the edges of the pan. (If it's still sticky, dust your hands with flour.) Bake for 25-30 minutes, or until lightly golden.
Turn the oven down to 250 degree (don't forget this step!) and take the cookies out. Let the baked logs cool for about 15 minutes, then slice them diagonally about every ¾-inch. Flip the cookies on their sides (I squeeze them onto one baking sheet but you can use two if necessary), then sprinkle half of the cinnamon-sugar over top. Flip the cookies over and repeat with the remaining cinnamon-sugar. Place the pan back in the oven (again, be sure you turned temperature down to 250 degrees!) and cook until golden and crisp, about an hour.
Let cool, then store in airtight container. (Note: cookies will get crunchier as they cool.)
Recipe Source: adapted from onceuponachef.com
- Craving more?
Sign up for the Wishes & Dishes Newsletter
for a fresh serving of content delivered every week to your inbox! And stay in touch on
Facebook
,
Twitter
,
Pinterest
and
Instagram
for all of the latest updates!