My fondness for sweets is well-documented on this blog, so I know a recipe that's both sweet and adventurous is very much overdue.  After all, it's been way too long since I've posted something sinful and I'm finally delivering!  Mr. Wishes is partipating in his first Tough Mudder race this coming Sunday and I have joined him in eating pretty healthy in the last month or so and cutting out most desserts.  I'm not doing the race with him, but if I bake anything I'm pretty much on my own as far as eating it and I didn't want to do that to myself, so I have been keeping baking to a minimum 🙂
This pie caused my very strong-willed husband to cheat on his diet….that's how good it is.  Peanut butter, banana, and chocolate is the best dessert combination known to man, am I right?!  I love this because it's a little bit different from most peanut butter pies because of the addition of the banana, and it is very creamy and rich without feeling really heavy.  The best part is that it's entirely no-bake.  That's right…..no oven time is required, which makes it perfect for the hot summer days when you don't want to heat up your kitchen.  It's also great when you need a quick dessert to throw together in a short amount of time.
Don't skip the chilling part, because this pie needs a thorough chilling to not only hold everything together, but to give all of the flavors a chance to marry together.  And boy do they marry!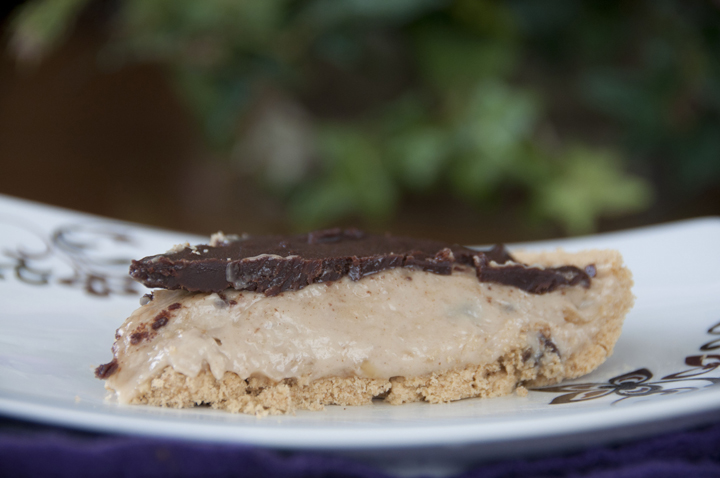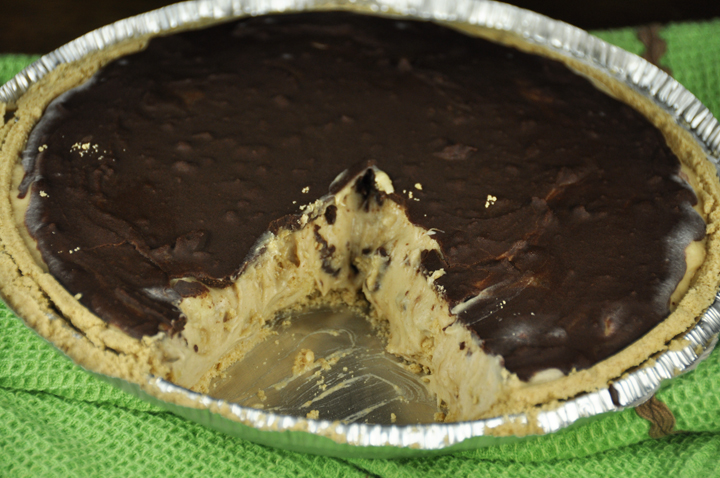 INGREDIENTS:
*makes 8 servings*
Banana Peanut Butter Layer:
1 graham cracker crust
1 (8 ounce) package cream cheese, softened
3/4 cup peanut butter
1/2 cup sugar
1 medium to large sized banana, mashed
1/3 cup half and half
1/4 cup mini chocolate chips
Chocolate Layer:
1/2 cup semi sweet chocolate chips
1 1/2 tablespoons butter
1/2 tablespoon corn syrup, dark or light
DIRECTIONS:
In a large bowl, cream the cream cheese, peanut butter and sugar until smooth.
Add in the mashed banana and blend until incorporated.  Then blend in the half and half until creamy and combined.
Fold in the mini chocolate chips.
Pour the mixture into the graham cracker crust.
Over a double boiler, melt the ingredients for the chocolate layer.  Stir until smooth.
Pour the chocolate over the banana peanut butter layer.  Smooth very carefully into an even layer.
Refrigerate until firm – at least 3 hours or overnight.  Store uneaten pie in the 'fridge or it will get all melty.
Recipe source:  adapted from pomanmeals.com
- Craving more?
Sign up for the Wishes & Dishes Newsletter
for a fresh serving of content delivered every week to your inbox! And stay in touch on
Facebook
,
Twitter
,
Pinterest
and
Instagram
for all of the latest updates!