UPDATE: The winner of the Avocados from Mexico gift basket is:
#34 – Candice Huey: "I follow Wishes and Dishes on Twitter."
Congratulations, Candice!  Be sure to reply to the email you've been sent and prize will be shipped out to you!  Thank you to everyone who entered

If I had to pick a food that is a favorite with my husband and I, I'd have to say it is most certainly avocados. This is why I was pretty excited to be asked to work with Avocados From Mexico for their "Avocado All☆Stars" campaign.  I mean, who doesn't love a good avocado? When I heard they would be sending me a kit of avocado goodies, AND they were offering an amazing giveaway package to one of my readers……how could I say no?  I've made many, many recipes in the past using avocados and was excited to get creative again.
Are you throwing a party for the next big game and looking for a healthier food option? I've got you covered with these lovely chicken avocado spring rolls.  This is a wonderful avocado-based recipe for baseball game day entertaining (or ANY game day) when you want something more on the healthy side.  We all know that there is enough junk food floating around on game day, not that I don't love me some junk food (!), but these will be like a breath of fresh air.  Also, just because you eat healthy does not mean that your party food needs to be boring…and these are the opposite of boring.  I loved the addition of chicken in these rather than the customary shrimp, tofu, or pork spring rolls – delicious and SO flavorful!  I was actually astounded at just how incredible the flavors were in these.
Also, did you know that one ounce (3 slices) of an avocado has 50 calories and contributes nearly 20 vitamins and minerals, making it a good choice to help meet nutrient needs?  Just a fun fact for you :)  Enjoy and make sure you enter the giveaway!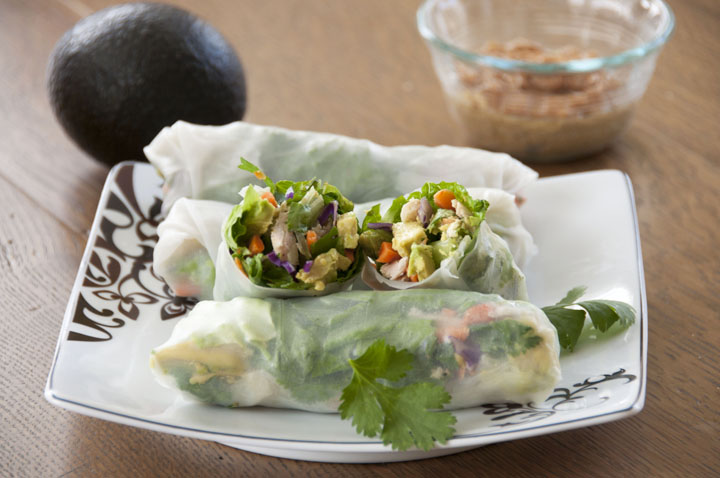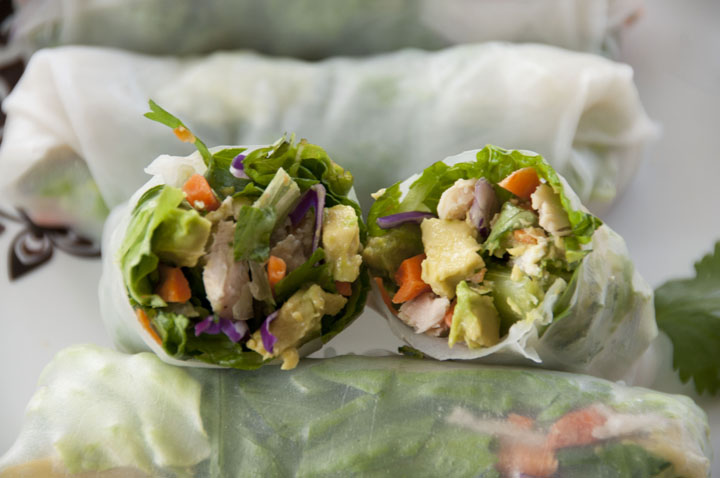 INGREDIENTS:
*makes about 10 rolls*
1 pound boneless skinless chicken breast (poached, grilled, baked, rotisserie, or leftover chicken works great)
1 ripe avocado, peeled and sliced thin
1 carrot, peeled and cut into thin strips
1/4 head red cabbage, chopped (optional, but nice for color)
fresh cilantro, chopped, to taste
1 cup romaine lettuce, torn into pieces
rice paper spring rolls wrappers
Thai Dipping Sauce:
(You can also use any store-bought sauce of your choice, i.e. soy sauce or peanut sauce)
1/2 cup sweet chili sauce
1/4 cup rice vinegar
1/4 cup canned coconut milk
3 tablespoons brown sugar
3 garlic cloves, pressed or finely minced
1 tablespoon creamy peanut butter
1 teaspoon-sized knob of ginger, grated (can also used ground ginger)
1 lime, juiced
1/2 tablespoon soy sauce
DIRECTIONS:
For dipping sauce:
Combine chili sauce, vinegar, coconut milk, sugar, garlic, ginger, peanut butter, soy sauce and lime juice in a saucepan, whisking with a fork until combined. Heat over medium heat until mixture comes to a bubble, let boil for 1 minute then reduce to low and let simmer for another 2-3 minutes. Set aside and let cool.
For spring rolls:
Working one at a time, wet rice paper for 10 seconds in a bowl of very warm water and then transfer to a clean,dry work surface. Place lettuce in the center of each wrapper and top with cabbage, carrot, chicken, avocado, and sprinkle cilantro over the top. Bring the bottom edge of the wrap tightly over the filling, rolling from bottom to top until the top of the sheet is reached, being careful not to tear the rice paper (they tear easily!). Repeat with remaining wrappers and filling.  It helps to wet your fingers when rolling to prevent the wrapper from sticking to your fingers.  Serve with Thai dipping sauce or your choice of sauce!
GIVEAWAY DETAILS
Thanks to Avocados from Mexico, one lucky Wishes and Dishes reader will win an Avocado "kit"!  Many thanks to them for providing the giveaway product. Giveaway is open to U.S. and Canadian readers.
The kit will include the following:
(1) Sur La Table "Batter Up" Silicone Spatula
(1) OXO 3-in-1 Avocado Slicer
(1) I ♥ Avocado T-Shirt
(1) Avocados From Mexico-branded USB loaded with recipes
Giveaway value is $45
HOW TO ENTER THE CONTEST
To enter to win, simply leave a comment telling me your FAVORITE way to eat avocados.
You can receive up to FIVE additional entries to win by doing the following:
1. Subscribe to Wishes & Dishes by email (enter your email address in the box at the top right hand side of my page where it says "Follow me through email"). Come back and let me know you've subscribed in an additional comment on this post.
2. Become a fan of Wishes and Dishes on Facebook. Come back and let me know you became a fan in an additional comment on this post.
3. Follow Wishes and Dishes on Pinterest. Come back and let me know you became a fan in an additional comment on this post.
4. Follow @wishesndishes on Twitter. Come back and let me know you've followed in an additional comment on this post.
5.  Tweet about this giveaway, Pin it, OR post a link to it on your Facebook page!  Come back and let me know you have in an additional comment on this post.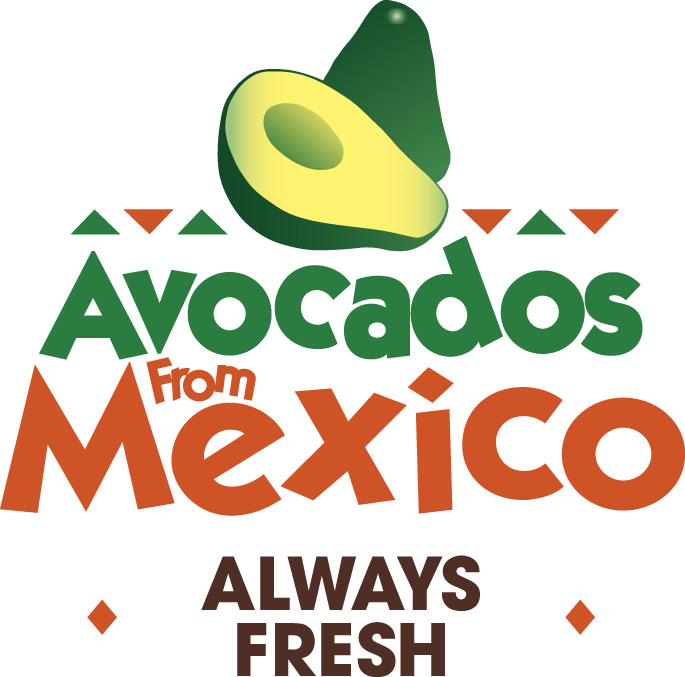 **Also, be sure to enter the Avocado All Star sweepstakes for the chance to win a $5,000 grocery gift card!  Sweepstakes ends October 31st. Go to AvocadoAllStars.com to do this and join in the #AvoAllStars conversation on Twitter.  At their website, you can download a coupon for one FREE 10-oz can of Ro*Tel when you buy 3 Avocados from Mexico.**
Deadline: Monday Oct. 28 at 11:59 pm (EST).
Winner: The winner will be chosen at random using Random.org and announced at the top of this post.  I will email the winner and if he/she does not respond within 48 hours, another winner will be selected.
Disclaimer: This sponsored post was made possible by One2One Network and Avocados from Mexico. I have been compensated for my time and work on this campaign, however all opinions are 100% my own, as always.
- Craving more?
Sign up for the Wishes & Dishes Newsletter
for a fresh serving of content delivered every week to your inbox! And stay in touch on
Facebook
,
Twitter
,
Pinterest
and
Instagram
for all of the latest updates!