This recipe is so much fun…recipes can be fun, didn't you know that?  You're going to love this.  Have you ever heard of an Italian dipper before?  Well, neither had I until I came across this little gem on Live Love Pasta and knew right away that I had to make it. 
After some research, I learned that an Italian dipper is basically a ring of pizza crust that is stuffed with cheese, pizza toppings, and Italian seasonings.  So a few weeks ago we had a dreary, cold fall Sunday and I decided to make my usual Sunday sauce and swap the normal loaf of Italian bread with this cheesy Italian dipper.  Good choice made by me!  I'm not one that likes change, but sometimes I feel a little adventurous.
Now you don't have to be like me and wait to make this for your next pasta night – this would be so perfect for a snack in the middle of the day, an appetizer for a party, or just anytime!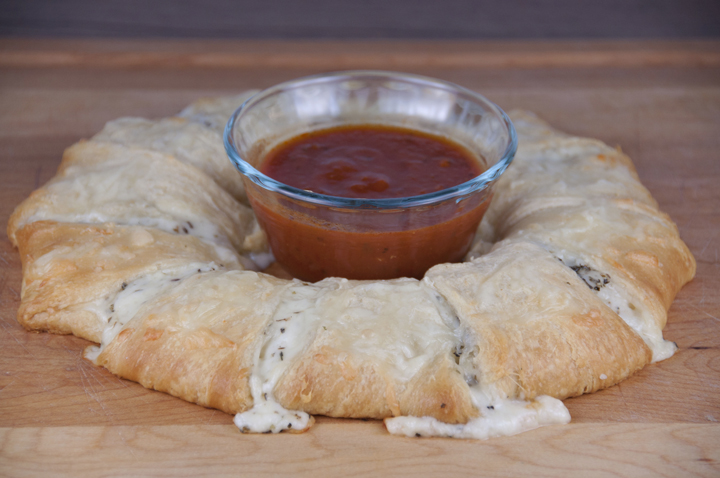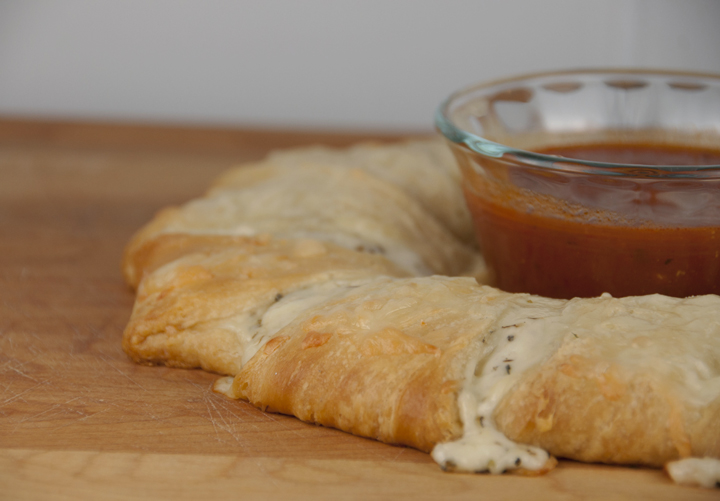 INGREDIENTS:
2 cans crescent rolls, NOT the jumbo ones
6 ounces fontina cheese, shredded
1/2 tablespoon Italian seasoning
1 can pizza sauce for dipping (can also use homemade or marinara sauce)
DIRECTIONS:
Preheat the oven to 350 degrees.
Shred the cheese if you haven't already.
Line a large baking sheet with parchment paper or silicone baking mat.  Open the cans of crescent rolls and separate each roll.
Begin making a circular ring with the crescent roll triangles, skinny side of the triangles pointing OUT and widest parts in the center, overlapping each triangle as you form the circle.  Sprinkle most of the cheese on the WIDEST part of each triangle.
Sprinkle the Italian seasoning over all of the cheese.
Fold the skinny pointy part of each triangle over the cheese.
Tuck the point under the widest part of the triangle.
Sprinkle the rest of the cheese on TOP of the ring.
Bake on the middle rack of your oven for 20 minutes or until golden brown.
Serve with pizza or marinara sauce.