Who doesn't love a good puppy chow? (AKA "Muddy Buddies" or "trash", whatever you might call it).  NO, this is not food you feed to your pet (because I know someone will ask….they always do) :)  I made a pumpkin spice version of this back in October for Halloween with pumpkin spice Hershey's kisses.  When I saw these fun candy cane striped Kisses, I knew I had to make a Christmas version of puppy chow.
This is such a simple and fun recipe and would be a great addition to any family or friends gathering for the holidays.  My husband doesn't even care for peppermint and he still thought this was great!
P.s. Did you have a chance to enter my giveaway from Monday? Don't miss out on this one!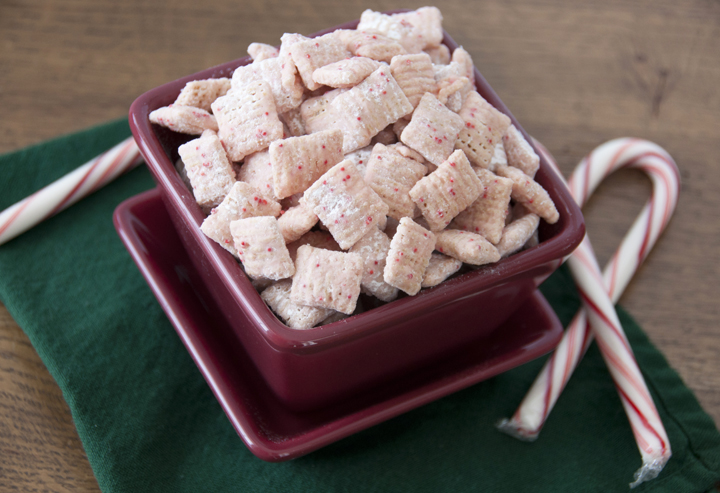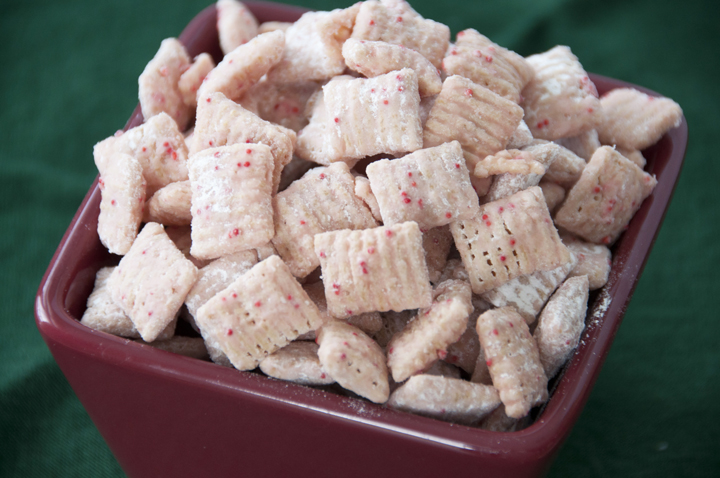 INGREDIENTS:
6 cups rice Chex cereal
1 Tbsp shortening
1 bag (10 ounces) Candy Cane Hershey's Kisses
1 and 1/2 cups powdered sugar
DIRECTIONS:
In a gallon size freezer bag, pour in the powdered sugar. Set aside. Pour the rice chex into a large bowl.
In a double boiler (can also use microwave), melt the Hershey's kisses until smooth and creamy. If the mixture seems too thick, you can add the shortening to thin it out a little (I did this). Pour the melted kisses over the chex cereal in the bowl and stir until evenly coated.  Stir carefully as not to break the chex  Add the cereal to the bag with the powdered sugar and shake until all of the rice chex are evenly coated.   Put some candy canes around the bowl when serving, for decoration.  Enjoy!
- Craving more?
Sign up for the Wishes & Dishes Newsletter
for a fresh serving of content delivered every week to your inbox! And stay in touch on
Facebook
,
Twitter
,
Pinterest
and
Instagram
for all of the latest updates!