It is that time of year again when everyone is baking and making all kinds of goodies in their kitchens.  I haven't baked a single "Christmas-ey" thing yet, however.  I am still waiting for that little burst of motivation to hit me.  My Christmas tree has been up for a month and a half, yet I haven't made any Christmas cookies yet.  Figure that one out.  I will definitely miss fall and all the endless pumpkin and apple desserts, but I'm excited to dive into Christmas baking and the whole Christmas season.  After all, I wait all year for this!  Also, this girl can only take so much pumpkin before I get a little burnt out on it.  Some may say I'm crazy….
For whatever reason, whenever I think of cobbler my mind immediately thinks of apple cobbler.  Sometimes I forget about all of the other delicious cobblers out there, such as this one.  This blackberry cobbler is one of my new favorite "go to" dessert recipes because it's really easy to throw together, yet it tastes like you slaved all day over it.
What's great about this cobbler is you can easily mix and match your favorite fruit combinations in this recipe, along with what's currently in season or just buy any frozen fruit at the store.  It will work with whatever your fruit(s) of choice is.  Top it with a small scoop of vanilla ice cream if you're feeling extra daring, but this cobbler is plenty sweet enough on it's own!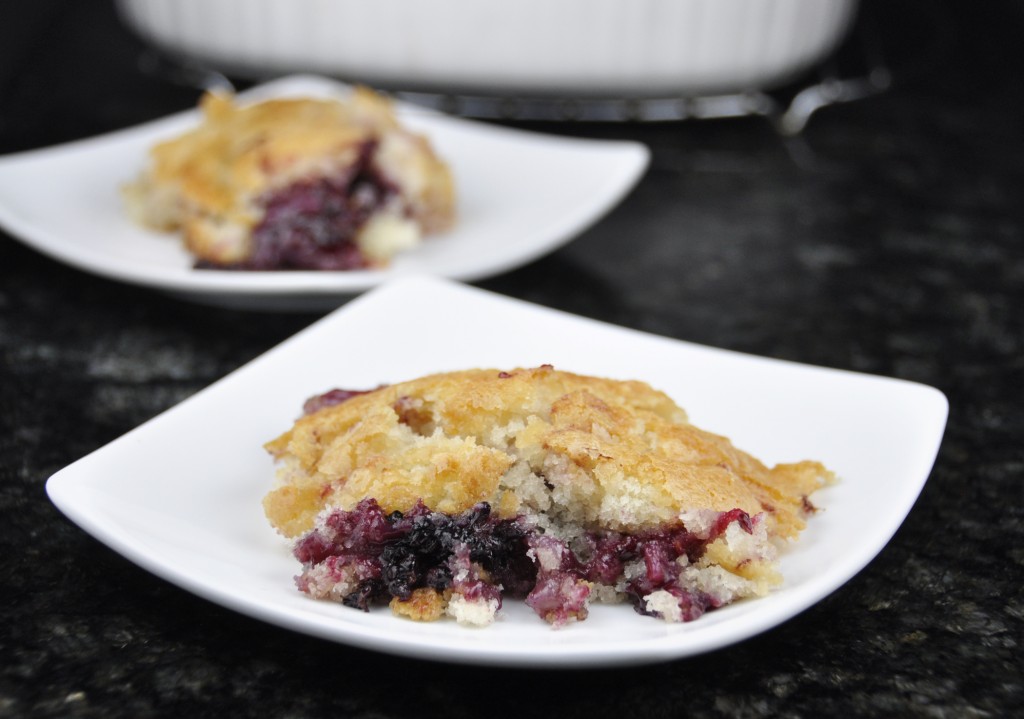 INGREDIENTS:
1 stick Butter
1-1/4 cup Sugar
1 cup Self-Rising Flour*
1 cup Milk
2 cups Blackberries (frozen Or Fresh)
*To make your own self-rising flour: for each cup of all-purpose flour, add 1 1/4 teaspoons of baking powder and 1/4 teaspoon of salt.
DIRECTIONS:
Melt butter in a microwavable dish. Pour 1 cup of sugar and flour into a mixing bowl, whisking in milk. Mix well. Then, pour in melted butter and whisk it all well together. Butter a baking dish (I used my 1.5 quart Corningware dish).
Now rinse and pat dry the blackberries. Pour the batter into the buttered baking dish. Sprinkle blackberries over the top of the batter; distributing evenly. Sprinkle ¼ cup sugar over the top.
Bake in the oven at 350 degrees for 1 hour, or until golden and bubbly.
Serve with whipped cream or ice cream on top, if desired.
Recipe source:  adapted from thepioneerwoman.com
- Craving more?
Sign up for the Wishes & Dishes Newsletter
for a fresh serving of content delivered every week to your inbox! And stay in touch on
Facebook
,
Twitter
,
Pinterest
and
Instagram
for all of the latest updates!