Banana Nut Yogurt Breakfast Pops are a healthy snack or breakfast idea for adults or kids with bananas, Greek yogurt, granola and drizzled with honey!
All ideas, recipes, & opinions are entirely my own however, this is a sponsored post on behalf of wholesome brands: Vans Simply Delicious® & Wallaby® Organic.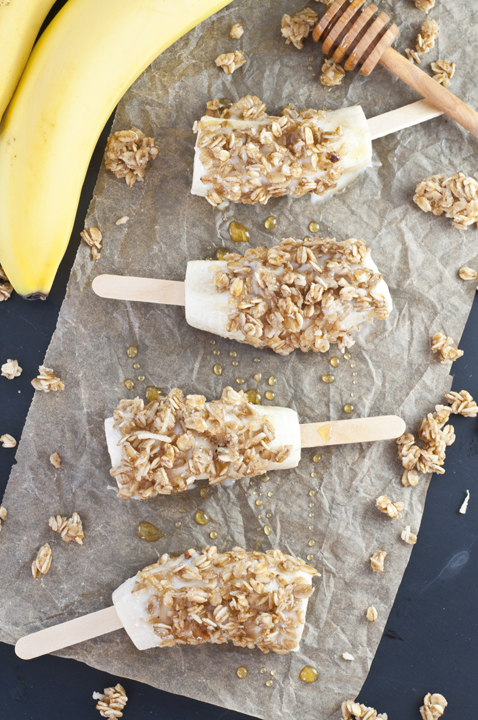 I did a dangerous thing the other day – I wandered into Target while I was extremely hungry and in a major shopping mood.  I should just know by now to grab the big cart as opposed to the small shopping basket as soon as I walk in Target because I always end up going back for it anyways!  Shopaholic problems.  I love Target because I always find new-to-me items that I don't tend to find at other local grocery stores.  I saw Vans Simply Delicious Granola and picked up a couple of bags.
My husband and I eat granola like it's our job so I was eager to try Vans – especially the banana nut!  I didn't waste any time and tore into that bag as well as the Blueberry Walnut granola as soon as I got home and, guys, this stuff is tasty!  The banana nut is my new addiction and my husband and I may or may not have fought over it.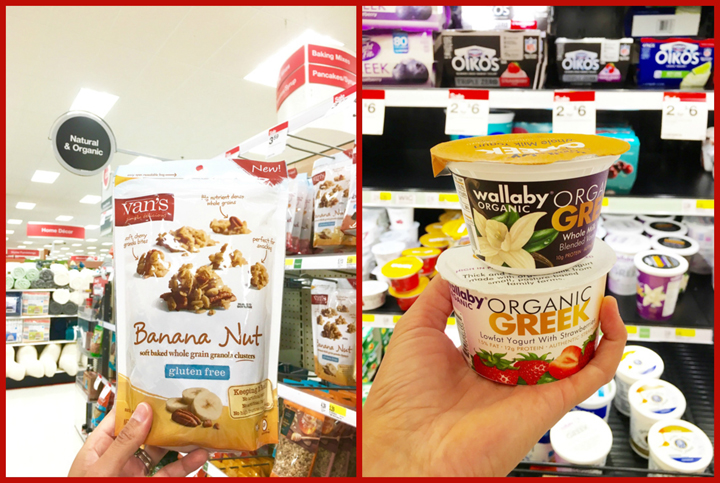 I also picked up some Wallaby Organic Greek Yogurt Flavors: vanilla bean and strawberry.  I had tried Wallaby yogurt years back and immediately thought it was the best!  I just love the consistency, the organic fruit used in them, and the wide variety of flavors.
I spent so much time in Target and managed to somehow forget milk! I had to come up with another alternative to my usual of just granola and milk in a bowl.  These Banana Nut Yogurt Breakfast Pops were kind of a brilliant, spontaneous snack I came up with (if I do say so myself).  I love how wholesome, yet filling they are and I can incorporate fruit, granola, and Greek yogurt all together into one easy snack.  Nutritious snacks that taste good and assist with living a conscious and natural lifestyle?  Count me in.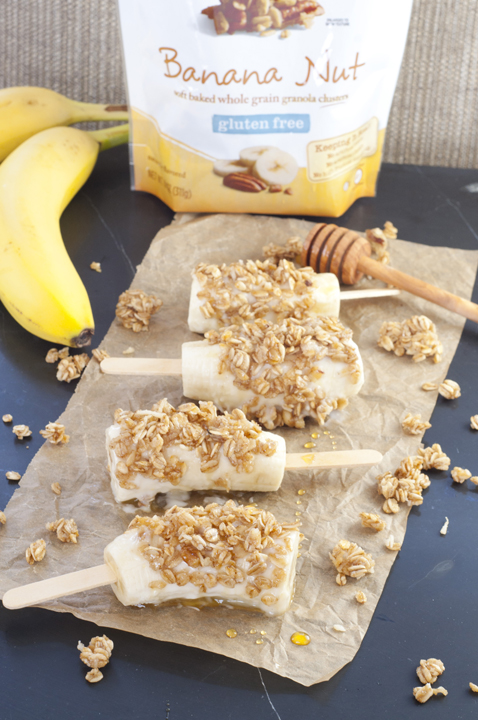 These Banana Nut Yogurt Breakfast Pops come together in no time at all and kids will love them!  I love how portable they are for families' that tend to eat and run a lot, especially with school being back in session.  No excuses not to eat breakfast anymore during the weekdays!
If you're looking for something not so on the "light" side, another great way to enjoy this granola is to add it on top of your favorite ice cream!  Heck, just eat it right out of the bag when you're on-the-go or mix it in with a container of Wallaby yogurt.  It's a delicious whole grain, Non-GMO, gluten-free snack with no artificial flavors or colors…oh, and NO high fructose corn syrup.  You really can't go wrong!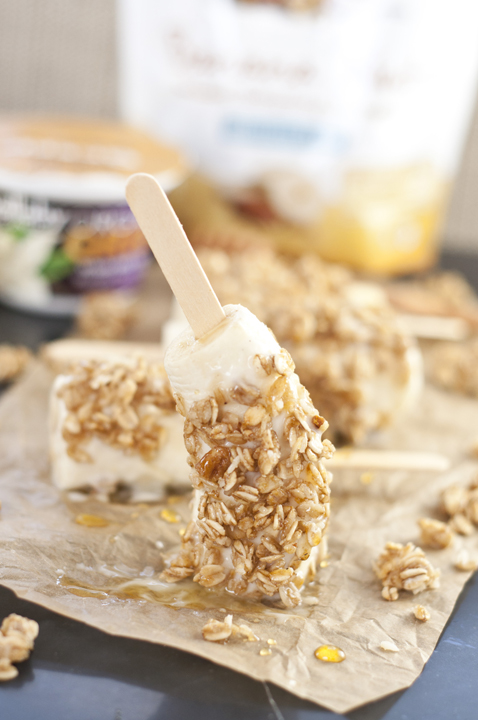 You can find Vans and Wallaby brands at your local Target.  There is a Cartwheel offer going on now to save you some money when you shop!  You can the discount for Vans here and the discount for Wallaby here. You can also keep in touch with both brands on social media (@vansfoods, @wallabyyogurt) #liveconsciouseatdelicous  Enjoy!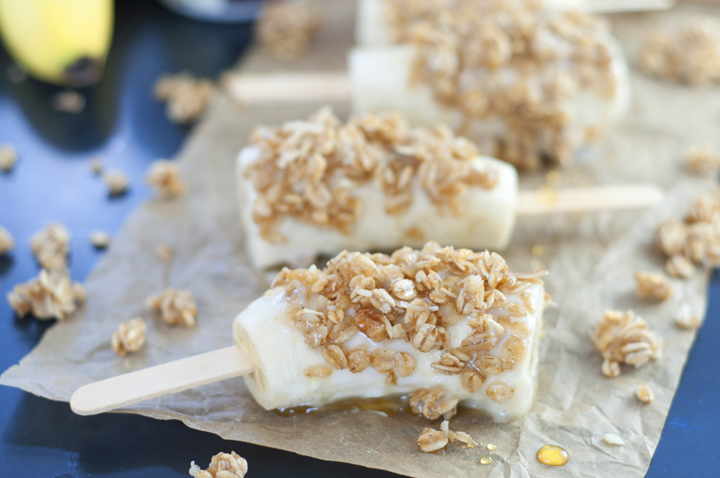 Banana Nut Yogurt Breakfast Pops
Banana Nut Yogurt Breakfast Pops are a healthy snack or breakfast idea for adults or kids with bananas, Greek yogurt, granola and drizzled with honey!
Ingredients
2 bananas, peeled and cut in half
Your favorite Wallaby yogurt (I used vanilla bean)
1 cup of Vans granola (I used Banana Nut)
Honey
Instructions
If you are using granola clusters like I did, break them up a bit with your hands, then place granola on a shallow plate or dish.
Stick popsicle sticks into bananas and dip them in the yogurt.
Roll in the granola, using your hands to stick the granola to the yogurt, if necessary.
Drizzle them lightly with honey.
Place them on a tray lined with parchment paper and freeze, taking them out just before eating. Enjoy!
.
.
- Craving more?
Sign up for the Wishes & Dishes Newsletter
for a fresh serving of content delivered every week to your inbox! And stay in touch on
Facebook
,
Twitter
,
Pinterest
and
Instagram
for all of the latest updates!