Healthy Banana Coconut Mocha Coffee Shake recipe without all the sugar and empty calories and with just enough caffeine to give you energy to start your day!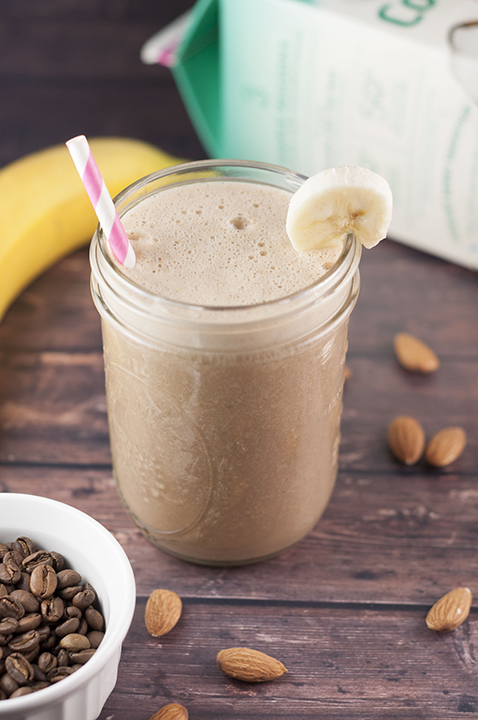 So before I talk about this Banana Coconut Mocha Coffee Shake I have to tell you about something really cool. Mr. Wishes did a week of surprises for me last week leading up to our 8th wedding anniversary which is on the 16th. Every day he had a surprise waiting for me in one form or another. Side note: why can't I be that creative/thoughtful of a gift giver? We planned a getaway to Riviera Maya, Mexico for five days. We couldn't quite decide what to do but we always go away this time of year to celebrate our anniversary and that's what we decided on. We have been to Mexico multiple times (Cozumel, Cancun, Costa Maya) but this will be something new and different.
I'm so glad you're here! Follow along on Pinterest for more inspiration! 
We planned to leave Saturday, but my full-of-surprises husband told me to check that our flights were showing the correct time and dates in the airline app. I logged in on my phone and lo and behold saw that my flight was days earlier than it was supposed to be and had a mini panic attack. I thought he booked the wrong dates! He told me to look closer and I saw that the flight was going to Orlando instead of Mexico. WHAT?!?!? Yes, he surprised me and is taking me to Disney World for the last "Wishes" show ever at Magic Kingdom. By the time you are reading this I will be galavanting around Epcot and Magic Kingdom, back in my natural habitat.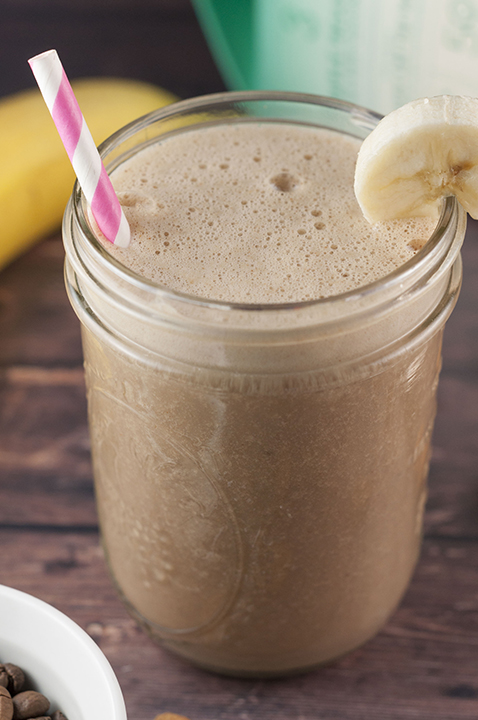 I am going to embarrass myself for a minute and say that I'm in love with Disney World and their 20 minute fireworks show set to music ("Wishes") has my heart. I cry every time I see that show, even if it's in a YouTube video (now you know what I do with my spare time – oops). It's an absolutely alluring show and I actually named my blog after it. Did you all know that? Well, the show is going away forever as they are switching it up and I was so sad. Mr. Wishes knew my life wouldn't be complete without seeing the show one last time! I will be a blubbering mess, I'm sure of it. Wishes will live on in my blog's namesake!
This Banana Coconut Mocha Coffee shake is similar to my Creamy Coffee Protein Smoothie but has more of the consistency of the Starbucks Mocha Frappuccino. It is an absolute dream for all of you coffee lovers out there. It is great workout fuel or perfect just for a hot day when you need to cool off. This can be whipped up in no time at all so no more excuses not to have breakfast before heading out for the day! You can now have your coffee and breakfast all in one delicious drink. You're welcome.
Check out my whole collection of smoothie recipes for even more ideas!
Banana Coconut Mocha Coffee Shake
Healthy Banana Coconut Mocha Coffee Shake recipe without all the sugar and empty calories and with just enough caffeine to give you energy to start your day!
Ingredients
1 cup brewed coffee, cooled to room temperature
1 peeled frozen banana
3 tbsp creamy almond butter
2 tsp unsweetened cocoa powder
½ cup coconut milk (I used Silk)
2 cups ice cubes
1 tbsp caramel syrup
Instructions
Place all of the ingredients into your blender and blend until smooth.
Serve immediately.
- Craving more? Sign up for the Wishes & Dishes Newsletter for a fresh serving of content delivered every week to your inbox! And stay in touch on Facebook , Twitter , Pinterest and Instagram for all of the latest updates!