Unlike stove-top risottos, this oven-baked version requires hardly any stirring and tastes delicious. Perfect side dish for the holidays.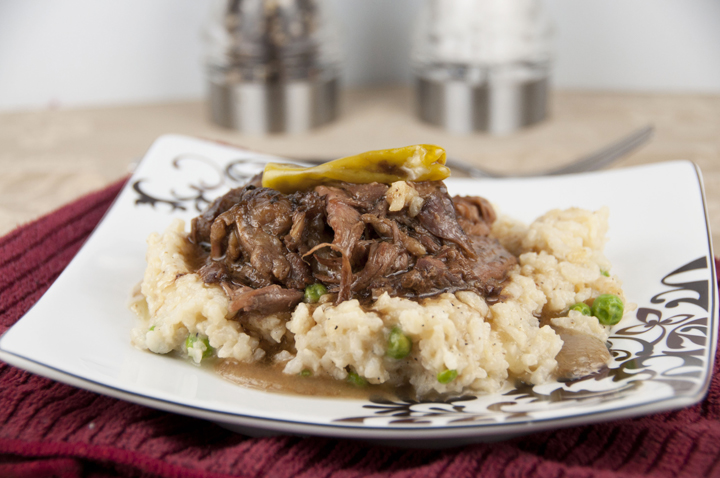 Monday again 🙁  How was your weekend?  Mine was jam-packed with a birthday get-together, a baby shower, dinner and a movie with friends, and…..wait for it…………slaving away on our new patio and fire pit!  Hopefully we are getting the concrete poured this week so that makes me a very happy girl.  I've spent very little time experimenting in the kitchen lately and I don't want my blog to start to suffer, so I'll be glad once this patio is finished.  Not just for the sake of my blog though, of course, I can't wait for the first campfire and marshmallow-roasting session!
Get ready for one of my favorite side dishes that I make a LOT.  It goes perfectly with my Slow Cooker Mississippi Pot Roast but it really would be good with just about any main course.  I mentioned it in a past blog post and had so many requests from my readers asking for the recipe and instead of continuing to send it to multiple people individually, I finally got around to posting it on here for everyone to have.
I absolutely LOVE making risotto.  It is pure comfort food, and the pouring and stirring is all a testament of love.  Is it time consuming?  Yes. Hard to make? Not at all.  But then I discovered baked risotto and I've never looked back.  Oven-baked risotto may seem sacreligious for any dish claiming the name "risotto", but it eliminates the need for constant stirring so it's way less maintenance than regular risotto.  This version made with peas is a personal favorite of mine and I think you'll feel the same.  Discovering baked risotto was like discovering the holy grail, for me at least. And while I do think it's important to understand the basic stovetop technique, I will always keep this oven-baked version in my back pocket. And why wouldn't I?  It's easily adaptable to the seasons (you can add whatever veggie you like), and it makes getting dinner on the table a breeze.  It's a true one-pot wonder!
Baked Parmesan Risotto

Unlike stove-top risottos, this oven-baked version requires hardly any stirring and tastes delicious. Perfect side dish for the holidays.

Ingredients
1½ cups Arborio rice
5 cups chicken stock, divided
1 cup freshly grated Parmesan cheese
½ cup dry white wine
3 tablespoons unsalted butter, diced
2 teaspoons kosher salt
1 teaspoon freshly ground black pepper
1 cup frozen peas
Instructions
Preheat the oven to 350 degrees.
Place the rice and 4 cups of the chicken stock in a Dutch oven, such as Le Creuset, or any pot with a lid that is OVEN SAFE. Cover and bake for 45 minutes, until most of the liquid is absorbed and the rice is al dente. Remove from the oven, add the remaining cup of chicken stock, the Parmesan, wine, butter, salt, and pepper, and stir vigorously for 2 to 3 minutes, until the rice is thick and creamy. Add the peas and stir until heated through. Serve hot.
- Craving more?
Sign up for the Wishes & Dishes Newsletter
for a fresh serving of content delivered every week to your inbox! And stay in touch on
Facebook
,
Twitter
,
Pinterest
and
Instagram
for all of the latest updates!