A great recipe for homemade Butterfingers using only 3 ingredients. The crispy, crunchy texture is so similar to the popular name-brand candy bars.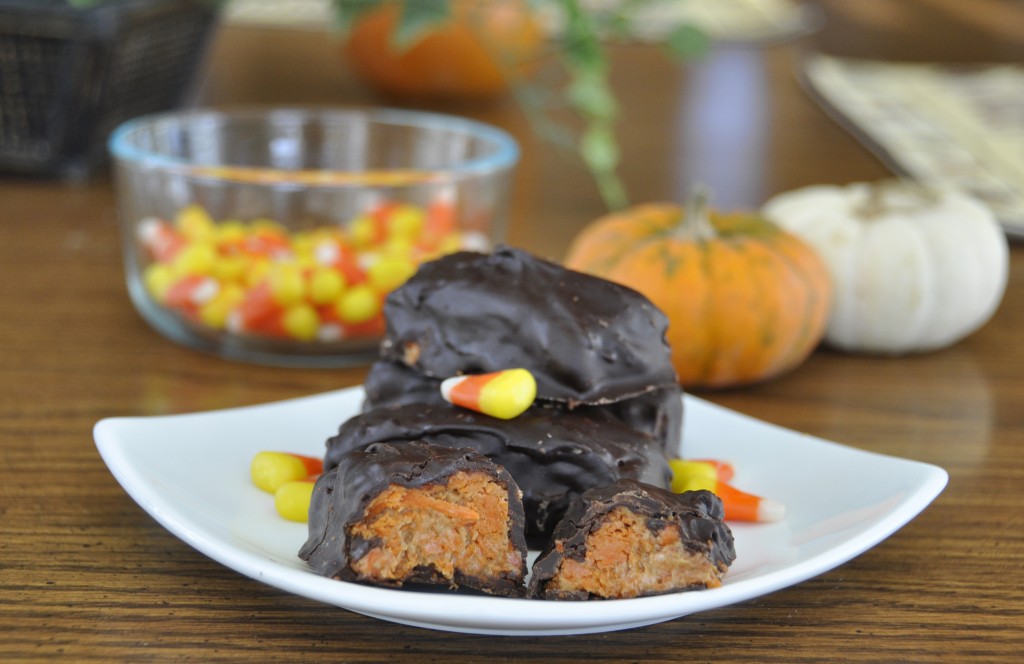 That's right – 3 ingredients!
  Butterfingers were always my favorite candy growing up and they still are.  They were followed closely by Skittles and Snickers.  In fact, I loved them so much that I used to trade my brothers two Reese's Cups just for a Butterfinger at Halloween.  I always thought they had just the right amount of flakiness, peanut butter and chocolate flavor to them.  When I saw a recipe where I could make them at home I was skeptical, especially when I saw they were made with melted candy corn.  I have to say, though, they truly did taste like Butterfingers! It is unreal!  The taste was definitely spot-on.
I don't even want to admit how many of these made it into my mouth, but I'm sure you can imagine.  I made sure I whipped these up when I knew I had company coming over because I didn't trust myself to be alone with them.  I had four of my good friends come visit this past weekend to see my new house and they partook in the Butterfinger goodness.  Either they were lying, or they really enjoyed them as much as I did 🙂
You can definitely tackle this, even if you are not an expert baker.  Seriously – these butterfingers are great! I am planning to stock up on candy corn so I can make these year-round.
3 Ingredient Homemade Butterfingers
A great recipe for homemade Butterfingers using only 3 ingredients. The crispy, crunchy texture is so similar to the popular name-brand candy bars.
Ingredients
16 ounces, weight Candy Corn
16 ounces, weight Creamy Peanut Butter
3 cups Milk Or Dark Chocolate
Instructions
Line an 8×8 or 9×9 inch pan with wax paper.
Melt the candy corn in the microwave in a medium bowl, stirring every 30 seconds. Continue heating in 30 seconds increments, stirring in between, until completely melted and smooth. Stir in the peanut butter until equally distributed and smooth. Pour into prepared pan and smooth. Place in the freezer for 10-20 minutes until firm.
In the meantime line a large baking sheet with wax paper.
Take the chilled bars out of the pan and cut them into mini Butterfinger size bars. Any size you want is fine!
Melt the chocolate in a medium bowl in the microwave stirring every 30 seconds and continuing to heat for additional 30 second bursts until smooth.
Using a fork, dip each Butterfinger into the chocolate, turning to cover completely. Take the bar out of chocolate with fork and tap lightly on the side of the bowl so that excess chocolate falls off. Place on the wax paper lined baking sheet. Continue with Butterfingers until all are dipped. (If at any point your chocolate becomes too hard to dip, simply return it to the microwave and heat for another 10-15 seconds and stir. Do this throughout the process as needed.)
When all bars have been dipped, place them in the freezer for an additional 5-10 minutes. Serve cooled from the 'fridge or at room temperature!
Recipe source:  tastykitchen.com
- Craving more?
Sign up for the Wishes & Dishes Newsletter
for a fresh serving of content delivered every week to your inbox! And stay in touch on
Facebook
,
Twitter
,
Pinterest
and
Instagram
for all of the latest updates!