This is a simple, creamy pasta dish that will take you only 20 minutes to make. The perfect lunch or dinner when you're in a pinch!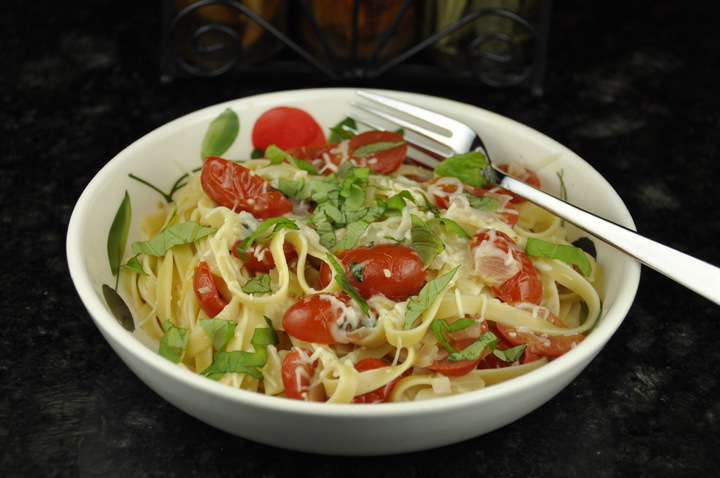 I don't usually post on weekends, but I was too excited to share this pasta dish recipe with you and didn't want to keep it all to myself even a day longer!  This took me literally twenty minutes to make and it was all done in ONE pot (in case the title didn't make that clear to you) 😉  It was light, perfectly creamy, and done in a flash.  This will be made over and over again in our house.  OH, and it's inexpensive and you also won't be slaving away washing dishes all night!  You will love this dish.  It might not seem like it would pack a ton of flavor, but it really does. The red pepper flakes gave it a hint of spice and the starch from the pasta cooking gives it a little bit of creaminess.  It does NOT lack flavor whatsoever.
I'm gonna make this short and sweet, but I hope you have a great weekend.  Any fun plans to tell me about?  I will be packing for vacation and getting the house ready for our house-sitters!  Oh…and I may or may not have put my Christmas tree up today. I always find the days leading up to going away on vacation to be so hectic, but there's always time to find three hours out of my day to bust out the Christmas decorations and the tree!  Hey, at least I managed to hold out until November this year 😉  Enjoy!
20 Minute One Pot Pasta with Fresh Tomatoes and Basil
This is a simple, creamy pasta dish that will take you only 20 minutes to make. The perfect lunch or dinner when you're in a pinch!
Ingredients
12 ounces linguini or fettuccine
1 large onion, very thinly sliced, about 2 cups
4 - 6 garlic cloves, very thinly sliced
12 ounces or 3 cups grape tomatoes, halved or quartered (depending on size)
10 basil leaves, torn in half
2 tablespoons olive oil
½ teaspoon red pepper flakes
2 teaspoons kosher salt, plus more to taste
¼ teaspoon freshly cracked black pepper, plus more to taste
4½ cups water
Topping: Freshly grated Pecorino Romano or Parmesan cheese, several basil leaves thinly sliced
Instructions
Combine all ingredients in a straight sided large skillet or pot (I used my 5.5 qt dutch oven). Bring to a rapid boil and then reduce heat just enough to keep it boiling and toss it constantly with tongs for about 10 minutes. The water and tomatoes will reduce down and the pasta will release starches that thicken it and make it nice and creamy.
Do not wait for all of the liquid to evaporate - you want some liquid to remain for the "sauce". Taste the pasta as it finishes cooking. Once the pasta is to your desired softness, remove from the heat. Season to taste with salt and pepper, divide among 4 bowls, and garnish with basil. Serve with oil and fresh shredded Parmesan cheese. Enjoy!
 Recipe source: Martha Stewart Living, 2013 and originally seen on barefeetinthekitchen.com
- Craving more?
Sign up for the Wishes & Dishes Newsletter
for a fresh serving of content delivered every week to your inbox! And stay in touch on
Facebook
,
Twitter
,
Pinterest
and
Instagram
for all of the latest updates!